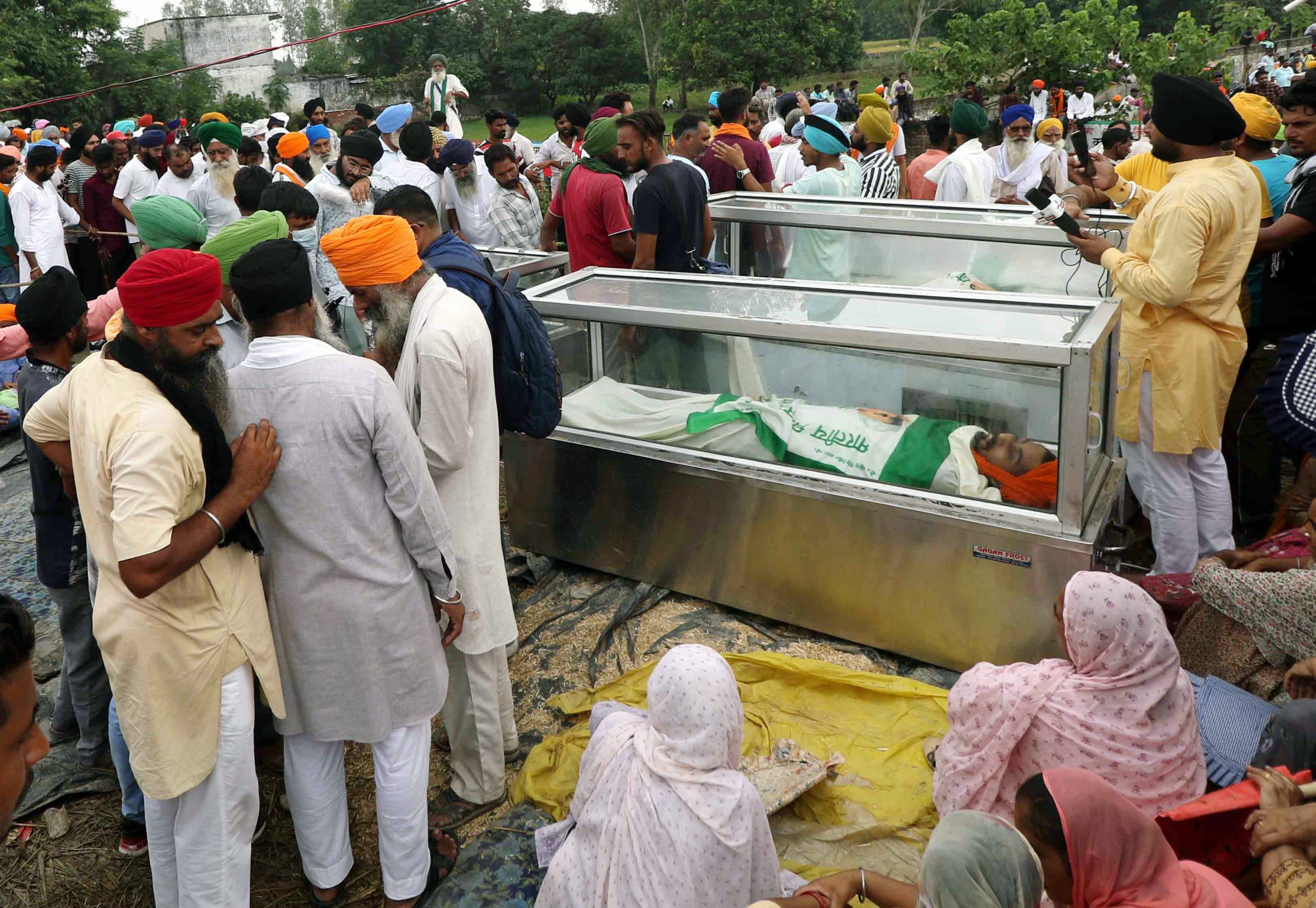 Lakhimpur Kheri district court on December 7, 2021 dismissed a petition filed against Union Minister Ajay Mishra by Pawan Kashyap, whose brother Raman was a journalist and one of the victims of the Lakhimpur Kheri killings.
On October 3, local journalist Raman Kashyap went to Tikonia village to cover the protest where farmers had gathered to condemn Minister of State Mishra's threatening comments against farmers. In the ensuing chaos, Kashyap was allegedly run over by the vehicle of the Minister's son, along with other unarmed agitating farmers.
Devastated by his death, his family moved the court to file a separate FIR against Mishra and his son Ashish – the main accused in the case. According to the Indian Express, Pawan alleged that the police FIR did not mention his brother's name.
However, the court rejected his application on Tuesday, stating that the Tikunia police said in its status report that an FIR number 219/2021 was already lodged and thus the matter did not require further petitions, said The Hindustan Times.
At the apex court level, Supreme Court judges already criticised the state police for dragging their feet in the case, delays in collecting statements from witnesses and other relevant material. On November 15, it "upgraded" the Special Investigation Team (SIT) looking into the matter with non-UP officials and appointed a retired High Court judge to monitor the proceedings.
The district court decision came shortly after fresh developments in the farmers' struggle wherein the government has promised to accept farmers' major demands. Even after Prime Minister Narendra Modi's unilateral decision on November 19 to repeal the three farm laws, farmers' umbrella body Samyukta Kisan Morcha (SKM) said they will agitate until pending demands are met. Until recently, these demands included Mishra's suspension and arrest for his alleged involvement in the October violence.
As many as four farmers at the time. Some families alleged bullet wounds on bodies. However, on Tuesday, SKM leaders remained mum on the matter while talking about all other demands discussed with government officials.
In all, farmers demands are as follows:
1. A legal guarantee to Minimum Support Price (MSP) based on the C2+50 percent formula
2. Withdrawal of the draft Electricity Amendments Bill 2021 that the Centre had promised to dispose in earlier talks
3. Removal of penal provisions on farmers in the Commission for Air Quality Management in the National Capital Region and Adjoining Areas Act 2021
4. Withdrawal of FIRs against agitating farmers
5. Compensation and rehabilitation to families of the 700-martyred farmers
6. Immediate dismissal and arrest of Union Minister Ajay Mishra
While farmers spoke at length about the former five demands, the SKM remained silent on the matter concerning Lakhimpur Kheri. Leaders have sent their response regarding government assurances and await a reply on December 8.
Related:
Lakhimpur Kheri: How does a journalist's death not make it to the headlines?
Welcome repeal of laws but other demands pending: SKM to PM Modi
Lakhimpur Kheri case: SC directs UP gov't to "upgrade" SIT with non-native higher-grade officers
Lakhimpur Kheri killings: Sessions Court rejects bail plea of Ashish Mishra, two others
With thinning patience, SC recommends HC judge to monitor Lakhimpur Kheri probe