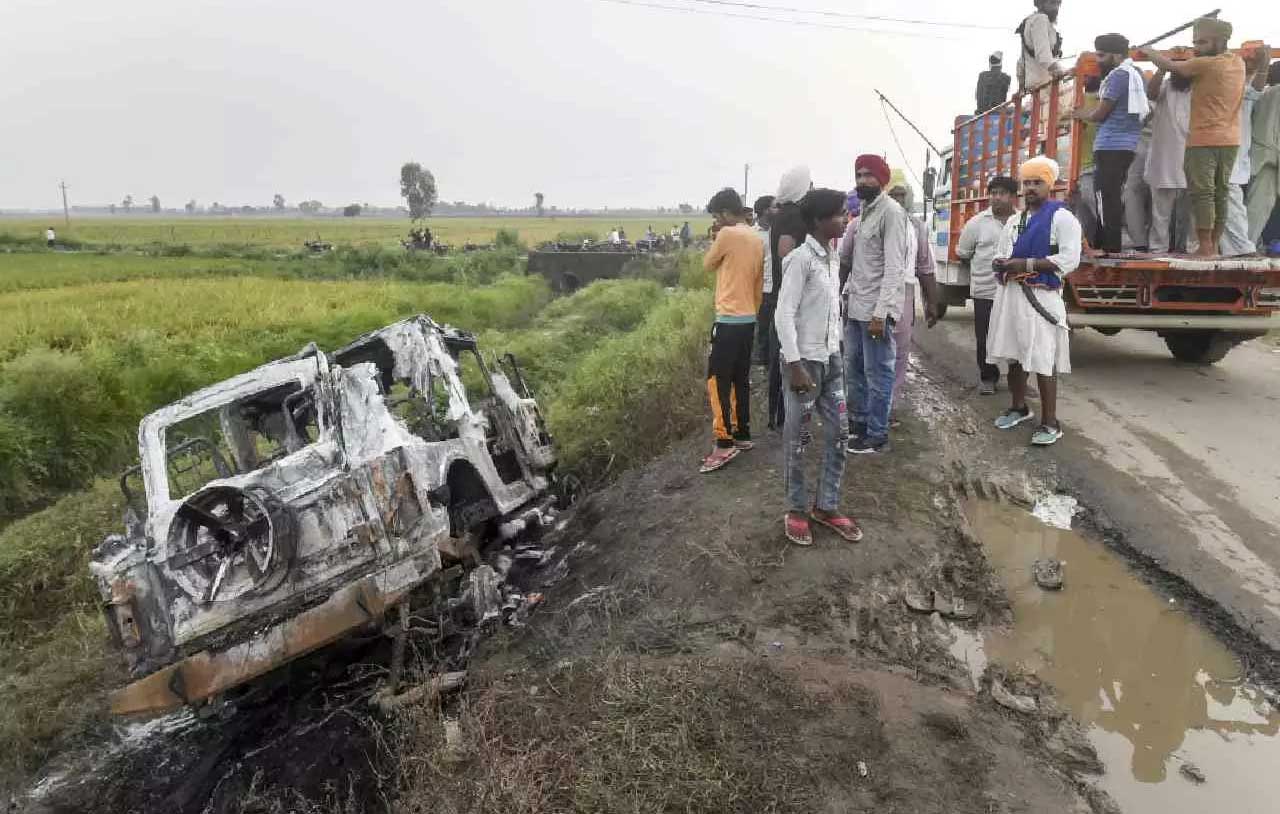 After lodging a chargesheet against Union Minister Ajay Mishra's son Ashish, the Special Investigation Team (SIT) filed a second chargesheet against four farmers on January 21, 2022, charging them with rioting and murder, reported the Indian Express.
Farmers Vichitra Singh, Gurpreet Singh, Gurvinder Singh and Kamaljeet Singh have been accused of lynching two local BJP leaders and a driver on October 3, 2021 when protesting farmers were allegedly mowed down by Ashish and his accomplices. As many as four farmers and a local journalist died in that incident at Tikonia village, along with the three aforementioned deaths.
The SIT team, after receiving flak from the Supreme Court, announced in December 2021 that the attack on farmers was a planned attack rather than a sudden event. The declaration was included in a fact-finding report as well. However, now the team has also filed a chargesheet against four farmers for the death of BJP workers. Previously, farmers denied allegations of these murders stating that the three deceased died in the chaos ensuing after the SUV vehicles ran into protesting farmers. Nonetheless, the investigation team has named the farmers although it gave a clean chit to three other jailed farmers. These farmers are yet to be released from jail.
Farmers reiterate former demands
Before vacating Delhi borders, farmer leaders had demanded that the government repeal all cases against farmers in matters relating to the national protest. At the time, the union government accepted these demands and thus the farmers returned to their fields.
However, on January 17, the Samyukta Kisan Morcha's (SKM) legal team reported that more farmers like Sardar Satnam Singh and Kuldeep Singh received summons from Delhi courts for questioning. The SKM condemned the legal attack against farmers despite promises of withdrawing cases.
"The legal battle will continue for farmers. We will continue to fight for them," said Advocate Vasu Kukreja.
Similarly, the SKM noted the continued arrest of farmers for the Lakhimpur Kheri killings and announced that farmer leader Rakesh Tikait will look into the matter, along with a delegation of the SKM. Members visited the district on Friday to talk to the arrested farmers and their families for the next three days.
Tikait said the delegation will also question authorities who imprisoned many SKM members and start fresh protests if they find inquiries unsatisfactory.
Related:
SKM demands Centre come through on its promises
Punjab: PM Modi's convoy blocked by protesters
Lakhimpur Kheri massacre: Fact-finding report highlights administrative tyranny