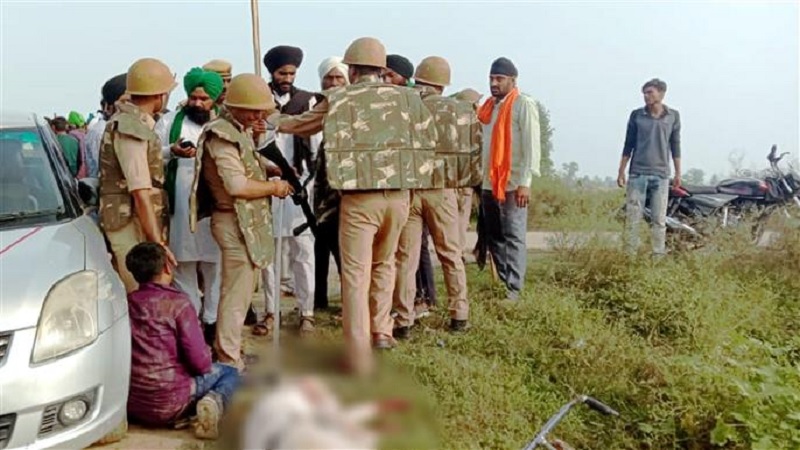 Image Courtesy:tribuneindia.com
Farmer leaders condemned the arrest of two farmers on November 3, 2021 at Lakhimpur Kheri, Uttar Pradesh for allegedly lynching two BJP workers, a driver and a local journalist.
On Wednesday, the special investigation team looking into the Lakhimpur Kheri killing of eight people on October 3 arrested Bichaila resident Ranjit Singh and Naurangabad resident Avtar Singh alias Nikku. Eight people died that day including four farmers, who were protesting at Tikoniya village when Union Minister Ajay Mishra's son Ashish allegedly ran over protesters with his Mahindra Thar vehicle.
Since the incident, the SKM repeatedly demanded the dismissal of Mishra from his ministerial post, arrest of all those involved and a Supreme Court directed investigation into the incident.
"While the UP Police continues to save murderers of farmers and give them VIP treatment at the behest of Ajay Mishra and BJP, two more farmers have been arrested in Lakhimpur Kheri – SKM once again reiterates its demand for an SC-directed investigation into the Lakhimpur Kheri massacre," said Balbir Singh Rajewal, Gurnam Singh Charuni, Hannan Mollah in a joint press release.
However, local police instead registered a second FIR against the farmer, as per the Crime Branch press release. Earlier, Vichitra Singh and Gurvinder Singh were arrested and sent to jail following the FIR filed by Sumit Jaiswal.
According to the Indian Express, the police procured a stick allegedly used to murder the two BJP workers. Moreover, the SIT collected Vichitra's voice samples as they suspect that he instigated people after the SUVs knocked down the protesting farmers.
Meanwhile, District and Sessions Judge Mukesh Mishra postponed the bail application hearings of Ashish Mishra, Ashish Pandey and Lavkush Rana until November 15.
Related:
Lakhimpur Kheri case: SC directs UP gov't to provide protection to witnesses
Lakhimpur Kheri violence: UP Police offers only excuses, sealed cover reports for SC
Lakhimpur Kheri killings: BJP leader Sumit Jaiswal, three others, arrested
Maharashtra farmers to honour martyrs