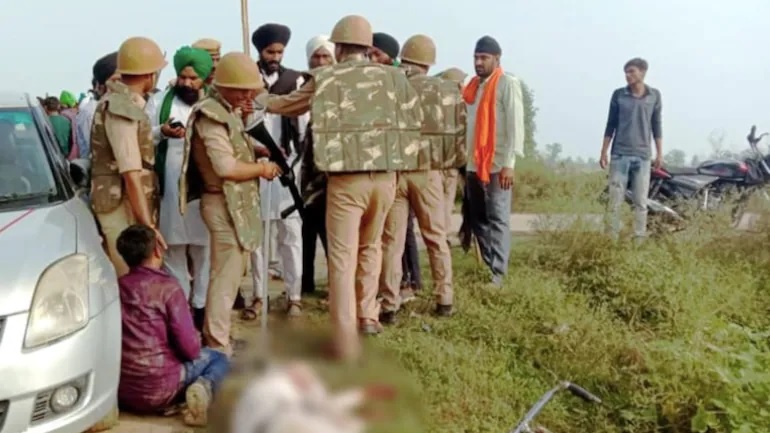 The Special Investigation Team (SIT) looking into the five deaths in Lakhimpur Kheri on October 3, 2021, submitted in its recent report that the killings were a "planned" event and not an accident.
Following the "upgrade" of the SIT with non-UP officers, along with the supervision of a retired judge, officials asked that the 13 accused in the gruesome case be booked for four additional criminal charges. These include attempt to murder, causing voluntary hurt using dangerous weapons, criminal acts by many for a common intention and relevant section of the Arms Act. The SIT said that these charges must replace the previous IPC sections regarding rash driving, causing death by negligence and causing grievous hurt by endangering life or personal safety.
The SIT referred to previous evidence and said in its application, "It is established that the accused's criminal action was not an act or ignorance but a pre-planned conspiracy with the intention to kill that resulted in five deaths and serious injuries to many people."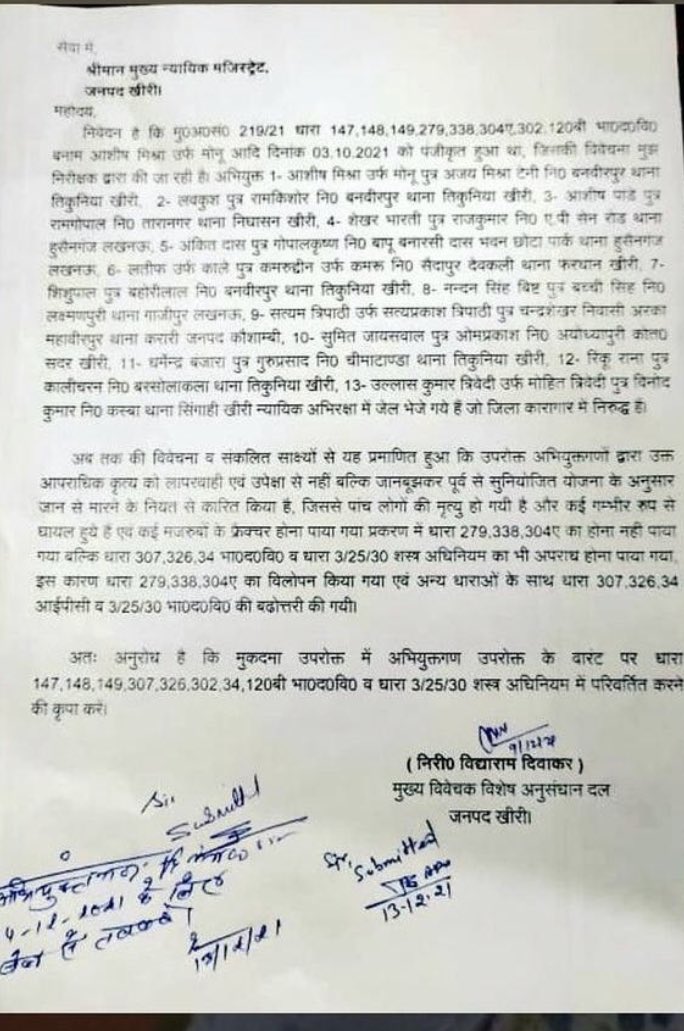 The decision to add these more stringent charges was appreciated by farmers who feared that the main accused Ashish Mishra might literally get away with murder, given how much clout his father Ajay Mishra enjoys as Union Minister of State for Home Affairs. It was Ajay Mishra's words that had sparked the protest where the farmers were run over in the first place. Ashish too managed to dodge authorities for quite some time, before he was forced to surrender. Strong action against the duo was a major demand of farmer leaders.
As Assembly elections in Uttar Pradesh draw nearer, many of these demands are being accepted by the BJP-led government. It is yet to be seen whether the government will also accept farmers' demand to remove Mishra from his position in the Union Cabinet.
On October 3, four farmers and local journalist Raman Kashyap died after being run over by a Mahindra Thar vehicle after a peaceful protest in Tikonia village. On December 7, the district court dismissed brother Pawan Kashyap's plea demanding an FIR against the Mishra duo. The police said in its status report that an FIR number 219/2021 was already lodged regarding the matter.
Following the latest development, Opposition leaders have responded to the application to condemn the ruling regime.
न्यायालय की फटकार व सत्याग्रह के चलते अब पुलिस का भी कहना है कि गृह राज्यमंत्री के बेटे ने साजिश करके किसानों को कुचला था

जांच होनी चाहिए कि इस साजिश में गृहराज्यमंत्री की क्या भूमिका थी? लेकिन @narendramodi जी किसान विरोधी मानसिकता के चलते आपने तो उन्हें पद से भी नहीं हटाया है। pic.twitter.com/ZLRNNefz7I

— Priyanka Gandhi Vadra (@priyankagandhi) December 14, 2021
Congress leader Priyanka Gandhi Vadra said, "Following the court's rebuke and satyagraha, the police have also said that the son of the Minister of State for Home had conspired and crushed farmers. There should be an inquiry regarding the Minister of State's role in this conspiracy. But due to Prime Minister Narendra Modi's anti-farmer mentality, he hasn't even been removed."
Related:
Lakhimpur Kheri killings: Kashyap family's plea for separate FIR against MoS denied
Lakhimpur Kheri case: SC directs UP gov't to "upgrade" SIT with non-native higher-grade officers
With thinning patience, SC recommends HC judge to monitor Lakhimpur Kheri probe
Lakhimpur Kheri killings: Two more farmers arrested for alleged lynching of BJP workers