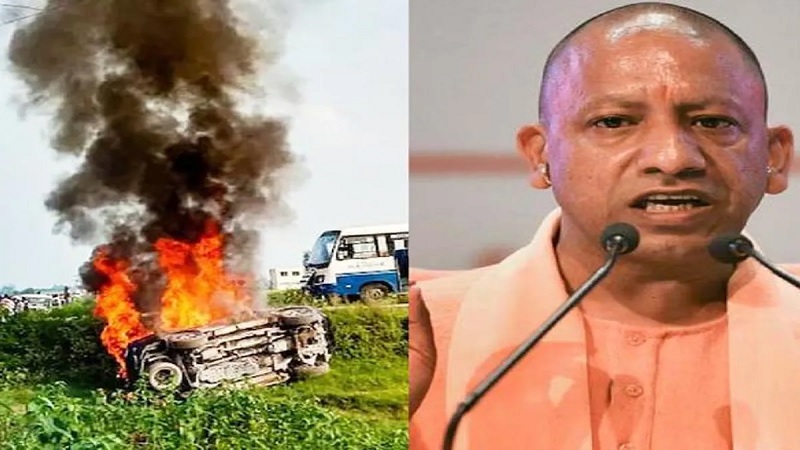 Image Courtesy:republicworld.com
In a significant move, the 3 judge Bench of Chief Justice NV Ramana, Justices Surya Kanta and Hima Kohli, has directed the Uttar Pradesh government to file a status report by tomorrow, October 8 in Re: Violence in Lakhimpur Kheri (UP) leading to loss of life. (SMW Crl. No. 3 of 2021).
The court first clarified that the matter was mistakenly listed by the supreme court registry as a "suo motu" case. It was to be taken up as a public interest litigation on the basis of a letter written by two advocates, Shiv Kumar Tripathi and Amritpal Singh, seeking a time bound CBI probe into the horrific incident, but the court said it will "take it up nonetheless".
One of the Advocates, Shiv Kumar Tripathi argued, "I hope the court considers this seriously. Farmers have died due to negligence of the administration. We urge the court to take appropriate action…the Uttar Pradesh government has not taken any step…the farmers are scared." Garima Prashad, appearing for the government said, "The SIT has been instituted, we have also set up a judicial commission enquiry, we will look into it properly….FIR has been registered, we will file the report tomorrow."
The court directed the government to file an investigation report by tomorrow and said, "Get instructions tomorrow…like you said an FIR has been registered, we need to know who are the accused persons against whom you have registered an FIR and whether they have been arrested or not. Please explain this in your status report."
Further, Advocate Amritpal said, "The mother of deceased Lovepreet Singh in the Lakhimpur Kheri incident is in a very critical condition. I am seeking your lordship's indulgence to direct the state authorities to afford the best medical facilities to his mother. She is in a critical condition due to shock of loss of son, she needs immediate medical assistance. Milords may direct the state to provide medical facilities to her."
CJI Ramana directed the State to immediately extend all necessary medical facilities to the mother and duly take care of her. Justice Kant added, "You can get her admitted to the nearest government medical college and provide her with the facilities."
On October 3, 2021, a convoy of vehicles associated with BJP's Union Minister of State for Home, Ajay Mishra Teni, his son Ashish Mishra Teni, and other goons allegedly ran over several farmers, peacefully protesting at Tikonia in Lakhimpur Kheri district of Uttar Pradesh. As reported in the media, one of the farmers was shot dead by the son of the union minister. In addition to this, four farmers and one local journalist were killed in the incident, and several others were seriously injured.
The deceased farmers have been identified as Lovepreet Singh, Nachattar Singh, Daljeet Singh, and Gurwinder Singh. The journalist who lost his life was Raman Kashyap. Ajay Mishra Teni had initially 'counted' Kashyap as a Bharatiya Janata Party (BJP) worker who had allegedly been killed at the spot. But the father refuted the Minister's claim and wrote a separate complaint to the police stating, "My son was a reporter with Sadhna News (channel) at Nighasan. On October 3, he was at the Maharaja Agrasen sports Ground to cover the farmers' protest where Union minister of state for home Ajay Mishra Teni and deputy CM Keshav Prasad Maurya were supposed to come." He added, "The MP's son Ashish Mishra and party workers killed my son."
Related:
Lakhimpur Kheri: Farmers mowed down to death allegedly by BJP minister's son's car
Lakhimpur Kheri deaths: A Timeline
Lakhimpur Kheri violence: SC laments how nobody takes responsibility when such incidents happen
Uttar Pradesh: Eight dead in violence at Lakhimpur Kheri, including four farmers after Minister's son allegedly drives over them