In July 2016, Jignesh Mevani, a practising lawyer and activist, battling for access to land for Dalits through Gujarat's courts –for close to half a decade before that date– burst onto the national scene, leading the protests in the state after the Una incident when Dalits were brutally beaten, simply because they were performing their work, cleaning and curing of carcasses of dead cattle.

Four months down the line, close to 120 days after the 70th Anniversary of India's Independence was commemorated with a historic march of Gujarat's Dalits from Ahmedabad to Una, the young Dalit lawyer-leader, Jignesh Mevani spoke to Teesta Setalvad on where the movement stands.

Jignesh Mevani, December 15, 2016, four months into the inspiring post Una Dalit agitation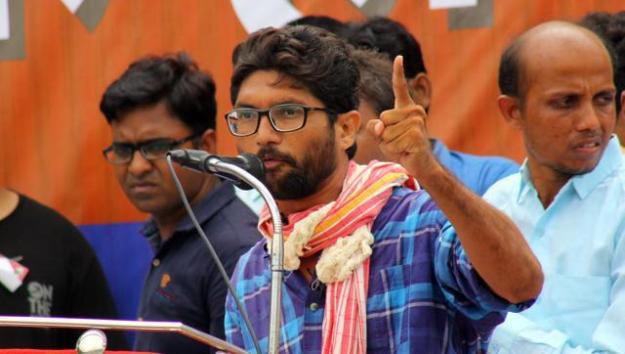 "Land reforms, so vital to explode the feudal structure of Indian society, are now getting into the Dalit agenda. This agenda was, for years, choked up with the rhetoric of raising the crucial, but limiting atrocity-related issues, the discourse of 'Bhramanwaad and Manuwaad,' not raising the existential issues of brass-tag economic/class issues of roti kapda and makaan.

"For India's Dalits, down-trodden and marginalized the struggle for self-dignity is material or equal to the struggle for economic access and parity. Post globalization India more sharply raised the need for this demand to be articulated at the forefront of the agenda.

"But now, after the Una struggle, issues of economic deprivation of India's depressed castes are squarely on the agenda and even the conventional Dalit leadership –except for the few who do not want Dalits to break out of their shackles—have welcomed this broadening of the movement.

"I see thing something new emerging. We shall march in CPIM-ruled Kerala from January 26-March 5 to ensure that the 5 lakh acres of land promised to Kerala's Dalits are actually given over to them. We shall march from Bodh Gaya to Patna after that to ensure that the 22 lakh acres of land promised and identified by the JD(U) and RJD government –that won the imagination of the people through the promise of social justice –becomes a reality not a pipedream.

"In Chotila Block of Surendranagar and Saroda Block of Dholka, 700 acres of land will now be accessible to 300 families worth Rs 150 crores: Jignesh Mevani
"Ghunghat se Nata Todo, Zameen Se Nata Jodo, is the renewed slogan of Dalit women and men in Gujarat as they march through villages demanding economic and social justice. That will be the new slogan in Gujarat from April 14 onwards when we say 'No' to the contract system of employment that affects the quality of 50-60,000 jobs in Gujarat. Our attempt is to look at caste based discrimination and violence in parallel with economic deprivation.

"For Muslim brethren of Gujarat, basic civic rights are an issue: acute ghettoisation in the urban areas, with Muslims living in slums and chawls but without basic amenities: Sadak, Gutter, Bijli Paani.

"Legal Battle: In the petition being argued in person by Mewani, state government authorities have admitted on affidavit that yes, so many thousands of acres of land is due to Dalit of Gujarat and yet thet have not given an inch of possession yet. This admission by the state government is on land earmarked and the rightful due of Dalits in the districts of Ahmedabad and Surendranagar (Chotila). It is a shame that despite this admission that this land is the legal and rightful due of Gujarat's Dalits, there is an absence of political and administrative will of the state: there has been no land measurement, no removal of encroachments, no filing of offences and prosecution under Section 3(1)(f) of the Atrocities Act.

"What is the use of the legal process when the state tells the Court, "that the problem and information is so huge, that implementation is an impossible task"! And the state then pleads for the dismissal of the petition despite every grievance being accepted and proven. It us unheard of in any civilized sense. The Court (Gujarat High Court had been hearing my petition, found merits in the grievances, appointed a team of three Nodal Officers of the state; this team examines the ground level records accepts the denial of rights: the State is admitting shamefully before the court that it has failed in governance and cant implement its own policies

"We need to step up the agitation, the struggle for justice and redressal. While the petition in the court remains, the agitation and mobilizations on the street must continue. We have been more successful on the streets.

"In Surendranagar we blocked the roads in agitation (link) in November 2016 and compelled the state to begin land measurements for 532 acres in the Chotila block in district Surendranagar. In Saroda block of Dholka, after compelling protests, the administration began measurement of 220 bighas of land, only after the protests. Through all this, we will manage within a month Rs 150 crores worth of land measuring 700 acres and the beneficiaries will be more than 300 Dalit families

"These are the baby steps and concrete victories of the post-Una Dalit struggle in Gujarat. The larger picture is that there are thousands of acres which are our due.When Gujarat and Saurashtra were separate, under the Uchangbhai Dhebar government, Patels obtained 12 lakh acres and 25 lakh acres through land reform. In comparison, what Dalits have got is a pittance!
"Land to the Tiller has become Land to the Tycoons in Gujarat and India and we need to restore the balance: Jignesh Mevani

"Access to land and tilling rights are crucial to dissemble the feudal structure but these are only the first steps since after getting land allocated the rest of the struggle to enforce due access to subsidies for seeds, grain and fertilizer to ensure real participation in the agrarian protest will and must continue. So gaining access to land is the first concrete step of the struggle after which we need to deepen and further access through affirmative action and representation; rigour in the production process.

"For this a mass Dalit uprising and consciousness is required which is not taking place. There are scattered attempts so the next stage(s) is consolidation of this wider consciousness all over the country. There is hope from all over the country but there are also many many challenges.
Jignesh Mevani has become the face of the young Ambedkarite struggle for economic and social justice for India's Dalits says that the push of the Gujarat Dalit movement has set the right tone both in Gujarat and outside, in the rest of the country.

---
Ten Specific Demands: Aazadi Koon March is Making
One
The Prevention of Anti-Social Acts (PASA) should be applied to all Accused for the Una Thrashing and Humiliation of Dalits on July 11 so that they are re-arrested when released on bail. All other accused should be arrested forthwith

Two
Police Officers Complicit in the Humiliation and Beating of Dalit Tanners on July 11 should be Speedily Charged and Prosecuted with Sections of Criminal Conspiracy and Atrocities Act included against them

Three
Frivolous complaints against 70-80 Dalits lodged last Sunday, July 31 –43 such frivolous cases were lodged by the Gujarat police in Dhodka alone—simply for agitating and participating in the historic demonstration last Sunday (July 31) should be withdrawn speedily and immediately.

Four
The charges and prosecution of those Police Officers found guilty of shooting to kill, using AK 47s, peacefully protesting Dalits in 2012 (Thangadh, Surendranagar) in 2012 should be expedited. It is four years now and not only has the Enquiry Report not made public but the charge sheet has also not been filed!

Five
Special Courts for Offences under the Atrocities Act, a must under the law should be set up in all 25 districts of Gujarat state.

Six
Five Acre Plots must be Duly and Fairly allotted to Dalits forthwith as is required under Section 3(1)(f) of the Atrocities Act.

Seven
All Nagar Pallikas (City Corporations/Local Bodies) in Gujarat should pay the Safai Karmncahris wages on par with the Sixth Pay Commission.

Eight
A Reservation Act should be enacted in Gujarat immediately. Today all reservations/affirmative actions in Gujarat are at the discretion of the Exevutive and are initiated or effected only through a Government Resolution/GR.

Nine
Budgetary Allocations for Scheduled Castes and Scheduled Tribes (SCs/STs) should be used exclusively for these sections. Today the funds so allocated are diverted elsewhere by the Gujarat Government.

Ten
Gujarat Government should Apologise Publicly Before Dalits of the Country for Withdrawing and Pulping the Book on Dr Babsaheb Ambedkar that spoke about his Radical Thoughts on Hindusim and the 22 Point Oath he Took to Convert to Buddhism in 1956.

---

Official figures point to a 44 percent increase in violence against Dalits in 2014, the year in which the BJP came to power at the Centre, as compared to 2010. A full 30 percent of the 47,064 crimes in 2014 were committed in four BJP-ruled states — Rajasthan, Madhya Pradesh, Gujarat and Chhattisgarh.
Just in last few weeks, Dalits were beaten by Bajrang Dal activists in Congress Party-ruled Karnataka, they were thrashed in BJP-ruled Gujarat and Maharashtra, and were urinated upon in Nitish Kumar's Bihar. Cow vigilantes attacked Dalits in Lucknow even while the agitation in Gujarat was underway.

Further Demands of the Aazadi Kooch March also also include:
The 1,20,000 applications for Land under the Forest Rights Act received from Adivasis by the Gujarat Government should be immediately distributed as per the provisions of the law.
Dalits of Gujarat are demanding licensed weapons for self-defence. Security is a huge issue for Dalits of Gujarat. We do not feel safe in Gujarat, we are being attacked in Villages.
Taleem (Training/Education) Centres to Teach Dalits Martial Arts, Judo Karate like they do for other Castes and Communities during the Khel Maha Kumbh.
Smart Centres for Dalits to Enable them to Rise Over the Social Ostracisation and Boycotts and Live in Sattelite area, Narangpura and Navrangpura's posh localities
Narendra Modi's Start Up India Campaign should have Special Economic Provisions for Dalits who want to leave this thankless work and rehabilitate themselves into Dignified Labour.
Related Articles:
1. In Gujarat, 95 Of 100 Suspects In Crimes Against Dalits Acquitted
2. Dalits in the Hindu Rashtra, A Close Look at the Gujarat Model
3.The Dalit Revolt in Hindutva's Successful Laboratory: Gujarat