Sangh parivar's cultural vigilantes force exit of Dalit poet and activist Pradnya Daya Pawar, along with eminent Dalit scholar Dr Raosaheb Kasbe from a lit-fest in Satara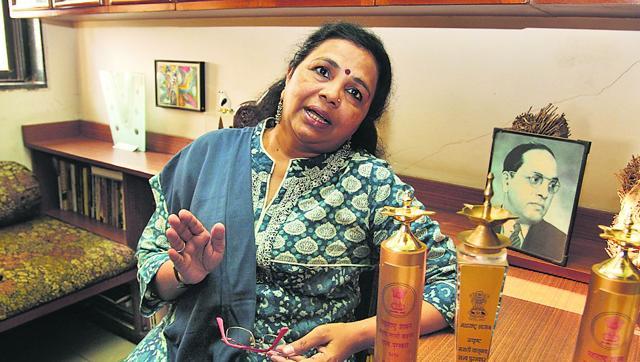 Dalit poet and activist Pradnya Daya Pawar. Photo credit: Praful Gangurde
In what is being dubbed as an appalling attack on the freedom of expression of the litterateurs, renowned Dalit poet and activist Pradnya Daya Pawar, along with eminent Dalit scholar Dr Raosaheb Kasbe were shown the door at the Maharashtra Sahitya Parishad's literature festival in Patan, Satara.
The organisers of the festival, who themselves had invited Pawar to be the key speaker, and Kasbe as the chief guest of the two-day-festival last week, reportedly gave in to the pressure of a mob demanding action against both the speakers and asked them to leave citing "security concerns".
Prof Pawar confirmed the incident to Sabrangindia and has expressed her disappointment with the organisers and the "cultural terrorism" that led to the unfortunate incident in an elaborate Facebook post.
Pawar spoke on the topic 'Challenge of the cultural terrorism' on the first day of the festival and claims that her speech was well-received by thousands of listeners present at that time. In her speech, she criticised the propagation of a culture that intends to suppress counter-voices of artists and litterateurs.
Stating that a societal censorship is far more dangerous than that imposed by the government, she said, "The writer in India has become frightened and insecure today. The rules regulating what to write and what not to write are being inscribed on his (writer's) body. This has been achieved by RSS' cultural nationalism, which, in fact, is giving rise to cultural terrorism." She also mentioned incidents of killings on Bangladeshi writers and attack on their freedom of expression.
Taking on the Modi dispensation for their inaction over several attacks on and killings of the radical authors and activists in the country, Pawar said, "Modi had sworn to protect the constitution of India, when he came to power. Looks like, it took him no time to forget all about his promises. He has turned into a mookanayak just like Manmohan Singh."
In her Facebook post, Pawar has claimed that a conspiracy has led to the incident in Patan. "People appreciated my speech and complimented me for my analytical style. They were thronging around me to take my autograph and click a picture with me just after my speech. No one objected to anything in my speech that day. Something conspired through the night, however, and a crazy 100-strong-mob started sloganeering 'Jai Bavani, Jai Shiavji' outside my accommodation, and the organisers asked us to leave – pretending as if we were made to leave for our own security."
Pawar has condemned the organiser's inability to protect the chief guests. "How ironic! This incident took place during a festival dedicated to Dr Babasaheb Ambedkar's memory. The topic of the debate after we left was: 'Freedom of expression and apathy of the litterateurs'!" she wrote.
She further wrote, "You are a Dalit and you have no right to speak up; if you dare to speak up, you'll face its consequences is the message that they want to deliver. But, we'll keep fighting. We believe in democracy and I am not going to sheath my words."
Pawar is the daughter of late Dalit author and poet Daya Pawar, whose autobiography Baluta had created ripples in Marathi literature and had earned him several honours for his heart-wrenching narration of oppression of the untouchables.