While India persists in the claim that torture is alien, the pathetic record of law enforcement tells an entirely different story. In this context, the Draft anti-Torture Bill of the Law Commission falls short of the need, which is an unequivocal law against torture.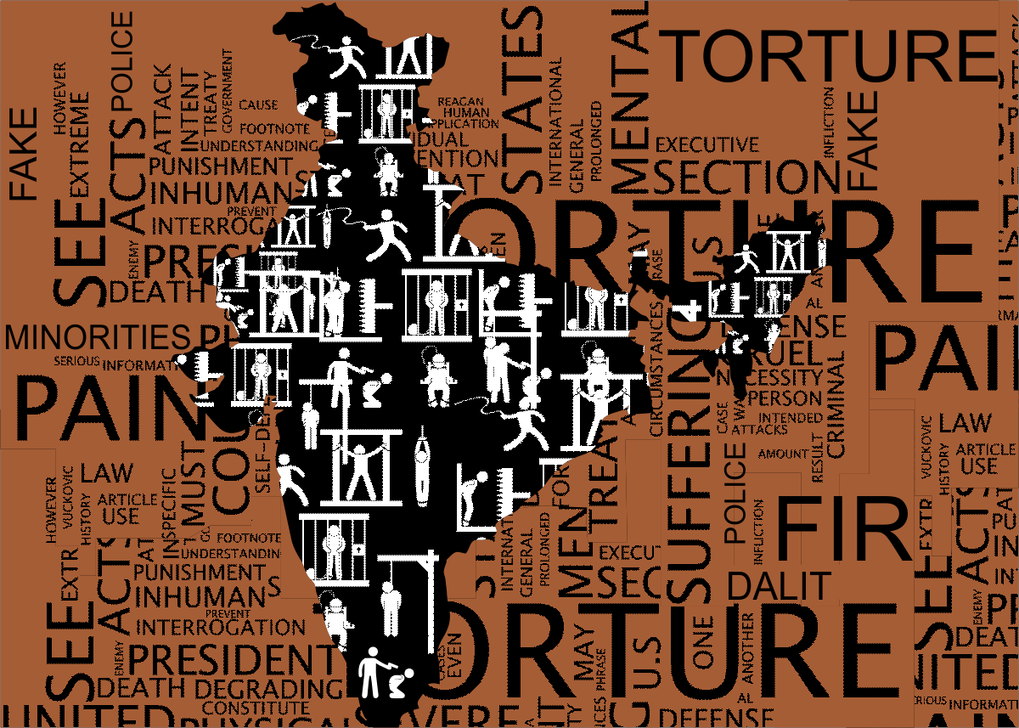 Image Courtesy: cjp.org.in
Late last month, on October 26 and 27, a two-day conference organised by the Commonwealth Human Rights Initiative (CHRI) in collaboration with National Law University of Law, Delhi; World Organisation against Torture (OMCT); People's Watch; Quill Foundation; and the International Commission of Jurists. The conference was deliberating over the latest report of the Law Commission. Experts present specifically criticised the Law Commission of India, for recommending a Draft Anti-Torture Bill (in its273rd report, 2017) which, in their view, fell way short of bare essential requirements for a robust law. They also expounded on structural problems plaguing the system, and deliberated on reformative and corrective measures which need to be undertaken at the earliest.
What has been the record of the Modi government on custodial death and torture over the past close to five years?
On May 4, 2017, when India's then Attorney General Mukul Rohatgi speaking on India's human rights record under the Universal Periodic Review Process at the United Nations Human Rights Council (UNHRC) in Geneva claimed "torture is completely alien to Indian culture", human rights experts and anti-torture activists gasped in disbelief. They wondered how the Modi government's top law officer could tell such a blatant lie, especially when it is an open secret that torture is endemic in India.
According to the data collated by the Asian Centre for Human Rights, a total of 1,674 custodial deaths, including 1,530 deaths in judicial custody and 144 deaths in police custody, took place from April 1, 2017, to February 28, 2018, translating into five torture deaths a day. Despite this, India remains strongly recalcitrant and refuses to ratify the UN Convention Against Torture and Other Cruel, Inhuman or Degrading Treatment or Punishment (UNCAT) which it had signed in 1997, while numerous modes of custodial torture- by the police, army and paramilitary forces, are still prevalent in the country.
Criticism of the Law Commission's Draft Bill
In 2010, a select committee of the Rajya Sabha came up with a Draft Bill which was comprehensive in its scope and application, because it grasped the reality of how torture by state and non- state actors played out and manifested itself in India. But this Bill was not tabled in the Lok Sabha and thus lapsed.
Justice A.P. Shah, who served as a counsel to the Select Committee, said that the 2017 Bill did not even meet the expectations halfway. It talked only about compensation, and not reparations, a key requirement of many international law documents and instruments against torture. Reparations means that the victim is not only appropriately compensated in monetary terms, but also in terms of help and rehabilitation and the perpetrator is made to pay.
Moreover, it did not talk about command responsibility- that is, the responsibility of superior officials who in fact order torture to be used as a tool of law implementation, and makes only lower-rung police and military and paramilitary officials the scapegoats. He gave the example of Ankit Garg, who had ordered violent sexual torture to be inflicted against Adivasi activist Soni Sori and despite protests from many quarters was awarded a gallantry medal.
Also, the limitation period of three months to complain against torture is too less and cruelly ignored the reality of many torture victims who take a long time to come out of the trauma and pain and lodge a formal complaint. He recalled that the select committee had recommended a limitation period of two years.
Devika Prasad, Coordinator of the Police Reforms Programme of the Commonwealth Human Rights Initiative (CHRI) in her presentation said that the law commission had significantly diluted the provisions of the Bill recommended by the Select Committee and listed the glaring flaws.
First and foremost, the Bill didn't include mental injuries inflicted by torture though they are known to have a debilitating effect on victims' lives. Second, it imposed a very high threshold to prove torture- grievous hurt, severe and prolonged pain – this is incompatible with the definition given by the UN Convention . Third, the Bill did not disallow evidence collected by torture to be taken on board by a court of law, thus in a way legitimising the use of torture, and runs contrary to Article 15 of the UN Convention which prohibits the use of such evidence. Most important of all, the Bill had not taken into account legislative consultation and public discussions, Prasad said.
Sanction for Prosecution, Stonewalling Information
Noted criminal lawyer and human rights activist Vrinda Grover said that the Bill doesn't address the issue of sanction for prosecution for acts of torture. She recounted how Section 197 of the Code of Criminal Procedure (CrPC)has historically been used to protect errant police officials and their cruelty, and had enjoyed judicial indulgence and benevolence since the days of the British Raj- from the Pollard case decided by the Federal Court to the Supreme Court's decision in the Shankaran Moitra v Santana Das case, in which police's high-handedness was not punished because the officers were ostensibly carrying out their legal duty.
This was repeated as recently as 2007 in the Masooda Parveen case in which the apex court decided to completely overlook, nay, in a way, endorse and condone the acts of custodial torture for the sake of national security. Whose national security is it, when citizens are being subjected to acts of depredation by state agents, she asked.
Grover accused the government of stonewalling the disclosure of information on torture. She said she had filed a series of RTI applications to get the file noting on the discussion on the Bill in official channels, but had met with no success till date. She also filed an application with the Ministry of Defence and the Ministry of Home Affairs to know in how many cases, since 1990 to 2011, had sanction for prosecution been granted in cases involving torture, especially in Kashmir. The MoD replied, while the MHA did not. The reply revealed that only 44 applications had been received so far, 33 of them rejected, and 11 are pending, essentially meaning that sanction to prosecute has been given in zero cases!
Magisterial Inquests and Autopsies- A Sham
Ravi Nair, Executive Director of the South Asia Documentation Centre for Human Rights, spoke about how the provisions of Section 176 of the CrPC, which details the procedure to be followed for conducting 'inquests' on corpses to determine the cause of death, where the person died in police custody, was being reduced to a sham and blatantly violated in cases of torture involving police officials.
As per Section 174 CrPC, it is the police who normally conduct inquests. However, for certain kinds of deaths the law also empowers a magistrate to conduct the inquest.
Before the Amendment Act in 2005, Section 176 CrPC stated many kinds of cases in which a magistrate could conduct inquests. However, for none of these cases did the magistrate replace the police power to conduct an inquests. Moreover, these inquests could be conducted by both Executive and Judicial Magistrates alike. But Nair said that in many cases, Executive Magistrates are none other than police officers, and in even more cases, revenue officials are called in to conduct the inquests. In such a scenario, how will the truth be detected and accountability established, Nair wondered.
Regarding inquests and post-mortems, Jayshree Bajoria of HRW and Sangeeta Rege of CEHAT (Centre for Enquiry into Health and Allied Themes) dwelt on how post-mortems were shoddily done. Very few states even follow the minimum standards laid down by the National Human Rights Commission (NHRC) in a skeletal document dating back to 2003. There is no definition of torture in the forensic medicine textbooks used in medical colleges, and in most cases, doctors believe it is their duty to aid the police, even in cases of custodial torture. Quoting from a Mint investigative report on how basic cautionary principles for conducting autopsies are thrown to the wind, Bajoria and Rege called for a radical overhaul of the system, with the NHRC leading the way, now that the Medical Council of India has been disbanded.
Some participants in the conference pointed out that police reforms- a concept ushered in by the Supreme Court in 2006 on the basis of a PIL filed by top cop Prakash Singh- could end torture and the impunity around it in India. However, both Justice Shah and Grover objected to this proposal, saying that the schemeproposed by Singh meant that the police would be a force it itself, with nil political and civilian oversight or accountability.