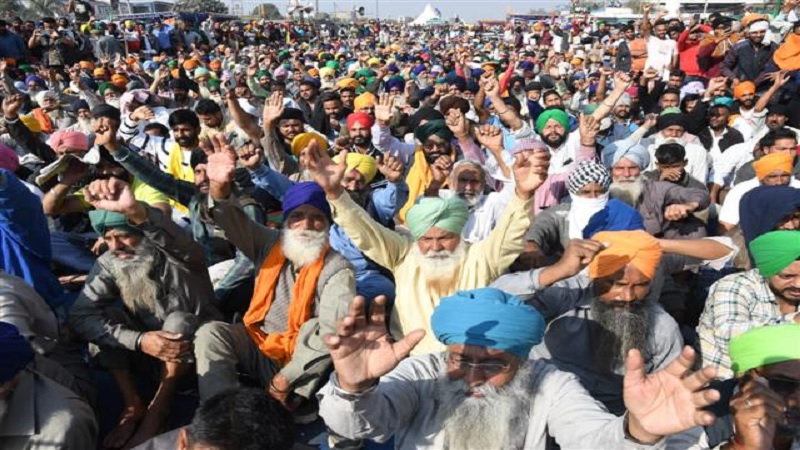 Image Courtesy:tribuneindia.com
Punjab had its first mahapanchayat at the Grain Market in Jagraon city of Ludhiana district on February 11, 2021. According to The Tribune, 25,000 to 30,000 people gathered for the event to listen to speeches of farmer leaders.
Different people arrived in the area via tractor trollies, cars, SUVs, buses and trucks where the police had stepped up security, as per NDTV reports.
Sanyukta Kisan Morcha (SKM) leaders Manjit Dhaner, Kulwant Singh Sandhu and Harinder Singh Lakhowal spoke on-stage and vowed to struggle peacefully till the Modi government agreed to withdraw the three farm laws rejected by farmers. Dhaner further thanked Bharatiya Kisan Union's (BKU) Rakesh Tikait for rejuvenating farmers' struggle.
"It is no longer a fight of only farmers but has now become a mass agitation. In the ongoing agitation, 99 percent people are standing by farmers but unfortunately, Prime Minister Narendra Modi has chosen to side with corporate houses," he told The Tribune.
Meanwhile, Lakhowal ridiculed the Centre's claim of open dialogue on farm Acts because "all doors had been slammed shut in the form of barricades erected on borders, with nails and iron rods fixed on roads, and denial of basic amenities to protesters."
BKU (Ekta-Ugrahan) President Joginder Singh Ugrahan asked protesters to prepare for a long drawn-out battle that extends beyond the national regime. BY saying so, he called the World Trade Organisation (WTO), the IMF and the Word Bank the real culprits responsible for the new economic policies .
Ugrahan said the laws would force more than 80 per cent farmers, especially those with small holdings, to lose their land to corporates and big business houses.
At the same time, leaders also warned against political hijackers who can manipulate the struggle for their own agenda. They reminded farmers that the agitation was started by India's peasantry and will remain so to fight corporates.
Related:
Mahapanchayats getting bigger, bolder
Farmer focussed Mahapanchayats getting massive response in UP as well
Punjab lawyers set up help desk at Delhi protest sites
Farmers' movement: How NIA summons triggered the 'Khalistan' conspiracy theory
Another death by suicide at Tikri border, death toll reaches 214
Allow peaceful protest by farmers: US Congress to India