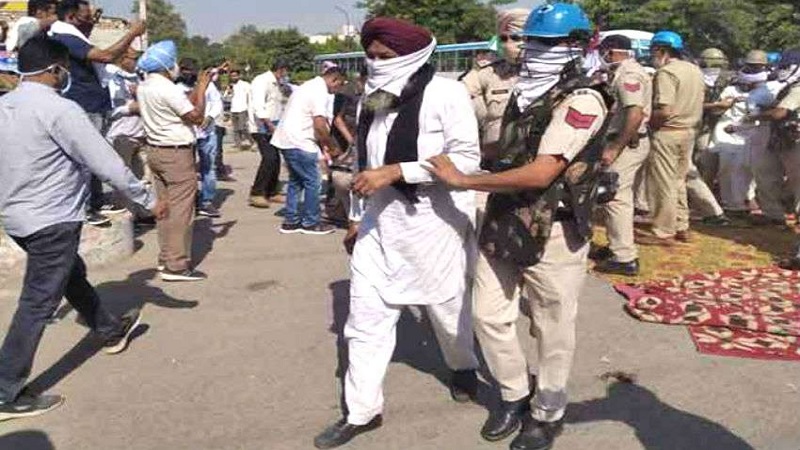 Image Courtesy:granthshala.com
Responding to the arrests of at least 30 Haryana farmer leaders between midnight and early morning of November 24, 2020, various representatives of farmers unions condemned the cowardly behaviour of the state administration.
Many leaders of AIAWU are arrested in Haryana 2 days before the Delhi March of peasants and workers against agrarian Acts. Ramchander Comrade Sehnal was arrested at 3.45 am from his village.

— ☭Rajeev Chowk Metro Station?//Karl Marx'onlyfan☭ (@Jagritibutnew) November 24, 2020
Swaraj India President Yogendra Yadav who was the first to voice news of the arrests on Tuesday morning, said the arrests were desperate attempts by the government to suppress the farmers protest march on November 26 and November 27.
"A scared government is trying to scare us. They think violence will silence us. However, we want to make it clear that the protest on November 26 will happen no matter what. Groups of farmers have already set out to reach Delhi from Maharashtra and Karnataka," said Yadav.
Speaking about the sudden arrests, Haryana President of the All India United Trade Union Centre (AIUTUC) Rajendra said, "This method of the state government to repress farmers shows that the movement has bewildered the administration. Leaders who suffer heart problems, were forcibly taken away from their homes without any medication. We demand that leaders be released immediately."
Similarly, General Secretary of the All India Kisan Sabha (AIKS) Hannan Mollah claimed that the arrests were a scheme of the ruling party to stifle the grievances of farmers.
Hannan Mollah, CPIM PolitBuro member & general secretary of @KisanSabha condemns arrests of kisan leaders in Haryana before the Dilli Chalo call of Kisan Organisations. pic.twitter.com/opKc0E5878

— CPI (M) (@cpimspeak) November 24, 2020
Meanwhile, Yadav claimed that the arrests were an attempt to turn the peaceful protests into violent riots. However, he said that farmers everywhere would follow Punjab's example in adhering to law and order.
"To the Haryana government, I want to say that farmers will not resort to violence. Punjab farmers have been observing their protests for 50 days and not a single vehicle has been hurt. We will do the same. We will sit where police stop us. We will not break any barriers," he said.
Member of the All India Kisan Sangharsh Coordination Committee's (AIKSCC) national group Satyavan said, "There are four points in Haryana from where farmers would enter Delhi – the Chandigarh-Delhi highway, the Delhi-Sirsa highway near Rohtak, the Jaipur-Delhi highway and Faridabad. Farmers will proceed to Jantar Mantar in Delhi from these points."
Leaders stated that lakhs of farmers had begun their march to Delhi from Punjab. As many as 500 farmer organisations had promised to participate in the event. Reinforcing the demands of the protest, Haryana President of the Janwadi Mahila Samiti Usha demanded the withdrawal of the three agriculture laws forcibly passed by the Union government.
"These farm laws will hike up prices of essential food products. Further they will affect marginal farmers, especially the women who will work on the fields. Our organisation members will join Punjab farmers at the four points on November 26 to show our support to the movement," she said.
Related:
Stoke the fire in your hearts! Rise in protest! Workers, lawyers, Unions stand with India's farmers
AIKSCC declares pan-India Solidarity Day and Delhi Chalo march
Farmers answer second clarion call to protest anti-farmer laws
Farmers organisations announce nation-wide road blockade on November 5