Mumbai: The recently concluded budget session was the least productive in four years for the Lok Sabha (lower house of Parliament), where four in five hours stipulated for business were lost due to interruptions, according to an analysis by PRS Legislative Research, a think tank. The 2015 budget session was the most productive for the Lok Sabha, when it conducted business for 122% of the stipulated time.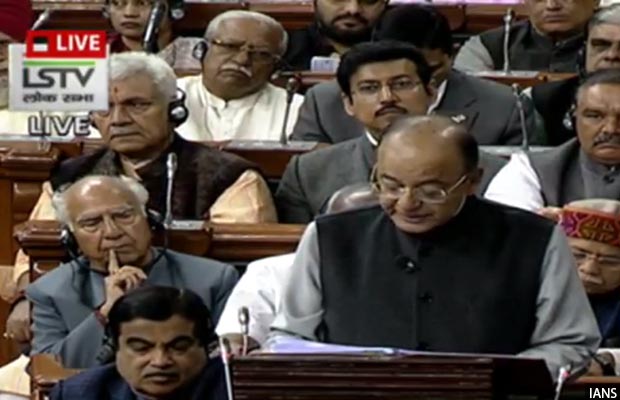 Rs 198 crore of taxpayer money was lost due to interruptions and forced adjournments in the lower house this session, according to IndiaSpend calculations.

The Rajya Sabha (upper house) conducted business for 31% of the stipulated time; its most productive session was in 2014 when the house worked for 106% of the time.

The Lok Sabha had 29 sittings in two phases–January 29 to February 9 and March 5 to April 6–during budget session 2018. While business was conducted for 34 hours and 5 minutes, according to this report by the Lok Sabha secretariat, 127 hours and 45 minutes were lost to interruptions–the highest of all sessions of the 16th Lok Sabha elected in 2014.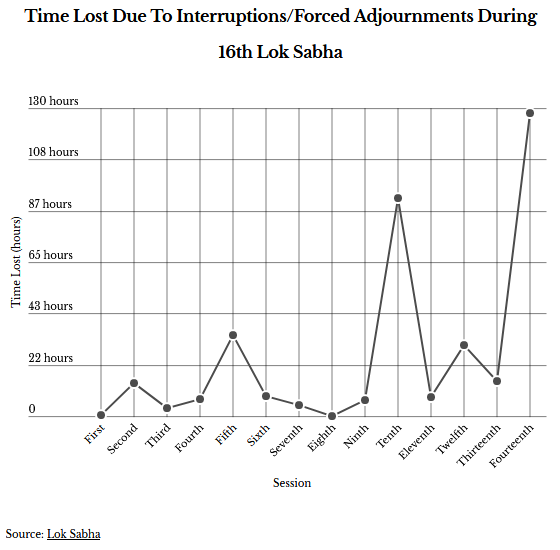 Accusing the Congress party of resorting to negative politics, members of parliament from the ruling National Democratic Alliance (NDA) and the Bharatiya Janata Party (BJP) announced on April 4, 2018, that they will forego their pay for the 23 days wasted during the second phase of the budget session.

Loss to exchequer from interruptions: Rs 198 crore

About Rs 198 crore was lost due to disruptions, as we said, during the 14th session of the current Lok Sabha, IndiaSpend calculations show. This includes Rs 192 crore for running the house and Rs 6 crore for salaries and perks paid to MPs.

Each minute of running Parliament costs the exchequer Rs 250,000, then parliamentary affairs minister Pawan Kumar Bansal had said in September 2012.

"In one year, Parliament runs for eighty days during sessions," Bansal said. "Each day, business in both Houses is conducted for around six hours. If we take into account the total annual expenditure on Parliament, then each minute of running the House costs Rs 2.5 lakh."

So, for the 127 hours and 45 mins lost to interruptions in Lok Sabha during budget session 2018, an estimated Rs 192 crore was lost.

The Indian taxpayer paid nearly Rs 177 crore in salaries and other allowances to Lok Sabha MPs during 2015-16, according to the Economic Survey 2017-18. This is excluding travel and daily allowance in June 2015 since data were unavailable. The figure also does not include salaries paid to cabinet ministers, since they are paid by the respective ministries.

That means, a monthly expense of nearly Rs 270,000 on each Lok Sabha MP, including perks on days they attend the Lok Sabha session. MPs get a daily allowance of Rs 2,000 when Parliament is in session. This, however, does not include other perks such as free housing, medical care and telecom facilities.

With effect from April 1, 2018, MPs' salaries, daily allowances and pensions have now been cumulatively increased by Rs 55,000, as IndiaSpend reported on March 13, 2018.

Each month, ministers attending Parliament are paid Rs 50,000 as monthly salary, Rs 45,000 as constituency allowance, Rs 45,000 as office expense allowance (including Rs 15,000 for stationery items and postage), and upto Rs 30,000 as secretarial assistance expenses.

Further, MPs can avail 34 free air journeys and unlimited rail and road journeys a year, according to this Lok Sabha note on amenities.

On average, 150 MPs did not sign in the Parliament's attendance register each day during the budget session, according to attendance data of the Lok Sabha. MPs are not entitled to their daily allowance if they fail to sign the attendance register.

Five bills passed, 17 of 580 questions answered

Five bills were introduced and an equal number were passed by the Lok Sabha during the budget session this year.

Two bills–the Finance Bill and the Appropriation Bill–were passed without debate; these bills include funding demands from 99 Indian government ministries and departments, and 218 amendments, as IndiaSpend reported on March 13, 2018.

Of the 580 starred questions admitted by the Lok Sabha–where a minister is supposed to respond orally in the Parliament–only 17 were answered orally, data from the Lok Sabha secretariat show.

(Mohan, am MA in economics from Mumbai University, is an intern with IndiaSpend.)
Courtesy: India spend