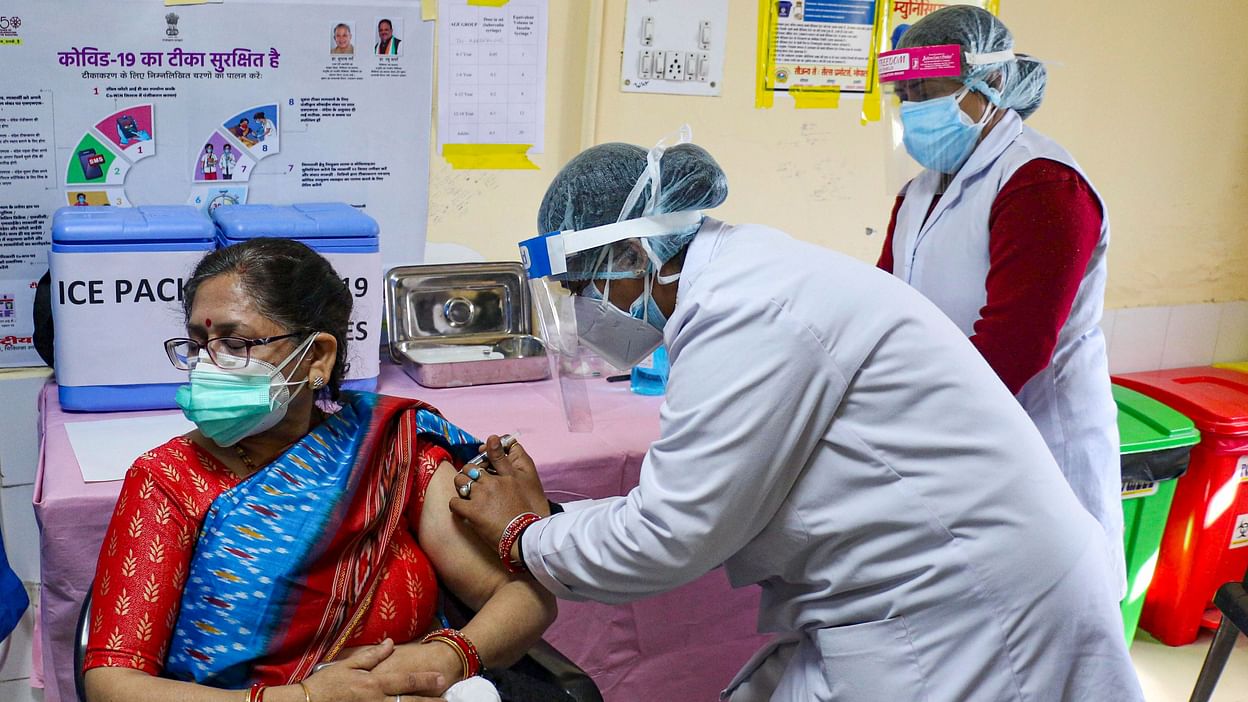 Representation Image / PTI
A parliamentary panel has raised concerns over the slow pace of Covid-19 vaccination in India, reported the Tribune News Service. The Parliamentary Standing Committee said at the current rate it will take many years to vaccinate the entire population in India. According to the news report, the department-related Parliamentary Standing Committee on Home Affairs in its 231st report on demand for grants for 2021-23 stated: "The panel takes note of the ongoing vaccination process for Covid-19 and observes that, till now, less than 1 per cent of the Indian population has been vaccinated and at this rate it will take many years to vaccinate the entire population."
According to the panel, all frontline health workers and personnel of CAPF and state/UT police should receive the recommended doses of vaccine on priority. The panel's report also expressed concern, that a large number of people were missing the second dose of the vaccine. It stated: "The committee believes that it is a very serious issue as the virus is mutating and new variants of Covid-19 are being reported in different parts of the world."
However, according to the Tribune, the committee, has appreciated the Ministry of Home Affairs' (MHA) initiatives such as: "establishing Rashtriya Raksha University (RRU), implementation of Emergency Response Support System (ERSS) and CCTNS, conducting District Development Council (DDC) elections in the UT of Jammu & Kashmir (J&K), Immigration Visa and Foreigners' Registration & Tracking (IVFRT) system, resettlement of Bru (Reang) and upgrade of forensic capacity."
According to information shared by the Ministry of Health and Family Welfare (MoHFW), 18.63 lakh vaccine doses were given till 7PM on March 15. The ministry has already called the drive as the "world's largest vaccination program," and the cumulative number of Covid-19 vaccine doses administered in the country has crossed 3.17 crore on March 15, the 59th day of the drive.
Meanwhile, India recorded its highest single-day spike this year on Monday, with 26,291 new Coronavirus cases reported in the last 24 hours. Maharashtra, has recorded more than half the new infections. The MoHFW says that apart from Maharashtra, it is Punjab, Karnataka, Gujarat and Tamil Nadu that continue to report a surge in the daily new Covid-19 cases. These states account for 78.41% of the new cases reported in the past 24 hours.
Maharashtra has reported the highest daily new cases at 16,620 (accounting for 63.21% of the daily new cases). It is followed by Kerala with 1,792 while Punjab reported 1,492 new cases.
India's total Active Caseload has reached 2,19,262 on March 15, with Maharashtra, Kerala and Punjab, cumulatively accounting for 77% of India's total active cases. India's cumulative recoveries stand at 1,10,07,352 today. The national Recovery Rate is 96.68 percent.
17,455 recoveries were registered in the last 24 hours. 84.10 percent of the new recovered cases are observed to be concentrated in 6 States. Maharashtra has also reported the maximum number of single day recoveries with 8,861 newly recovered cases, stated the ministry, but it also had 50 casualties, India recorded 118 deaths in the last 24 hours.


Related:
Night curfew to curb Covid in Kalyan-Dombivali and Nandurbar
EC directs removal of PM Modi's photo from vacSC directs 2,674 prisoners out on Covid bail to surrender by March 15
SC directs 2,674 prisoners out on Covid bail to surrender by March 15