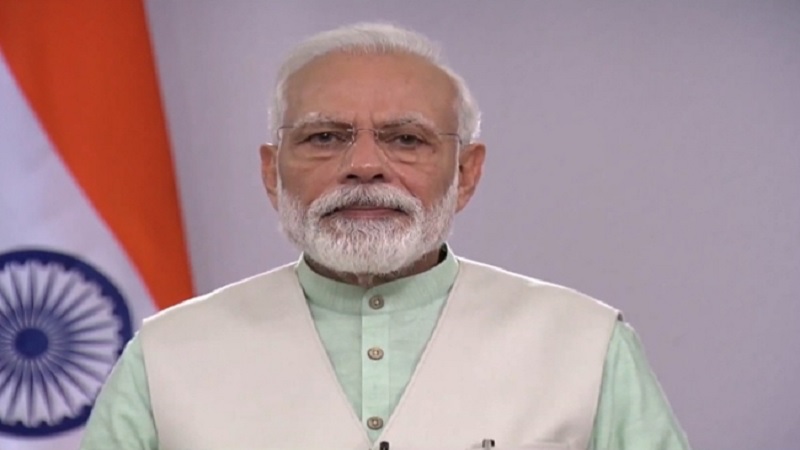 Image Courtesy:organiser.org
"… You had the grace to hold yourself
While those around you crawled
They crawled out of the woodwork
And they whispered into your brain
They set you on the treadmill
And they made you change your name…"
'Candle In The Wind' would have made for a fun soundtrack playing softly in the background to Prime Minister Narendra Modi's 9 AM address to the nation on Friday April 4. Of course the lyrics will have to be slightly modified (no pun intended here).
Those who are privileged enough to have a hearty breakfast stopped and turned their televisions on in time. Not for the Ramayana re-run, this time it was Prime Minister Narendra Modi himself telling us what to do with all the free time on Sunday, when we do not even have to work from home. "Urge everyone to switch off all lights of the house on 5th April at 9 PM for 9 minutes and only light a candle, diya, as a mark of every Indian's fight against Coronavirus," he said in a calm voice. A million sighs must have been exhaled across the country, for many reasons. Some were glad no further curfew restrictions were announced on day nine of the nationwide lockdown as the Coronavirus pandemic.
"I am happy he did not announce anything to make us crowd the shops again," said a resident of a middle income colony. "I do not have candles, I have my pooja lamps. I will light that," said a senior citizen. Both were not sure how lighting candles as suggested by the PM will help but they knew it would do no harm. "It is like diwali, will lighten the mood and lift our spirits," said a housewife, whose young children were looking forward to the Sunday celebration. She did not say if the family was planning to rustle up a celebratory meal too.
Of course the critics there too. Asking, once again, questions about more masks and other protective gear for doctors, when they should have been happy the PM noted the "discipline and spirit of service" displayed till now. In particular, the PM noted the mass celebration of Sunday 22nd March, when on his orders thousands gathered in large numbers, in their balconies, and crowds came together on the streets clapping, banging metal plates, and blowing conch shells to express their thanks and respects to those fighting the Coronavirus pandemic on the frontline. The unique Indian style appreciation has become an example for all countries. "Many are replicating it now," said the PM, adding "Whether it is people's curfew, ringing bells, clapping hands or clanging plates;they have all made the nation realize its collective strength in these testing times."
For this Sunday, the PM has offered a fix for cabin fever, or the feeling of irritability and restlessness, that is a natural side effect of being cooped up indoors for a long time.
"Friends, today, when crores of people of this country are confined to their homes, it will be natural for anyone to question what they can do just by themselves," he said adding that we should not feel isolated or alone at such times. "
He said we Indians should take time out this Sunday and experience our "collective superpower manifesting itself in the form of the people." This experience he explained will "boosts our morale, gives us direction and clarity, a common aim as well as the energy to pursue the same."
So at 9 pm on Sunday April 5, the PM suggested that we must "awaken the superpower of 130 crore Indians" this is to be done for 9 minutes.
His instructions are simple: "On April 5, at 9 PM, turn off all the lights in your homes, stand at your doors or in you balconies, and light candles or diyas, torches or mobile flashlights for 9 minutes.I repeat, light candles or diyas, torches or mobile flashlights, for 9 minutes at 9 PM on April 5."
Thankfully he made it clear that he does not want any gatherings or assemblies to manifest. "Please do not go out on the roads, lanes or your localities, do it at the doorstep or balconies of your own homes. One must never cross the 'Lakshman Rekha' of Social Distancing. Social Distancing should not be breached under any circumstances.This is the only panacea to break the chain of Coronavirus."
There were words like "Ma Bharati, Jagran, Urja' sprinkled liberally throughout the speech illustrating the deification of the nation as the mother goddess, energy, devotion etc.
He ended with the Sanskrit verse, "Utsaho Balwaan Arya, Na Asti Utsaah Param Balam | Sah Utsahasaya Lokeshu, Na Kinchit Api Durlabham ||" the transcript uploaded on his official website, explained that it meant, "There is no greater force in the world than our passion and our spirit. That there is nothing in the world that we cannot achieve on the basis of this strength. Come, let us come together and jointly defeat this Coronavirus, and make India victorious."
Of course the cheerleaders were ready with praise, "The light indicates that there is a ray of hope at the end of the dark tunnel. @narendramodi trying to unite the country and create a sense of shared purpose. Significant subliminal messaging at play.' Paraphrasing leading psychologists Dr Harish Shetty & Dr Sandeep Vohra." reported television journalist Rahul Kanwal.
Lawyer and rights activist Vrinda Grover was among those who questioned the PM's suggestion and said, "I'm a citizen of the Republic of India, not a clown to perform to the tune of the ringmaster! She wanted to know details of actual steps taken by the government to combat the Coronavirus pandemic, "Knowledge and information creates light and spreads 'prakash'!"
While both the gushing praise from the faithful, and the acerbic comments from the critics, are on expected lines, it is the pseudoscience interpretations that are mind boggling. Case in point was physician and cardiologist Dr KK Aggarwal who was once the national president of Indian Medical Association (IMA) and is now president of the Heart Care Foundation of India.
With his trademark stethoscope around his neck, Dr Aggarwal posted a video explaining the logic behind the PMs latest placebo: It is explained in "yoga vashishta chapter 6 principle of collective consciousness. 5 percent will think 95 will do" said the doctor and went on to share how this 'collective consciousness' had the 'power to heal' when channelised by some 'receptors' in the human body.
He is a real doctor. He even wore a stethoscope remember? He was retweeted by some official channel and promptly deleted soon after when flagged by journalist Vidya Krishnan who writes on health and has covered the Covid-19 pandemic and the response to it extensively. "No words. Indian Medical Association, instead of supporting resident doctors /nurses in their demand for safety gear, is promoting some mumbo jumbo religious ritual"
No words.

Indian Medical Association, instead of supporting resident doctors /nurses in their demand for safety gear, is promoting some mumbo jumbo religious ritual. https://t.co/6SOvanyUlj

— Vidya (@VidyaKrishnan) April 3, 2020
The video was shared by researcher Srinivas Kodali who's bio says he works on data, governance and the internet. It can be seen here:
I got you all covered. Let the collective stupidity burn. pic.twitter.com/DKGwuXlN0d

— Srinivas Kodali (@digitaldutta) April 3, 2020
However, both cheerleaders, and critics of such messaging by a political leader are right in noting how the masses are most likely to obey this command as well. Lakhs will light those diyas and candles, some may even burst firecrackers left over from the real festive season.
Not sure if the teeming masses in makeshift shelters, queueing up for their next meal, have had the chance to see TV yet. Maybe some true patriots can make sure lakhs of candles and diyas are donated here so they too can be a part of the festivities on Sunday. Too bad candles, and diyas are not edible.