As economists and the country grapple to process, and understand the real motive behind the move to suddenly de-monetize Rs. 500 and Rs 1,000 notes, by prime minister Narendra Modi, on November 8, 2016, financial reports coming in from the Reserve Bank of India(RBI) expose the sarkar's bald claims: not only was the move a gross over-estimation of how much the cash in circulation was actually undisclosed income, but a fresh and recent report from the Research team of the SBI headed by the economist Mr. Soumya Kanti Ghosh, predict that government can at the best get only 50,000 Cr after all this devastating exercise of demonetization.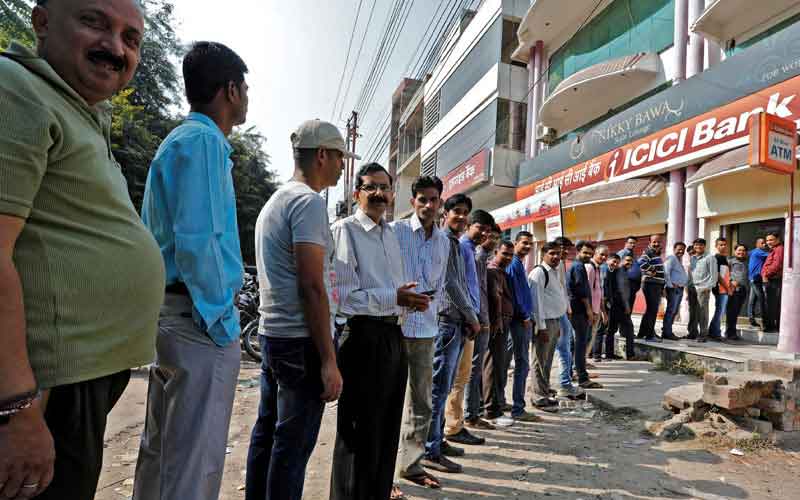 Image: Reuters

With less than four weeks to go for the December 30 deadline for depositing the withdrawn high-denomination currency, this SBI research report estimates that about Rs.13 lakh crore of the Rs.15.4 lakh crore of such notes in circulation will return to banks, leaving at least Rs.2.5 lakh crore outside the system.
According to the report released on December 4, the study says, already 9.8 lakh crores in 500 and 1000 Rs notes has returned to bank system. Accounting for a declining trend of deposit (60,000 cr were deposited in the first week, it was reduced to 50,000 cr in the second week)17% in deposits in the third week after demonetization, approximately 2.5 lakh crore Rs may not return. Out of which the bank predicts more than a lakh crore would be disclosed under the voluntary scheme. Hence the report says at the best the immediate short term gain for the government would be, at best, 50,000 Cr.

To put this so called "gain" in perspective, the Rs 50,000 crore gain should be compared with the following:

1. The 65,000 crore gain by voluntary disclosure scheme in the last decade, almost 30% more was then gained than what is now expected and that too without this devastating and dislocating demonetisation! Without disturbing the lives of common man or causing such a disruption in the economy.

2. This "gain" of 50,000 Cr Rs should also be compared with the estimated loss of 1.25 lakh crore at the lower end in the next 6 months according to CMIR and a loss of 3-4 lakh crore according to most conservative estimate of loss of 2% to GDP..which means a net loss of more than 3 lakh crore to overall Indian economy!!!

3. And loss of more than a 80 precious lives which no miracle in the economy could bring back.

It is this drastic and ill-planned move of the Centre announced at 8 p.m. on November 8 that has triggered much speculation on exactly how much money is likely to return to banks – a parameter that may determine the relative success of the demonetisation.

Was it really a move to get at counterfeit currency?
Or to paralyse black money hoarders?
In a written statement to Parliament, Minister of State for Finance Arjun Ram Mehgwal had submitted that 17,165 million pieces of Rs.500 notes and 6,858 million of Rs.1,000 notes were in circulation as on November 8. That meant the combined value of the withdrawn notes was Rs.15.44 lakh crore.
The Reserve Bank of India on November 28 reported that old notes deposited (including exchange) in banks as on November 27 amounted to Rs.8.45 lakh crore. That figure, however, did not include a figure for the amount of withdrawn notes deposited at post offices across the country. SBI — the country's largest lender that controls about 17 per cent of the deposit market and has been publishing daily data on deposits of the old notes received by it — has said Rs.2.31 lakh crore had been deposited at its branches till December 3.
Three weeks into the Centre's de-monetization move, as many as Rs. 15 Lakh crore of legal tender has been withdrawn from the banks. Latest data put by the Reserve Bank of India (RBI), about 56 per cent of such notes have come back into circulation. Between November 10 upto November 27, Rs. 8,44,982 crore worth of notes have been exchanged or deposited (exchange amounted to Rs 33,948 crore and deposits amounted to Rs 8,11,033 crore).
This has clearly taken the government by surprise as wrong estimates of how much of this was 'black' money were clearly made by government. As per most initial estimates, 20 per cent of the total value of the old notes (Rs 15 lakh crore) was pegged to be in black, and was not expected to come back into circulation. Credible estimates by renowned economists put the actual extent of 'black' money in circulation to be not more than five to six per cent.
"If we closely look at the data, the daily working day average deposited/exchanged at banks has declined significantly from Rs.60,500 crore (Nov. 10-18) to Rs.50,100 crore (Nov. 19-27), i.e. a decline of 17 per cent," Group Chief Economic Adviser Soumya Kanti Ghosh wrote in the report. Based on the daily average trends, which show a decline, the report estimates that Rs.9.8 lakh crore would have returned to the banking system by November 30.
All banks have been directed by the RBI to furnish information on old notes received in a particular form which the bank branches need to fill up and share with the regulator on a daily basis. The forms need to have details like the name of branch, and the code for branch – known as Indian Financial System Code (IFSC) in banking parlance.
Latest declaration
Referring to the Centre's latest income declaration scheme, the report projected that of the Rs.2.5 lakh crore that may fail to return before the December 30 deadline, about Rs.1 lakh crore would likely be disclosed under the self declaration of the undisclosed income scheme and would attract a tax of 50 per cent.
"We conservatively assume that Rs 1.5 lakh crore will not be disclosed by the individuals and this will purely be a extinguished currency liability," the report said.The "immediate short term benefit to the Government will be Rs.50,000 crore," the report added.
Has this overall miscalculation, this higher than expected money finding its way back into circulation, prompted the Centre to come out with the Pradhan Mantri Garib Kalyan Yojana 2016?
The Rs 3 lakh crore-odd worth of notes would have become useless come December 30. On the RBI's balance sheet, liability in the form of 'notes issued', would have been extinguished to that extent, leading to an increase in reserves. The surplus transferred to the Centre by way of dividends would fill up its coffers. An easy windfall gain, no doubt.
To ensure that hoarders are dissuaded from tendering their booty, the Centre has been dangling the stick and issuing warnings that cash deposits of above Rs 2.5 lakh could attract tax plus a 200 per cent penalty, in case of income mismatch.
But a substantial amount of money has still managed to come back into circulation, robbing the Centre of its possible bounty.
Additional revenue
This has left the task of examining each high value deposit to the income-tax department which may not have the necessary wherewithal to deal with the massive amount of data flow.
To counter some of these issues, the Centre on Monday came out with Pradhan Mantri Garib Kalyan Yojana 2016 to enable people with undisclosed income to come clean.
They would have to fork out a tax of 30 per cent and penalty of 10 per cent. A surcharge in the form of cess of 33 per cent will have to be paid on the tax, taking the total levy to 50 per cent. This is slightly higher than the 45 per cent that was payable under the Income Declaration Scheme (IDS) 2016.