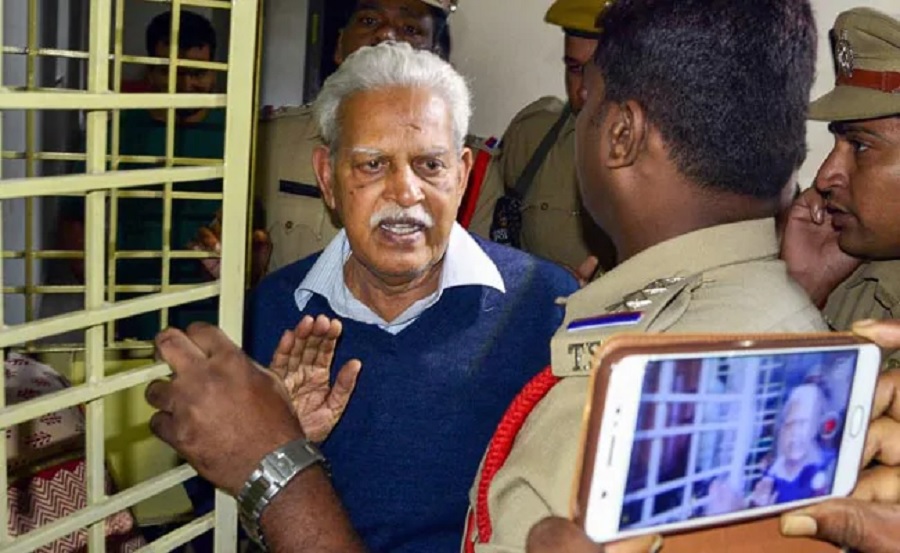 The Supreme Court on October 29 asked the Bombay High Court to expedite noted poet Dr. Varavara Rao's bail application hearing on medical grounds. A bench comprising of Justices UU Lalit, Vineet Saran and S. Ravindra Bhat expressed concern about the bail application filed on medical grounds not having been listed before the Bombay High Court since September 17, 2020 and directed the Chief Justice of Bombay High Court to list the same at the earliest. The Court also directed the High Court to examine whether Dr. Rao would be required to be treated in a speciality hospital.
Though the Supreme Court did not itself order the release of the poet, it asked the aggrieved family to approach the Bombay court taking cognizance of the violation of his fundamental Right to Life due to inhumane jail conditions.
The three Judge Bench was hearing a plea filed by Dr. P. Varavara Rao's wife, Pendaya Hemlatha who moved the Supreme Court on October 15 in a writ petition for the immediate release of her husband filed on behalf of Senior Advocate Sunil Fernandes, as reported by SabrangIndia. Her plea stated that Dr. Rao's continued custody mounts to cruel and inhuman treatment, violating Article 21 of the Constitution of India and violative of his dignity in custody. It further states that his release from Taloja Central Jail is important because he suffers from various co morbidities and that the jail environment is not exactly conducive to his feeble state of health.
The plea filed by Dr. Rao's wife also stated that since the commencement of trial could take time and no charges have been framed against him, he could be released on bail as there is also no bar to grant bail on medical conditions prescribed in the Unlawful Activities (Prevention) Act and National Investigation Act. It further added that, Section 21(2) of the National Investigation Agency Act, 2008 stipulates that the appeal should be disposed within 3 months from the date of admission of the Appeal and that this would be an appropriate time to look into his release instead of extending it any further.
As reported by The Leaflet, during the hearing, the Bench put three points across to Senior Advocate Indira Jaising who appeared for the petitioner. Firstly, a competent court, that is Bombay High Court had taken cognizance of the case. Secondly, the High Court was already seized with the matter of his bail. Finally, the High Court was looking into whether bail should be granted either on merit or on medical grounds. On the basis of this Justice Lalit asked, "Then how can we hear the case now?"
Before the Supreme Court yesterday, Ms. Indira Jaising submitted that, "Prisoners have a right to health in custody and this has been held to be so by this Court. Right to life and dignity is being violated. The right to health of prisoners in custody needs to be protected." She further added that Dr. Rao was completely bedridden and is being looked after by inmates and co-accused who is not medically trained. Ms. Jaising also highlighted that he was on a urine bag that needed to be changed every 24 hours but it hadn't been changed for about 40 days. This has caused him to suffer from further urinary infection and added to his deteriorating medical condition. "His soul is not being kept intact with his body", the Senior Counsel put forth.
Solicitor General of India Tushar Mehta appearing on behalf of the National Investigation Agency argued that "I don't see why other prisoners will not pray for similar relief."
"But that should not deter us. Every prisoner's health is important and the state should take a liberal view in this regard", Justice Ravindra Bhat responded. In light of the above, the Supreme Court directed the petitioner to withdraw her plea and approach the Bombay High Court for appropriate relief.
Dr. Rao's medical woes
SabrangIndia has extensively reported on Dr. Rao's health conditions which continues to be bleak since the outbreak of the pandemic. He was shifted to JJ Hospital, Mumbai in July as his condition began worsening. His family had alleged that Rao was delirious and hallucinating as he spoke about the funeral of his father and mother, events that took place over 70, and 40 years ago. He could not understand or reply properly when they asked him about his own health.
During a press conference with Rao's family, they informed that a co-accused at Taloja Jail, by the name of Veron Gonsalves, said that Rao "was not even able to walk, go to the toilet, or even brush his teeth on his own." His wife also said he sounded weak, muffled, incoherent and disoriented.
Getting him the right medical attention and care also required repeated appeals and outrage by noted civil right activists and academicians like historian Romila Thapar, human rights activist and journalist Teesta Setalvad, activist and environmentalist Medha Patkar and others.
Rao's lawyer Sandeep Pasbola had submitted before the Division Bench of Justices SS Shinde and SP Tavade at the Bombay High Court in July that his client was almost on his death bed and that he had hit his head against the hospital bed while he was at the JJ Hospital and sustained severe injuries. Besides Covid-19, he suffers from several ailments and has been hallucinating. He required the immediate help and care of his family if he were to die, his lawyer added.
Dr. Varavara Rao, a noted Telugu poet and activist was arrested on August 31, 2018 for his alleged involvement in the Elgar Parishad violence on January 1, 2018. According to the FIR filed against him in Pune, the Police claimed that speeches given by him and fellow leftist activists at Elgar Parishad, an evening programme organized on the eve of the 200th anniversary of the Battle of Bhima Koregaon were partially responsible for inciting violence the next day.
He has been booked for waging war, sedition, indulging in vilification of a particular group and other related offences under the Indian Penal code and relevant sections of the stringent UAPA.

Related:
Activists, Opposition parties demand release of Bhima Koregaon accused
Varavara Rao's health deteriorates, wife moves SC for release on medical grounds
Varavara Rao is in hospital today, but the risk to his life is not over: Family
Don't Kill Varavara Rao in Jail!