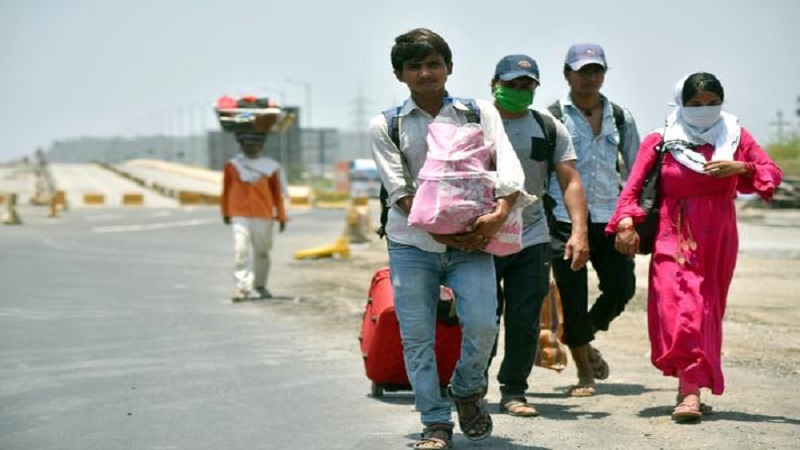 Image Courtesy:thehindu.com
Following the horrifying events of the second wave of Covid-19 in India, state and concerned authorities are gearing up for a possible third wave of the virus. Even the Supreme Court on June 29, 2021 instructed states to enact an appropriate scheme for distribution of dry ration to migrant labourers using allocation of additional food grains from the central government.
Directing states to ensure the implementation of the One Nation One Ration Card scheme in the suo moto plea regarding the problems and miseries of migrant labourers, judges said, "The State shall consider and bring an appropriate scheme, which may be implemented on or before July 31. Such scheme may be continued and operated till the current pandemic (Covid-19) continues."
Additionally, they also directed states and union territories to register all establishments and license all contractors under the Inter-State Migrant Workmen (Regulation of Employment and Conditions of Service) Act, 1979. This is to ensure that statutory duty is imposed on contractors to give particulars of migrant workers.
However, grassroot-level initiatives by SabrangIndia's sister organisation Citizens for Justice and Peace (CJP) showed that people were more concerned about their livelihood and health rather than rations. During the second wave, the virus seeped into rural areas calling for better medical and economic support for below poverty line families.
Specifically, in the Purvanchal region, CJP volunteers visited the villages of Mau, Jaunpur, Banaras and other districts to distribute mohallah and family kits to people. Members spoke to many people in the weaver and artisan communities, who said their source of livelihood had halted due to the spread of the virus. The lack of awareness about masks, social distancing also added to the chaos.
Migrant Resilience Collaborative (MRC), a not-for-profit collective,has now raised the need for government investment in livelihood opportunities as the first recommendation to address labour migration in the last two years. In its Voices of the Invisible Citizens II report, it said, "Reportage from the beginning of the 2020 lockdown highlighted that reverse migration was a consequence of the sudden disruption in livelihood, the absolute lack of economic security and sense of community at destination locations."
To address this, the report called for considerable investment in creating livelihood opportunities in cities and villages i.e., the source and destination of the reverse labour migration. The report emphasised that opportunities must focus on women for immediate income generation and to revive the participation of women in the labour force. Further, it called for relaxation in accessibility norms of one-nation-one-ration policies and other crucial schemes.
Research shows that while digitisation and stringent ID requirements reduce corruption in the Public Distribution System (PDS), it also risks the exclusion of target beneficiaries and increase in transaction costs. "It is hence advisable to stall the digitisation process and relax the ID requirements, particularly related to Aadhar linkage, to prevent any forms of exclusion," said the report.
Similarly, to ensure coverage of benefits under the Building and Construction Workers (BOCW) Act and other insurance schemes introduced in 2020, the report called for intense registration drives at block or district levels. In this regard, the Supreme Court's latter direction to establishments and licensed contractors is appreciated. In the same vein, it argued that government stakeholders should combine efforts to monitor incidences of bonded labour and exploitation. "Relevant stakeholders must undertake strategic engagement with contractors and recruiting agencies at destination and source locations to prevent exploitation of migrant workers… This must include registration of contractors across source and destination, awareness generation and orientation of contractors on responsible recruitment," said the report.
Further, rising unemployment has severely affected migrant workers' monthly income levels. Experts called upon the government to implement the NITI Aayog recommendation of increasing minimum wage rates and implementing stronger provisions for workers' grievance redressal in case of wage theft or non-payment of wages.
Moreover, local governing bodies should use the most accessible mediums to disseminate critical information about the pandemic, state responses and social security measures.
Dynamic lockdown regulations at the state and district level also call for the provision of quarantine facilities for labourers. Such facilities will also protect inter-state and inter-district migrant labourers from bearing exorbitant charges for travelling back to their native places.
With regard to vaccinations, the report said employers should work in partnership with local government bodies at worksites to provide marginalised communities with vaccinations. This reduces the risk of contracting the virus and prevents a major exodus like in 2020.
Earlier, the Pune Metro CREDAI President Anil Pharande took several measures to reassure migrant workers about their job security. They provided full wages, accommodation, groceries, medical and sanitation facilities and isolation rooms wherever possible.
Further, the CREDAI petitioned the government for vaccines for all construction labourers above 21 years, even before the government ordered vaccination for people above 18 years. From May 1 onwards, the company intended to facilitate free mass vaccination across all their construction sites with the help of local governance bodies.
Related:
COVID awareness and Medical Relief for Purvanchal continues
India's workforce demands fiscal support following the second wave of Covid-19!
92 percent of India's workforce faces historic and unprecedented crisis: SWAN report