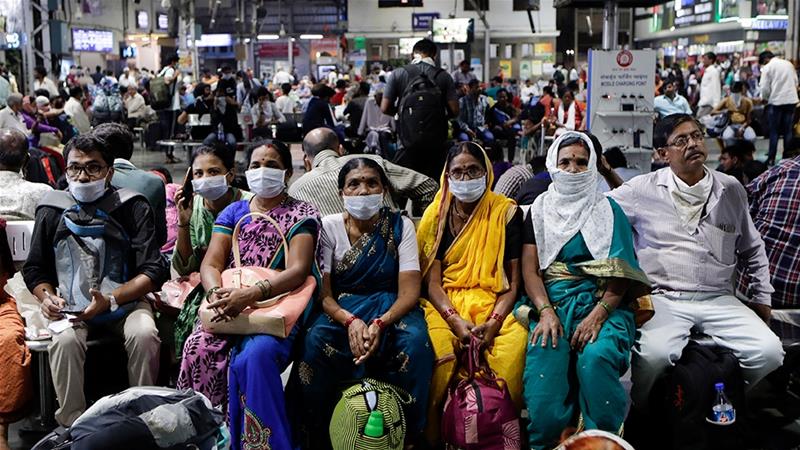 While we are busy tweeting selfies with masks, blogging about social distancing or cribbing about how sanitisers have gone missing from supermarket shelves, there is a whole section of society that is forced to go about life as usual devoid of any safety net.
The luxury of social distancing
49-year-old Lalitha hails from a nomadic tribe that settled down on the outskirts of Nanded two generations ago. Her family used to own some land in her village and she says she had her own special swing that hung from a tree in their courtyard. "My other siblings were not allowed to use that swing. It was mine, only mine," she says. But after moving to Mumbai post marriage, she was forced to work as a domestic help. Now, in a cruel twist to the idea of exclusive ownership, Lalitha still has something that is hers, just hers. "In most of the houses where I work, there is a cup or a glass that nobody else uses," she says, showing how the educated and the privileged have been practicing their own perverted version of social distancing even in our most posh neighbourhoods.
"All the madams are now working from home, so I can go and work anytime during the day. I don't have to wake up at the crack of dawn anymore," she says, somehow managing to find a silver lining amidst this mess. Perhaps, hope and a sense of humour are all she has.
23-year-old Uday is a delivery boy for a restaurant. "I thought people would prefer to cook food at home because of the fear of infection. But now that more of them are working from home, I making more delivery runs," he says. "My restaurant manager makes everyone wear masks and some people really appreciate that, though it hasn't translated into better tips," he says with a sigh of disappointment.
Meanwhile, 26-year old Mangesh is happy he still has a job. "Most of the other drivers got laid off because their bosses are working from home. But my boss runs his own business and has to go check on things from time to time. When I'm not driving him around for work, he visits his family members," he says. "He makes me spray and wipe the seats twice a day and we wear masks. Plus, he gave me two bottles of sanitizer. I told him I prefer soap and water, but he insisted I use the gel," says Mangesh wondering how this new product is better than the neem-based soap he has been using for years.
Meanwhile, it appears, that the privileged are treating this as a break with children thronging play grounds, with little concern about how serious the situation is. An eminent doctor working for a prestigious private hospital located in one of the most exclusive neighbourhoods in Mumbai shared via Whatsapp his displeasure at this callous attitude, "I have seen many of my own colleagues being quarantined because they have treated patients suspected with COVID -19. One of the doctors hasn't seen her 3-year-old toddler for nearly 4 days now. Medical personnel who are treating these patients are working like soldiers putting their own lives and families at risk. It's a shame that the rest of the community is ignoring the health hazard and having cricket matches in the lawn and late evening chat parties."
The truth about testing
There are 52 testing facilities across India, out of which only one is located in Mumbai at the Kasturba hospital in Byculla. Testing is free for patients as this is a public hospital, and the cost of each test that comes to about Rs 5,000 is borne by the government.
But India is predominantly testing only those people who have arrived from outside the country. These people are made to undergo thermal screening at the airport itself when they come into India and only taken to a testing center in case they show symptoms. This screening is currently being carried out at 30 airports. However, Health Minister Harshvardhan told the Parliament, "It is important to note that you might not show any symptoms and pass the thermal screening if you are in the 14-day incubation period. So, we take the data of all incoming passengers and put it into a centralized database that this then shared with surveillance officers in each district and heath-departments of all state governments."
Most of the cases are of passengers who have come from Iran, UAE, Italy, Kuwait, Sri Lanka, Rwanda and Hong Kong. However, Al Jazeera reports that India is conducting only about 90 tests a day, despite having the capacity for as many as 8,000. So far, 11,500 people have been tested, according to The Associated Press.
Now let us take a look at who all would these people who are not showing symptoms due to being in the incubation period might have come into contact with. They might have come into contact with airline staff, ground staff, security guards, cleaning staff, airport shop vendors, taxi drivers, and all this before setting foot in their own homes. The lower level staffers hail from economically less privileged backgrounds and have little or no means of exercising social distancing. They do not have the luxury of working from home.
Even when it comes to quarantines, in overcrowded cities like Mumbai where every square inch of space is an indicator of privilege, many families have four to six, sometimes more members sharing extremely limited living space. Even if one member falls sick, it makes the entire family including the elderly as well as the children extremely vulnerable.

Corona Virus and the Unorganised Sector
It is clear that it is people working in the unorganized sector who will not have the resources to defend themselves and are therefore the most vulnerable. They also have little or no social security or economic cushion.
Perhaps this is the right time to consider implementing a Universal Basic Income (UBI) scheme in India. A similar petition has already been moved before the UK Parliament.
It is noteworthy that the Uttar Pradesh government has announced that it would compensate daily wage workers for loss of income due to the Corona Virus. UP is one of India's most populous states with over 200 million people, 30 per cent of whom live below poverty line.
The Economic Times reports that at a cabinet meeting that was held on Tuesday, CM Yogi Adityanath has constituted a committee including the finance, labour as well as agriculture minister which will be submitting a report regarding the estimates of the amount. "To ensure the livelihood of daily wage earners the government is looking at transferring money using the real time gross settlement (RTGS) system directly into their accounts," government spokesperson and state power minister Shrikant Sharma told mediapersons.
However, this will only benefit workers with bank accounts. Many people working in industries such as construction are migrant labourers who move from one project site to another and rarely have a proper address as they live in makeshift shanties near their construction sites. Most of them do not have bank accounts and are paid in cash. Most of their daily earnings are spent putting food on the table. Their meagre savings wouldn't last long and they will be forced to borrow money from loan sharks at exorbitant rates and could be trapped in debt for years!
Meanwhile, in Kerala Chief minister Pinarayi Vijayan on Thursday, announced a Rs 20,000-crore package to help people whose incomes are affected due to the Corona Virus. He told mediaperson that his package would facilitate advance payments of social welfare pensions, free food grain for all, subsidised meals, loans for the needy and other welfare measures, including a health package of Rs 500 crore, reported The Telegraph.
Vijayan has also slashed the per plate price of fodd under an affordable meal scheme from Rs 25 to Rs 20 between April and September. A sum of Rs 1,320 crore has been set aside for paying social security pensions to about 50 lakh people. Those from the below-poverty-line category who do not receive social security pension will be paid Rs 1,000 each. People who hold below-poverty-line and above-poverty-line ration cards will receive Rs 10kg free food grain. A month's grace period to pay water and electricity bills has been given to everyone in the state.

Capitalism or ugly, naked greed?
While a Left government in Kerala is setting the bar high for providing social security to people, canny entrepreneurs in Maharashtra are seeing the Corona Virus epidemic as a money-making opportunity. In a crackdown against hoarding amidst the Corona Virus pandemic, masks and adulterated hand sanitisers worth Rs 7 lakh were seized from a shop in Maharashtra's Jalna city, police said on Friday.

Where do we stand right now?
Internationally, as per the John Hopkins University tracker death toll has crossed 10,000. In India, according to the Indian Council of Medical Research, "A total of 206 individuals have been confirmed positive among suspected cases and contacts of known positive cases. A total of 14,376 samples from 13,486 individuals have tested for COVID19 as on 20th March, 10am." Four more people have tested positive in Uttar Pradesh and one new case was reported from Gujarat and Odisha.
As of publishing this article, death toll in India stood at 5 with a 69-year old Italian tourist visiting Jaipur becoming the latest victim.
So far, Maharashtra has the highest number of recorded cases followed by Kerala. According to Maharashtra Health Minister Rajesh Tope, "Three more people have tested positive for Coronavirus – one each from Pimpri-Chinchwad, Pune & Mumbai. The total number of cases in the state now rises to 52."

Here are the various testing centers for the Corona Virus across India:
Andhra Pradesh
1. Sri Venkateswara Institute of Medical Sciences, Tirupati
2. Andhra Medical College, Visakhapatnam, Andhra Pradesh
Andaman & Nicobar Islands
1. GMC, Anantapur, AP
2. Regional Medical Research Centre, Port Blair, Andaman and Nicobar

Assam
1. Gauhati Medical College, Guwahati
2. Regional Medical Research Center, Dibrugarh
Bihar
1. Rajendra Memorial Research Institute of Medical Sciences, Patna
Chandigarh
1. Post Graduate Institute of Medical Education & Research, Chandigarh
Chhattisgarh
1. All India Institute Medical Sciences, Raipur
Delhi-NCR
1. All India Institute Medical Sciences, Delhi
2. National Centre for Disease Control, Delhi
Gujarat
1. BJ Medical College, Ahmedabad
2. M.P.Shah Government Medical College, Jamnagar
Haryana
1. Pt. B.D. Sharma Post Graduate Inst. of Med. Sciences, Rohtak, Haryana
2. BPS Govt Medical College, Sonipat

Himachal Pradesh
1. Indira Gandhi Medical College, Shimla, Himachal Pradesh
2. Dr.Rajendra Prasad Govt. Med. College, Kangra, Tanda, HP
Jammu and Kashmir
1. Sher-e- Kashmir Institute of Medical Sciences, Srinagar
2. Government Medical College, Jammu
Jharkhand
1. MGM Medical College, Jamshedpur

Karnataka
1. Bangalore Medical College & Research Institute, Bangalore
2. National Institute of Virology Field Unit Bangalore
3. Mysore Medical College & Research Institute, Mysore
4. Hassan Inst. of Med. Sciences, Hassan, Karnataka
5. Shimoga Inst. of Med. Sciences, Shivamogga, Karnataka
Kerala
1. National Institute of Virology Field Unit, Kerala
2. Govt. Medical College, Thriuvananthapuram, Kerala
3. Govt. Medical College, Kozhikhode, Kerala
Madhya Pradesh
1. All India Institute Medical Sciences, Bhopal
2. National Institute of Research in Tribal Health (NIRTH), Jabalpur
Meghalaya
1. NEIGRI of Health and Medical Sciences, Shillong, Meghalaya

Maharashtra
1. Indira Gandhi Government Medical College, Nagpur
2. Kasturba Hospital for Infectious Diseases, Mumbai
Manipur
1. J N Inst. of Med. Sciences Hospital, Imphal-East, Manipur
Odisha
1. Regional Medical Research Center, Bhubaneswar
Puducherry
1. Jawaharlal Institute of Postgraduate Medical Education & Research, Puducherry
Punjab
1. Government Medical College, Patiala, Punjab
2. Government Medical College, Amritsar
Rajasthan
1. Sawai Man Singh, Jaipur
2. Dr. S.N Medical College, Jodhpur
3. Jhalawar Medical College, Jhalawar, Rajasthan
4. SP Med. College, Bikaner, Rajasthan
Tamil Nadu
1. King's Institute of Preventive Medicine & Research, Chennai
2. Government Medical College, Theni
Tripura
1. Government Medical College, Agartala
Telangana
1. Gandhi Medical College, Secunderabad

Uttar Pradesh
1. King's George Medical University, Lucknow
2. Institute of Medical Sciences, Banaras Hindu University, Varanasi
3. Jawaharlal Nehru Medical College, Aligarh
Uttarakhand
1. Government Medical College, Haldwani
West Bengal
1. National Institute of Cholera and Enteric Diseases, Kolkata
2. IPGMER, Kolkata
Related:
Statelessness a greater fear than COVID-19?
Citizens pen five-point letter to Centre and State gov't to tackle Covid-19
Is it time for Universal Basic Income in India?
Are airlines flouting DGCA norms to fully refund passengers for cancellations due to Covid 19?
"Does the Coronavirus ignore wedding parties, and attack only peaceful protests?"