`Bitch'. `Please give me more information about this prostitute I will take care of her'. `It's been proven that this woman was born to a Byari (Muslim)'. `Put chili powder on her there'. `Banish this woman to Syria'. `This bitch's husbands must be mullahs'. `She must be raped and killed' . . .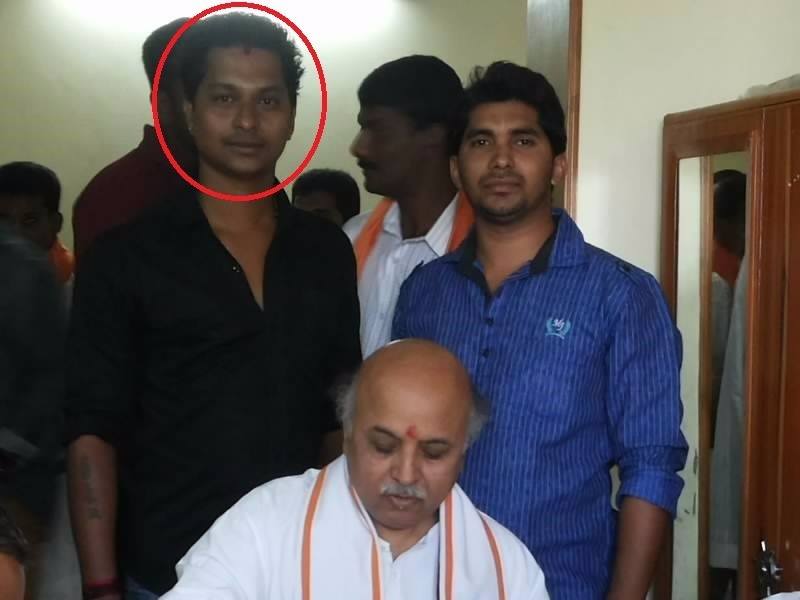 These were some of the comments made by right wingers on social media against activist Vidya Dinker. What was it that Vidya had done to earn such venom from the self-appointed `protectors of Hindu culture'? She had filed a complaint before the police and asked them to take action against members of the Bajrang Dal who were obstructing the screening of Shah Rukh Khan's film `Dilwale' in Mangaluru theatres recently. A few months ago Shah Rukh Khan had – in an interview to Rajdeep Sardesai – expressed his concern about rising intolerance in the country and had earned the ire of the knickerwallahs.[1]
Vidya's `Dilwale' incident happened by chance. A young college student was keen on seeing Shah Rukh Khan's film and had booked a ticket in advance. However, when she went to the theatre she was told that the show had been cancelled due to pressure from members of the Bajrang Dal. By then some members of the Saffron brigade had also shared photos of them tearing and burning the posters of the film on social media. The young girl took a photo of her ticket being cancelled and her money being refunded. Later, when she ran into Vidya Dinker she narrated all that had happened.
The Mangaluru police know Vidya well. For many years now, she has been active in rescuing children from traffickers, rushing to the aid of abused women, opposing goons who attacked pubs and home stays, and so on. Vidya came more clearly to the forefront when she put up a protracted struggle against the Mangalore Special Economic Zone (SEZ). It was because of a protracted struggle, with her at the helm, that, finally, both the state and the central governments had to give up on the 2035- acre project. And again, when journalist Naveen Soorinje was arrested and jailed for doing his duty and filming the attack (by fanatics) on a home stay, it was Vidya who ran from pillar to post, to get him out on bail.
There is one thing everyone knows about Vidya: once she takes up an issue she will not easily throw in the towel. Yet, when Vidya first went to the police and asked them to take action against mobs which were obstructing `Dilwale' the police tried to fob her off. Instead of sending policemen to the theatres where the shows were being unlawfully stalled, they (the police) sent cops to other theatres! When Vidya insisted on action, the police claimed that since theatre owners had not filed a complaint, they could take no action. (Theatre owners were afraid to file a complaint since they feared attacks on their property). When Vidya asked the police to take suo moto action, under the law, against people breaking the law, they replied that they could not do so, for lack of evidence. That was when Vidya took the photo of the ticket being reimbursed from the college student and filed a complaint in her own name. This was on December 21, 2015.
No sooner had she done so, right wingers started spewing venom against her. On a face book wall named `Veera Kesari' the co-convener of the Mangaluru unit of the Bajrang Dal, Puneet Kottari, posted a message calling Vidya a 'traitor' to the nation. He also asked her to `remember that you are eating rice grown in India and not Camel dung excreted in Pakistan'. It was Kottari's initial post which evoked these abusive responses. A look at the face book walls of Kottari — and all those who responded to his post — show that they are all ardent admirers of both Narendra Modi, individually and the Sangh Parivar, in general.
With the saffron brigade spewing targeted hate on social media and the Karnataka police not even raising a finger to control them, all liberals and progressives persons all over the state (Karnataka) got very alarmed. They staged a number of protests. That was when the Mangaluru police woke up. But what did they do? They only called Puneet Kottari, gave him a warning and sent him on his way.
Bhuvit Shetty did ultimately kill an innocent youth. Puneeth Kottari might soon get bail and be released soon. Who knows, then, what he or someone else like him, groomed by an ideology that engenders violence and hatred, will end up doing? That thought alone is enough to send a chill down anyone's spine.
It is also worthwhile recalling what another Bajrang Dal activist called Bhuvit Shetty did just recently. Another product of the Hindutva 'Laboratory' that the coastal districts of Karnataka have become, Bhuvit Shetty had gloated over the murder of scholar and historian M M Kalburgi nearly four months ago. He had tweeted, "Critics of Hinduism will die a dog's death. After U R Ananthmurthy, it is Kalburgi who had died such a death. Next, it is your turn K S Bhagwan". Then, too, it was Karnataka's liberals that had expressed shock and dismay and protested strongly. In response, then, the Mangaluru police had merely summoned Bhuvit Shetty, given him a warning and sent him off. A couple of months later, Bhuvit did exactly as he had threatened. He attacked and killed. His victim, however, was not Professor Bhagwan, but a poor youth called Harish Poojary.
The incident took place around the time of the Tipu Sultan Jayanthi controversy in Karnataka which had created ripples in Mangaluru and Coorg districts. Around this time, on November 12, 2015 Samiullah and his friend Harish Poojary went on the former's bike to play cricket. While returning home, they stopped at a junction to drink tender coconut. It was the same spot where Bhuvit and four other Bajrang Dal members lay in waiting, ready to attack Muslims. [2] The five of them assumed Harish Poojary also to be a Muslim and surrounded both Samiullah and Harish. Though Samiullah escaped with some wounds, Harish was not so lucky. He was killed on the spot by Bhuvit and his accompanying, Hindutva goons. After investigations the police arrested Bhuvit and Achuta and are still on the lookout for the other three persons involved in the murder. Announcing the arrest of Bhuvit and Achuta, IGP Amrit Paul, rued "I have worked in many districts in the state, but never have I seen a place like Mangaluru where people go and kill someone without any reason. Their intention was very clear: to kill someone. This was done by perverted minds."[3]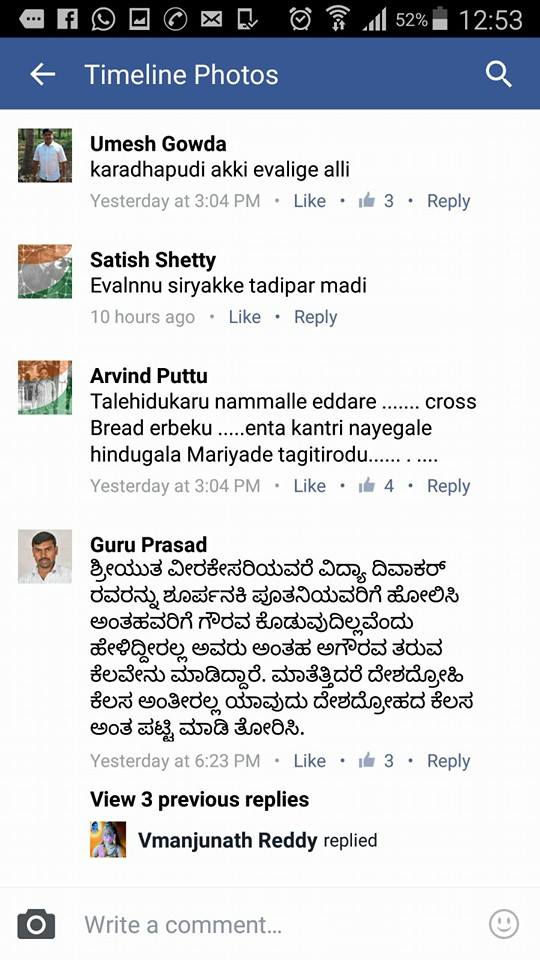 And there are innumerable perverted minds wandering loose in the coastal districts of Karnataka. A couple of decades ago these very same districts had a different social climate and were considered peaceful, housing a population that was educated, progressive, enterprising and development oriented. But since the RSS has chosen to concentrate its special attention on these districts – important for the RSS as they have a higher percentage of Muslims and Christians when compared to other parts of the state – they have become communal cauldrons. Youths belonging to the backward classes have been brainwashed by the Sangh and are being used as the frontline goondas (lumpens) who impose the fatwa generated by the upper caste leadership of the Sangh Parivar.
Puneeth, who belongs to the backward Kottari class is clearly one such perverted mind. Soon after his post about Vidya, photos of him proudly posing with a rifle, standing behind the Vishwa Hindu Parishat leader Praveen Togadia and grinning goofily, and many other pictures of him sporting a huge tilak and standing in front of various Hindutva posters started circulating on social media such as WhatsApp.
Liberals, who were alarmed upon seeing such photos and the lack of action on the part of the Mangaluru police, started questioning the state government. "Are you waiting for Puneet to become a killer like Bhuvit?'' they asked. It was only when their voice got louder that the police finally arrested Puneeth and filed charges against 27 others who had abused Vidya Dinker on social media. This happened only on December 24, 2015.[4]
These are extremely dangerous times to be living in. When well known Karnataka writer, U R Ananthamurthy said that he would not like to live in an India where Modi is prime minister, he was abused.[5] Ultimately, when Modi did become prime minister, the writer was sent an air ticket to Pakistan. When Ananthmurthy passed away, Sanghis celebrated his demise by bursting firecrackers.
Likewise, when Kalburgi criticised facets of Hinduism, he too was threatened by the Sanghis and later he was shot dead in his own home. It's been four months since his demise and even today we are clueless about who conspired to kill him.
Bhuvit Shetty did ultimately kill an innocent youth. Puneeth Kottari might soon get bail and be released soon. Who knows, then, what he or someone else like him, groomed by an ideology that engenders violence and hatred, will end up doing? That thought alone is enough to send a chill down anyone's spine.
---
[1]
On November 1, 2015 on Headlines Today and Aajtak, in an exclusive interview, Bollywood superstar, Shah Rukh Khan, had spoken out vocally on the climate of intolerance in the country.
[2]
Tipu Jayanti murder in DK a case of mistaken identity: Cops, http://www.deccanherald.com/content/512907/tipu-jayanti-murder-dk-case.html
[3]
Speaking to reporters in Mangaluru, inspector general of police (western range) Amrit Paul said, "Following the murder, three teams under the leadership of superintendent of police Sharanappa S Dhage were constituted, which nabbed rowdy-sheeter Bhuvith Shetty, 25, son of Sanjeev Shetty and Achuth, 28, son of Sheshappa Poojary. Three other accused are yet to be arrested."Terming the incident as a 'case of mistaken identity', Paul said, "They wanted to kill someone and went ahead with just that motive. They targeted Samiullah and assumed that the person who travelled pillion with him was also from the same community. It was an act of perverted minds." http://www.bangaloremirror.com/news/state/Man-who-rejoiced-over-Kalburgi-killing-held-for-a-fatal-mistake/articleshow/49851010.cms
[4]
The Mangalore police registered a case against Bajrang Dal Mangaluru city co-convener Puneet Raj Kottari and 21 others for allegedly abusing and threatening Vidya Dinker, a social activist and coordinator of Citizens' Forum for Mangalore Development on December 24, 2015.The city's police registered an FIR (First Information Report) on Thursday evening under IPC sections 354D (2) [assault or criminal force to woman with intent to outrage her modesty] , 506 [Criminal intimidation], 500 [Defamation], and under IT Act 67 and 67A [Publishing of obscene information in electronic form].
[5]
I wouldn't want to live in India if Modi becomes PM, author Ananthamurthy says, http://timesofindia.indiatimes.com/india/I-wouldnt-want-to-live-in-India-if-Modi-becomes-PM-author-Ananthamurthy-says/articleshow/22763087.cms
Bibliography:
knickerwallahs: Term used for the all those wearing the khakhi shorts which is the uniform for the shakha, training camps of the Rashtriya Swyamsevak Sangh (RSS)
Sangh Parivar, Sanghis: Reference to the 'family' ( parivar of organizations originating out of and spawned by the Rashtriya Swayamsevak Sangh-RSS
Hindutva, Hindutvawaadis: The doctrine of a Hindu theocratic state; derivative: those who believe in the Hindu theocratic state.