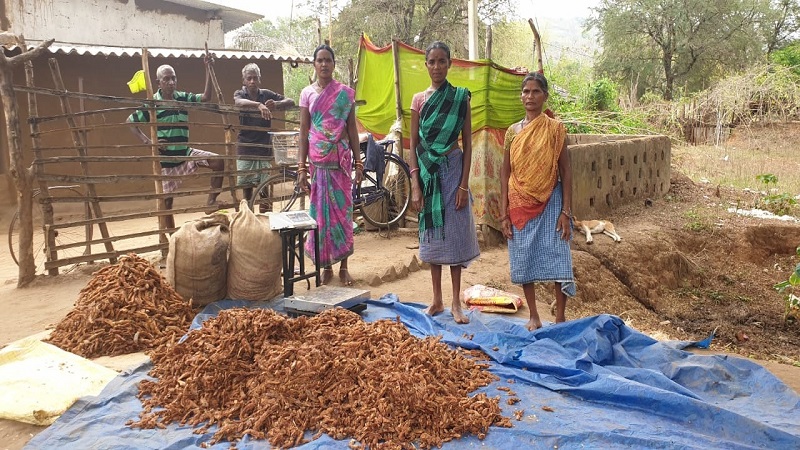 The lockdown is being used creatively to not only reap minor forest produce but to also benefit marginalised small gatherers and farmers.
In the rural areas of Chhattisgarh, the collection of minor forest produce (MFP) like mahua, tamarind and tendu leaves is on amidst the lockdown.
Ananda Babu, additional managing director at the Chhattisgarh Minor Forest Produce Federation, said that with the contraints of the lock down, the state government has put more emphasis on MFP collection, especially that of tamarind. "Initially, there was a huge survey where women's self-help groups (SHGs) were identified for MFP collection. We thought this is the proper time to play a greater role and help poor, marginalised gatherers."
There are some 18 MFPs traded in the state. The state government wants to increase the processing rate of MFPs as well. About 139 primary processing centres have been identified so far.
According to Kaushalendra Kumar, additional principal chief conservator of forests (monitoring and evaluation), apart from collection, hand sanitisers made from mahua flowers are also being popularised at present. As this is the mahua season, the product was launched last week. As there is a high demand for sanitisers, we decided to make it from a minor forest produce popular in this region, Kumar explained.
Procurement in villages
As of now, all haat bazaars (rural markets) are closed, yet procurement is on in the villages, according to the state government's guidelines. Babu said 51,000 quintals of tamarind has been procured till now worth Rs 15.80 crore. Apart from procurement, cold storages have been identified as tamarind has to be stored quickly after collection.
Sundeep Balaga, the divisional forest officer of Dantewada, said earlier gatherers used to come to the village markets to sell their produce. "But this time, we activated the SHGs so that they can buy at the village level, following a government directive. These groups were directed to buy the produce at the government's fixed rates. For tamarind, the MSP is Rs 31 per kg and the market rate is almost at par this year," Balaga added.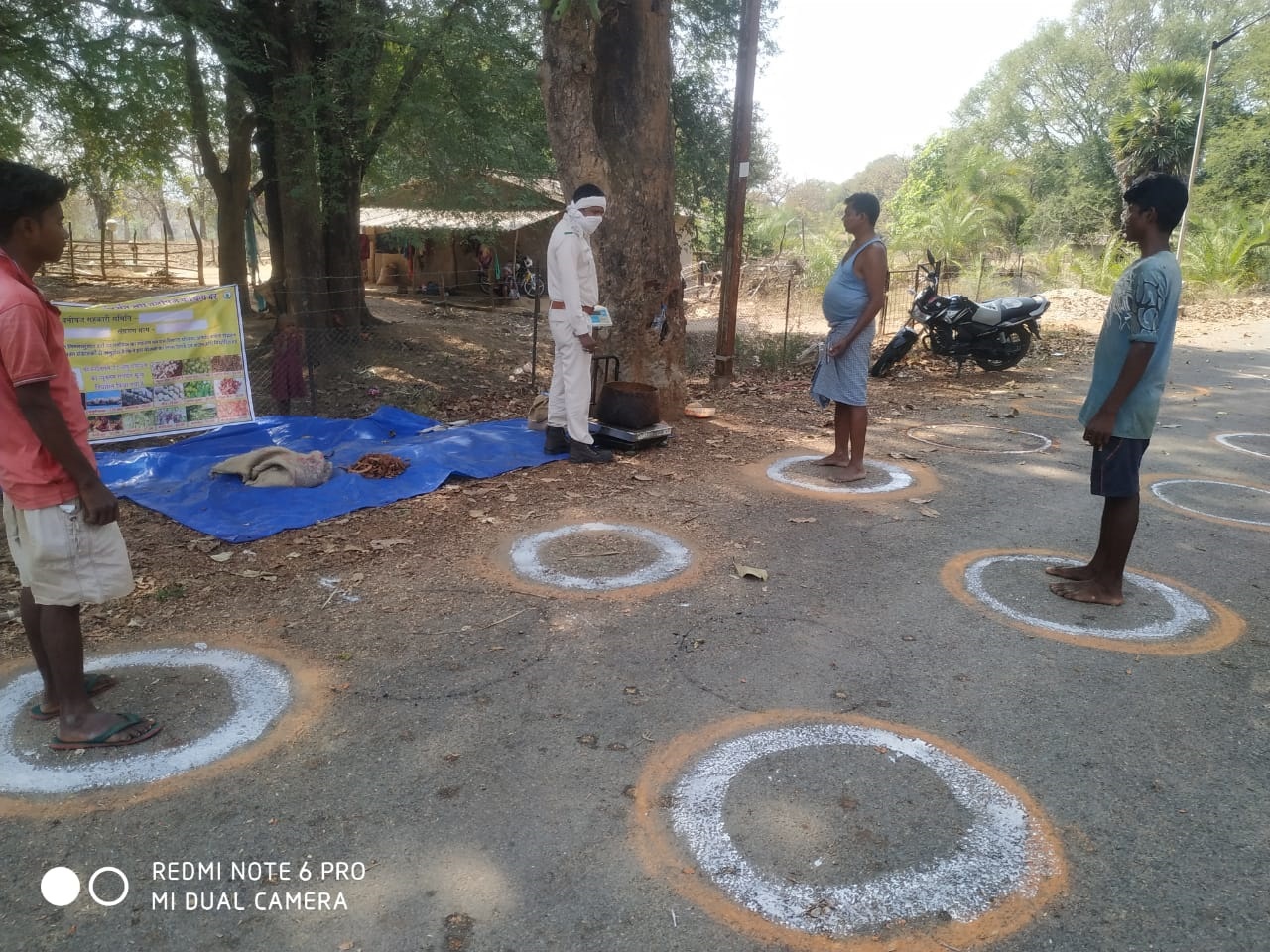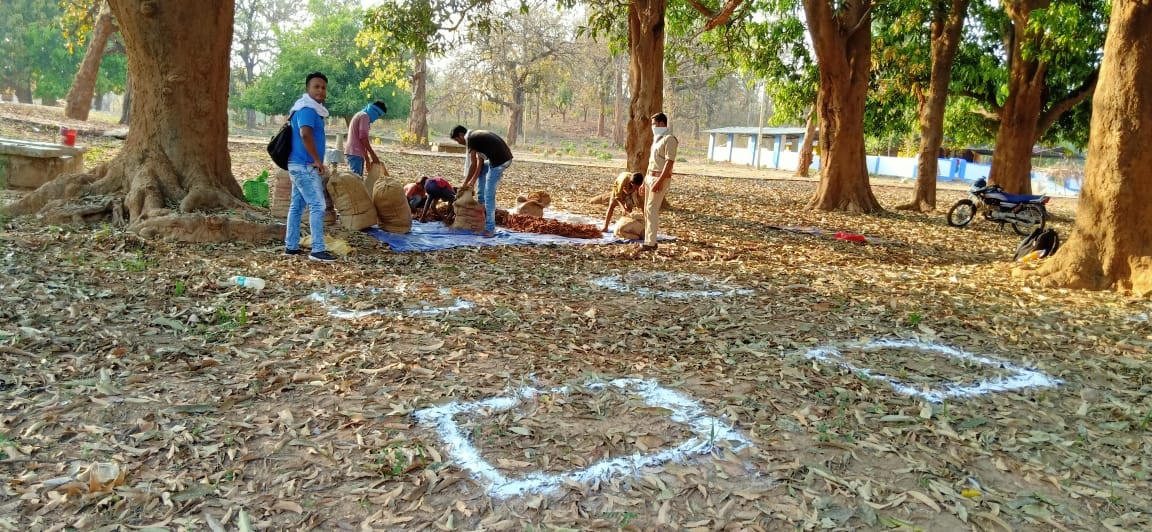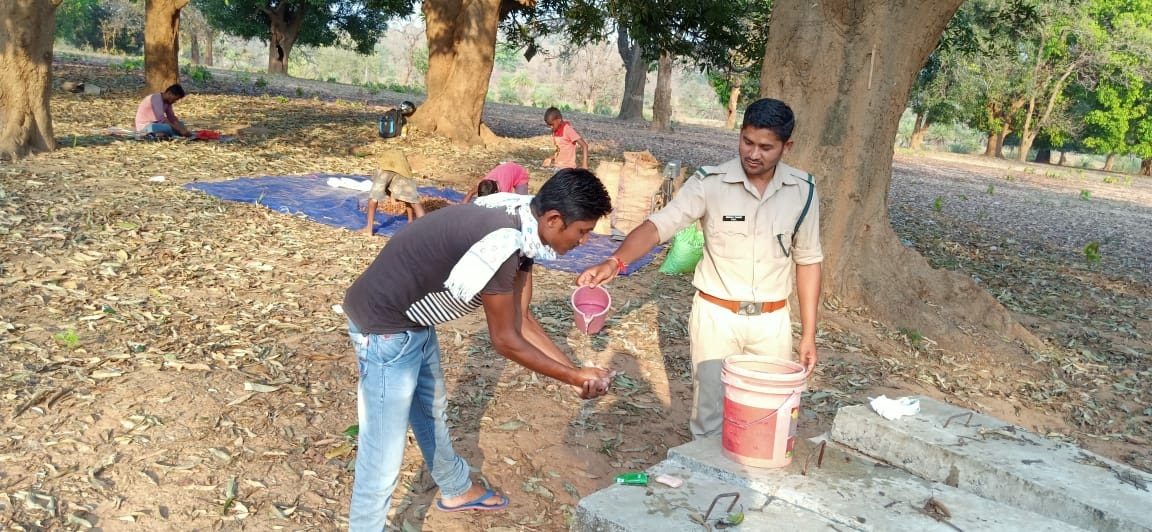 Though the SHGs were formed much before the lockdown started, they were not active. They were engaged in nutrition programmes and other activities. About 1,000 such groups have been formed in the district out of which 60 are working on collection of MFP. Gradually, they are getting activated.
According to Balaga, as these SHGs have been activated, villagers have benefitted without even stepping outside. "Each village has a SHG. We are helping the groups in bringing the collected produce to cold storages at an interval of two to three days. The tribal economy solely depends on MFPs." Till now, 10,000 quintals of tamarind has been collected in Dantewada.
Manivasagan, the divisional forest officer of Keshkal division of Kondagaon district, said in rural haats, the rates are really low. Normally, tamarind is sold at as low as Rs 20 per kg in these markets whereas we are offering Rs 31 per kg.
"In every village, the SHG is active. With SHGs buying the produce, traders are at a disadvantage. Now, they have to offer the same rate and are even compelled to move inside the villages. So, these groups have been empowered," Manivasagan added.
"In my division, till now almost 6,800 quintals of tamarind has been procured. We have private cold storages as the government storage facility is far away. Tamarind must be kept quickly or else it gets blackened," the DFO of Keshkal added.
Babu informed that the federation trained some 450 people and finalised 850 places which have good potential for MFP collection. "We feel that women's groups are sincere and honest. More than 60,000 women are involved at the village level, at the haat bazaar level and finally at the primary processing centre level." He added even though we cannot assemble many people for collection due to social distancing norms, tamarind collection will pick up even more eventually. Cold storage movement hardly covers 20 km and is thus safe.
"Earlier, the response was not good. Before Covid-19 happened, Rs 35-37 per kg was the local rate for tamarind and our MSP stood at Rs 31 per kg. We initially got 2,000 quintals. People did not know much. Meanwhile, the lockdown happened, the haats closed, and we thought that this is the time to play a vital role," Babu told Sabrang-India.
Stylo Mandavi, the divisional forest officer of Bastar division, said that the overall collection of tamarind is 8,090 quintals. Overall, the collection of MFP is 9,207 quintals. Some 19,700 women are involved in the Bastar division.
Mahua collection
Gathering of mahua flowers is an integral part of Bastar's culture. Even though the mahua collection season has started, the trade does not have the desired volume. Most villagers keep mahua for consumption in homes and for preparing liquor, unlike tamarind, which is sold off quickly.
The mahua MSP initially stood at Rs 17. "But because of the success of tamarind, a few people felt that prices should be hiked for mahua too. Now, it is Rs 30 per kg for mahua," Babu said.
Uttam Gupta, the divisional forest officer of Kondagaon, said 165 SHGs have been selected for collection at homes. They were formed as part of the National Rural Livelihoods Mission. When the lockdown started, we planned door-to-door collection. But the mahua trade is still low. Till now, 150 quintals have been collected so far.
Related:
1. Ground Report Assam: Covid-19 leads to mass starvation as water-starved farm lands run dry
2. Food prices surge, farm sector suffers as supply and transportation hit amid Covid-19