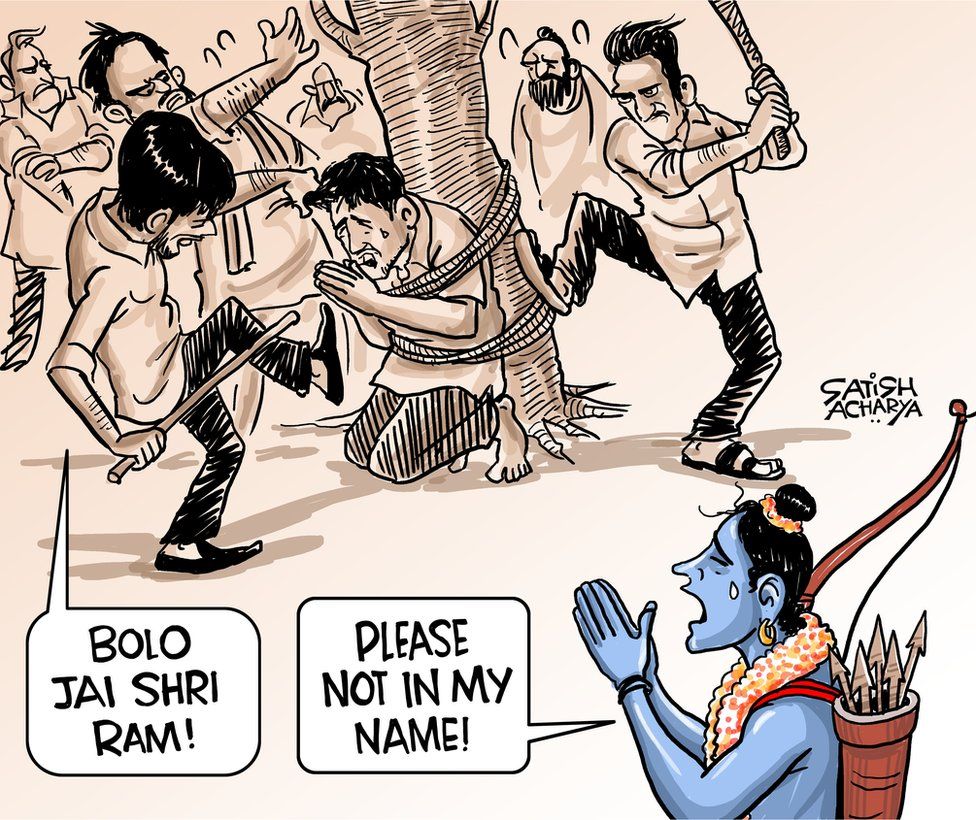 Image courtesy: Satish Acharya

April 18, 2023
Dear Rama, Narpati, Lord of Men,
I do not see a reason to write you a letter; after all, you are ever present; you are Sarvajna (The All-Knowing, or the One who is aware of everything that exists). But when I write to you, I introspect about my position, hypocrisy and lack of introspection in my community.
I once encountered the phrase "jo ramta hai wahi Ram hai" in an essay as a student. I enquired with my teacher if this had any links to the vanvas of Prince Ram of Ayodhya. Patiently, he explained that the essayist used the term "Ram" to represent purity in a nirgun (formless) sense. He discussed the idea of travel, literally and metaphorically, to denote transformation ('ramta'). He also spoke about Kabir and Surdas. The essay and conversation left a mark on my life; I realised that the idea of Ram is not limited to a narrow concept of something singular but a human ideal of purity.
In years to come, I have learned more about You and the 'idea of Ram' from my mother, sister and friends. You are dignity (Maryada) from Amma, while for Akka, You are Stoic, and my Ram was the idea of 'Ramta' (transformation).
At the same time I was discovering you, a dramatic change was occurring outside of me: in 1990, the Rath-Yatra had transformed your name and entity, Ram, from an idea of maryada to a war cry. A war cry to Hindus who were told of a glorious past and how to correct historical "injustices".
Lord, Ram.
"You became the poster boy for an entire society fighting socially, legally, religiously and politically to build a mandir for you. They unleashed violence for your temple, but it never struck them, Lord, that you gave away your kingdom for a promise made by your father, you never spoke ill of your Kaikeyye, you parted from Bharat with an embrace, guiding him to succeed. Your life taught the idea of 'sacrifice' idea of giving it away is the idea of tapasya."
Dear Raghupati, I was rereading Maithili Sharan Gupt's "Kakiyee ka Anuthap". Throughout the poem, Kakiyee expresses her regret for her actions and her desire to seek Your forgiveness. Not only do you pardon her, but you also show her love. Your Love for Kakiyee and Bharat was unwavering. I must confess I have tried (often unsuccessfully) for years to adopt this unwavering love.
I recall so many incidents from your life (we do many versions of your life); I remember how you were ready to accept Vali's last words when he felt betrayed as he died in your arms; you promised that in a future incarnation as Lord Krishna, you would be mistakenly injured by a hunter named Jara, and Jara would be the reincarnation of Vali.
Son of Dasharath, You show kindness to Jatayu as he dies in your arms. You accepted offerings of fruits from Sabari, who tasted them before she offered them to you. You see bhakti and love in it. You receive Vibhisana's request for refuge. However, Sugriva and Lakshmana express doubt about Vibhisana's motives. You speak of Ravana's statecraft with respect; you seek no war and send Hanuman for peace; and finally, you fight the battle not to conquer Lanka but for the Love of Sita. You ask Vibhisana to rule the nation of Lanka. You thought Vibhisana would govern justly and fairly; your magnanimity and ability to forgive and extend compassion even to your enemies is a formidable lesson for us.
The period of exile, or "vanvas," was a time of introspection and a battle for love. You, the prodigal son, returned to the land of Ayodhya after a life of "tapasya,"; You taught us what bhakti is, for true love is not obtained through asserting ownership but rather through the process of detachment and self-discovery. They, in fact, call you Vanavasa Priya; I interpret it as someone who celebrated detachment (what a thing for a prince to do !!)
Lord Rama, I recall an incident where Hanuman shielded Luv and Kush from your arrow. Hanuman, the embodiment of devotion and reverence towards you, demonstrated that your bhakti can even reverse the effect of your arrow.
Love of Lord Rama could even conquer your wrath.
It reinforced the values of Ram-Maryada, which encompassed dignity, love, and devotion, and its significance has only grown over time.
Yet, I felt we had betrayed you when I saw men kill and then shout Jai Shree Ram. We owe an apology to you. As a nation and religious group, we have lost both dignity and maryada. The Lord who could give up his kingdom and always taught the idea of tapsaya, bhakti and fighting for love has been reduced to a cry for violence, revenge and lawlessness.
Many would say You must come back to correct the ills, but You gave Your story and lesson; as Your disciple, we must claim what You instilled in us, bhakti, an idea of love.
We come to you much like Kakiyee. We come with our "anuthap" (remorse and regret). The only way to make amends is, to begin with, introspection and embrace the values of love and compassion you have taught us.
Lord of Men, Rama, you are also called "Premamaya", is a term that means "full of love". We will not allow your name to be misused as a symbol of hate.
A disciple of love and knowledge,
Venkat Srinivasan
(The writer is a financial professional, also passionate about the arts, academia, and social issues related to development and human rights)