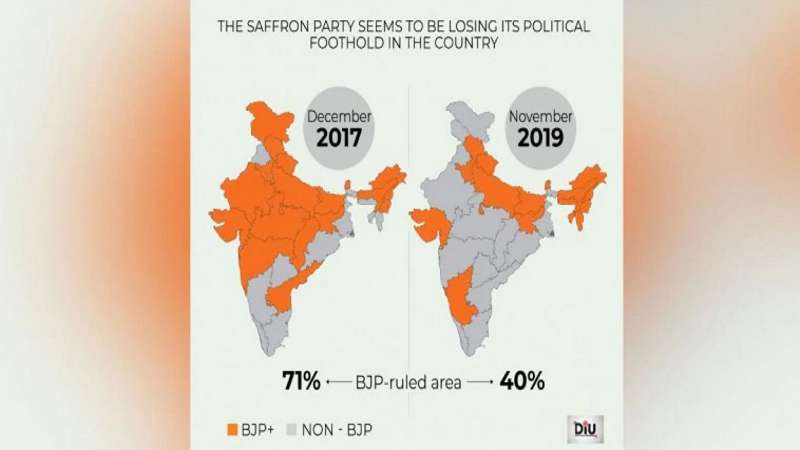 Image Courtesy: Indiatoday.in

The 2019 Maharashtra Assembly elections have not gone down well with the Bharatiya Janata Party (BJP). Its government collapsed as quickly as it was formed, after rebel Nationallist Congress Party's (NCP) Ajit Pawar first resigned as the Deputy Chief Minister and Chief Minister Devendra Fadnavis resigned soon after, citing no majority, reported Dainik Bhaskar.
Once ruling over 71 percent of the population, the BJP led National Democratic Alliance (NDA) now covers only around 40 percent after losing power in four big states – Madhya Pradesh, Rajasthan, Chhattisgarh and Maharashtra.
Since the BJP's big bang victory in 2014, its political footprint only rose. Starting with holding power only in seven state assemblies in 2014, it went on to hold power in 21 assemblies by 2018.
The credit for this was given to the Modi wave named after the PM and to BJP's Chanakya Amit Shah, who changed the color of the political map – from patches of blues and greys in 2014 to an almost complete swipe of saffron in 2018.
In 2014, BJP ruled over Gujarat, Madhya Pradesh, Rajasthan, Chhattisgarh, Goa and Arunachal Pradesh – directly or with alliance partners, reported India Today. Its graph grew from seven to 13 in 2015, 15 in 2016, 19 in 2017 and 21 in 2018.
In September 2018, it did not hold power only in eight of the 28 states – the ones being, Tamil Nadu (AIADMK), Kerala (LDF), Karnataka (Congress), Mizoram (Congress), Punjab (Congress), Odisha (BJD), West Bengal (TMC) and Telangana (TRS).
As of November 2019, the picture is vastly different. Even in states where it is just short of power, it has to depend on allies like in Haryana where it had to partner with the Jananayaka Janta Party to form the government and it suffered a massive blow after the debacle in Maharashtra elections, the government for which was formed by the alliance of the Shiv Sena, NCP and Congress.
Fadnavis has lost face, being abandoned by the party to save his own dignity. Amit Shah has lost the status of Chanakya after Sharad Pawar beat him at his own game. The BJP has lost another prestigious seat of power. Whether its arrogance will now be eroded and will the opposition unity rework its magic in other parts of the country remains to be seen.
Related:
Assembly numbers bust the hype of BJP's electoral dominance
Tha Maharashtra circus and our reform agenda
Maharashtra governor's action unconstitutional
Why isn't anyone trying to buy this MLA in Maharashtra ?