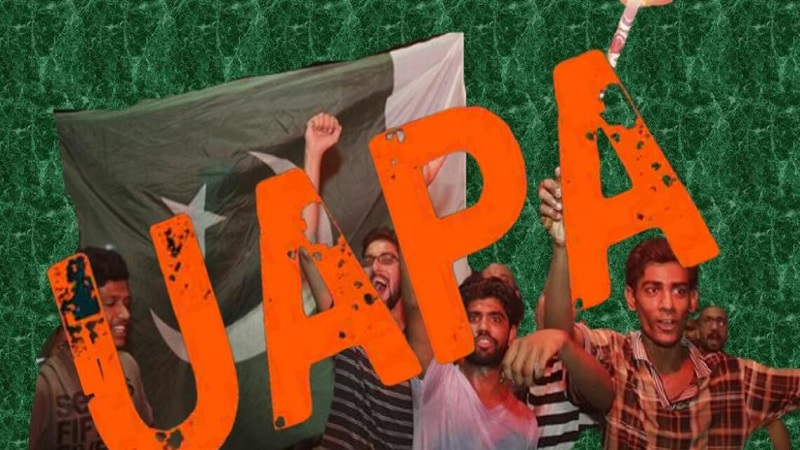 Image Courtesy:tfipost.com
The three Kashmiri students who were arrested in Agra, Uttar Pradesh for allegedly "celebrating Pakistan's victory against India" were reportedly assaulted when they were produced in court on Thursday, The Hindu reported. An FIR was lodged against the students identified as Arsheed Yousuf, Inayat Altaf Sheikh and Showkat Ahmed Ganai for allegedly posting a WhatsApp status message praising Pakistan players after India's defeat against the former in the T20 World Cup cricket match.
The UP Police are also reportedly "investigating charges of sedition against the three students." When they were produced at a local court, a group of men, including some in the uniforms of lawyers, were seen charging at the three students as the police were escorting them into the back of a jeep. The men also raised slogans against Pakistan and shouted "Bharat Mata ki jai" and "Vande Mataram", stated the news report.
So far, according to news reports, the UP police have booked seven people across five districts for allegedly "celebrating Pakistan's victory over India in the T20 Cricket World Cup" that was held recently. The three Kashmiri students arrested are enrolled at an Agra engineering college under the Prime Minister's Special Scholarship Scheme for J&K students, and were arrested on Wednesday. According to news reports, Raja Balwant Singh Engineering Technical College's administration also rusticated the three students on Monday, and "announced that the college would be shut down until action is taken against those who forcibly entered the college on Tuesday demanding the arrest of the Kashmiri students."
Others arrested for the alleged "pro Pakistan celebrations" include a 25-year-old jail warden in Bareilly, and two others from UP as well. Bareilly police lodged a case against jail warder Arsh Ali Malik under the Information Technology Act. Senior Sub-Inspector of Izzat Nagar police station, Sudesh Kumar, said that Hindu Jagran Manch member Arun Kumar had lodged a complaint against Arsh Ali Malik for "posting a status on his WhatsApp in favour of Pakistan", reported IE. The Police have invoked "criminal intimidation and intentional insult with intent to provoke breach of the peace against the jail warder" as Kumar also complained that Malik "abused him on the phone when asked about his WhatsApp status."
According to news reports "most of the FIRs were registered on complaints lodged by members of Hindu Jagran Manch and Bharatiya Janata Party". A teenaged labourer named Mohammad Niyaz was arrested and charged with Sedition for his Facebook posts the FIR was lodged based on a complaint by one the basis of Puneet Kumar against Mohammad Niyaz under IPC section 124 A (sedition), reported the Indian Express. Another youth named Musharraf was arrested for his WhatsApp status "favouring" Pakistan after the match, from Sitapur, added IE, he has been booked under IPC section 507 (criminal intimidation by anonymous communication).
One more person, identified as Ayan Khan, has been booked in Bareilly for allegedly posting controversial comments on his WhatsApp status regarding Pakistan's win in the cricket match. Ayan Khan has been booked under Section 66 of the Information Technology Act based on a complaint filed by a BJP leader, said police. Here is what has happened so far in the aftermath of the cricket match.
Celebrate Pakistan's victory over India, face Sedition charges: Adityanath
A day after three engineering students from Kashmir were arrested in Agra for raising anti-national slogans following Pakistan's big win, Uttar Pradesh chief minister Adityanath told the media, "Those celebrating Pakistan's victory over India in the recent T20 cricket world cup match will face sedition charges." This statement was amplified by local media and the Uttar Pradesh Chief Minister's social media handle on Thursday. This it seems has to be taken as a stern warning. The students' arrest has set the example clearly.
पाक की जीत का जश्न मनाने वालों पर देशद्रोह लगेगा: मुख्यमंत्री श्री @myogiadityanath जी महाराज pic.twitter.com/34DEij8y3t

— Yogi Adityanath Office (@myogioffice) October 28, 2021
J&K: Police book students who allegedly celebrated Pakistan cricket win under UAPA.
Jammu and Kashmir Police have reportedly registered cases under the Unlawful Activities (Prevention) Act (UAPA) against students of medical colleges who "celebrated" Pakistan's cricket win over India in the T20 World Cup match that was held on Sunday evening in Dubai. The students, hostel wardens and management of the Government Medical College in Karan Nagar, and the Sher-E-Kashmir Institute of Medical Sciences in Soura of Srinagar district, have also been booked under the anti-terror UAPA law.
Team India's only Muslim player, Mohammad Shami, trolled and verbally abused
Even Twitter influencers joined and fanned the communal fires including cricket-turned-businessman Virender Sehwag, whose dog whistle claimed and taunted that "in parts of India there were firecrackers to celebrate Pakistan 's victory." Shami was trolled and verbally abused online for days after Team India lost.
Punjab: Communal unrest at Bhai Gurdas Institute of Engineering and Technology
It was reported that many Kashmiri students were allegedly assaulted there, soon after the match ended. The college is located in Punjab's Sangrur area.
Owaisi slams Pak Minister: What does Islam have to do with cricket?
Asaduddin Owaisi, Member of Parliament and Chief of the All India Majlis-e-Ittehadul Muslimeen (AIMIM) has condemned Pakistan Interior Minister Sheikh Rasheed's remark on the Pakistan's win against India in the T20 World Cup match as being a win for Islam. Owaisi questioned Rasheed, and asked what Islam has to do with cricket matches. Speaking at a public gathering in Muzaffarnagar in Uttar Pradesh he said, "A Pakistan minister said their win against India in T20 World Cup match was a victory for Islam. What does Islam have to do with cricket matches?" Rasheed's claim that Pakistan's win against India at T20 World Cup match was a 'victory for Islam' had fuelled communal troling and attacks on Muslims both online and off. Owaisi's response is also likely to dampen some of the right wing groups who are on a constant lookout for reasons to target minority communities.
सुनो पाकिस्तान! तुम भारत का मुक़ाबला कभी नहीं कर सकते। – बैरिस्टर @asadowaisi pic.twitter.com/LH9ZQF26ol

— AIMIM (@aimim_national) October 28, 2021
Related:
J&K: Police book students who allegedly celebrated Pakistan cricket win under UAPA
Kashmiri students allegedly attacked after Pak defeats India in cricket match
Will no one from Team India speak up for Mohammad Shami?
Aamir Khan: Surviving in the regime's crosshairs
BJP MP says Aamir Khan's CEAT Tyres Diwali ad hurts Hindu sentiments
Jashn-e-trolling: What does the festive season mean for bhakts?