The 1000-year-old temple devoted to Lord Shiva hosted its first ever Iftar on Sunday where Namaz was offered at the 'Aarti Sthal.'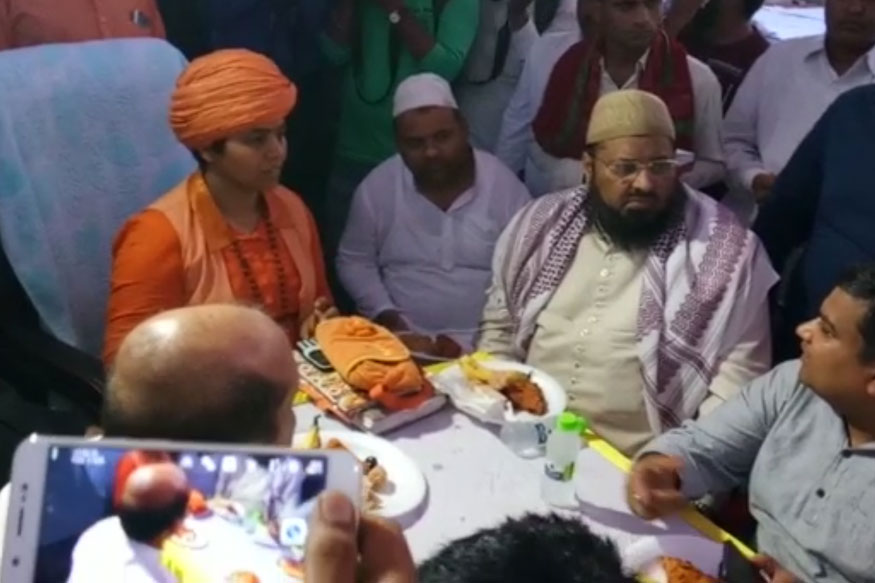 Image Courtesy: Network18
Lucknow: The 1000-year-old Mankameshwar temple in Lucknow, UP, hosted 500 Muslims for Iftar on Sunday. Namaz was offered at the 'Aarti Sthal' and the event created ripples across the spectrum.

Setting an august example of communal harmony, Mahant Devyagiri, the first woman chief priest of the temple, told News18, "All religions promote love and brotherhood. Sometimes, Muslims also host 'Kanya Pujan' and put up 'Bada Mangal' stalls here. Religious heads like priests, mahants and imams should do their job and spread brotherhood and harmony. Serving people who fast from morning to evening is the noblest job to do. Three of our cooks along with workers of the temple started preparations for the Iftar since morning for more than 500 people who were expected to come to this first of its kind Iftar. The gathering was historic and it was a step to reinstate the city's harmonious traditions."

The Mankameshwar Temple is devoted to Lord Shiva and is situated on the banks of river Gomti in Lucknow. It is being seen as the first temple in the city to ever host an Iftar.

Noted clerics from both Shia and Sunni sects attended the event at the same time. Among those who attend the Iftar on Sunday were the imam of the Teeley Wali Masjid Maulana Fazlul Manna Rahmani, Maulana Sufiyan Nizami, spokesperson of Darul Uloom Farangi Mahali and Nawab Jafar Mir Abdullah and Nawab Masood Abdullah.

The event was widely appreciated for being organized during Ramzan. "This is a very good deed to break someone's Roza. The way this event has been organised is commendable. This initiative will strengthen the bond between Hindu and Muslims," Imam Abdul Mannan was quoted by ANI.
"Maulana Fazl-E-Mannan of Teele Wali Masjid, who was also present at the event said, "Mahant Divyagiri invited me to the Iftar and we are lucky to be a part of such an event. This step is more than welcome, as it will boost communal harmony in today's times," reported News18.