Pogroms, communal strife and massacrehave been cultural blotson our landscape since independence,ingrained in the bedrock of a divided India. But lately, the emergence of 'spontaneous-mob-lynching'with more than a tinge of pride, pouring out of men intoxicated with Hindutvahas become the new took to subvert both the rule of law and the Constitution.The 'new-lynching-normal'of the lived India of the last five years might be a subtle attempt to assert the much sought-after-transition of India from a 'Secular State' to a 'Theocratic State'.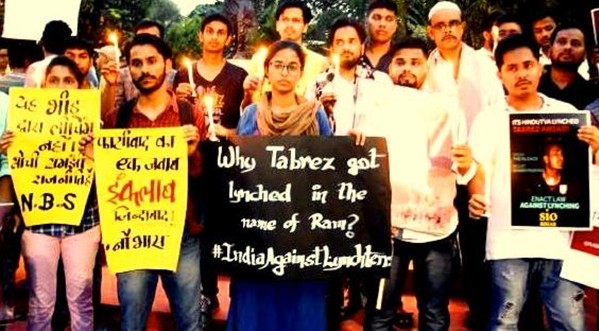 Mob-lynched Tabrez Ansari won't get justice as murder charge against 11 accused dropped from the police charge-sheet. The police find it a culpable homicide. It's indeed a deliberate executive prejudice against the Muslim minority!
What can we call this new dispensation?It's armed with an ideology and a socio-political programme that diverge from those we have have been accustomed to for most of India's independent career. It is important to realise that a silent proclamation that India is a 'Hindu nation' and 'Hindutva' is its identity — strikes a massive blow at the secular concept of Indian citizenship and at the Constitution itself.
Needless to say that it is the spraying of anti-Muslim venom into society, which has resulted in the formation of this lynch-culture, the over-enthusiastic fanatic crusaders are pretty confident to desert and decry secularism — tattooing it — 'an outdated, formulaic and hack concept' — presuming to replace it with the more trending Hindutva.
FunctionalHindutva, steering the legitimacy of majoritarianism as an imperative of electoral democracy and calling for an authoritarian 'National Unity' and 'Patriotism' on this divisive and reactionary basis is what 'Pseudo-Nationalism' seeks to achieve for the communalists.Moreover, this experiment is all set to carve out a barren plane of 'Real-Nationalism' undermining the edifice of age-old communal harmony that was our lived reality.
The Trending Melodrama of Mob-Lynching
Analyses show that 86% of those dead in cow-coated violence since 2010 are Muslim. Of them,97% of the attacks took place after 2014. Almost 122 incidents of cow-coated violencetook place in Indiabetween 2014 and 2019.
Although lynching is not a new phenomenon, yet the meticulously designed and trending new-craft of lynching has taken an aggravated turn since 2014.And in 2015 when Mohammed Akhlaq was lynched in UP's Dadri for allegedly storing and consuming beef in his house, it gathered scrupulous legitimacy:Akhlaq's assailants were acquitted followed by felicitation by the dominant party in power. They have not been brought to book.
Since then, there has been no looking back for the assailants. This new experiment of lynching that has gained legitimacy in different nooks and corners of the country,has even strengthened the belief of the fanatics that whatever they do is "righteous"; spicing up the religiousverve. A society influenced by majoritarian as well as the state machinery —judiciary or executive — has also, so far protected them like crusaders in a holy war.
That orchestrated mob-lynching paved the royal road to the 'right-wing-lynch-squad', boosting their morale to cling to communal sprawling and looking for a slide to making 'lynching' — an ethos of sorts and a routinely telecast 'serial' alike. In fact, the aftermath of mob-lynching persuaded the assailants thatlynching was no longer a crime as it got a thematic approval from the 'Social-Naxals'as well as the 'Governmental-Smugglers', thereby invigorating them to conspire for these incidentsconsistently.
Now look at the chronology of lynching since 2014.

Year
Lynching
2014

Incidents of lynching and thrashing occurred in the states of Karnataka, Delhi, Haryana and Gujarat by chanting the magical slogan — "Jai Shri Ram".

2015

Md. Akhlaq lynched while Anaf, Arif and Nazim, from Kaimrala village of Dadri were beaten; Noman from Saharanpur, UP was beaten to death.
Abdul GhaffarQureshi was thrashed; 2 beaten in MP, one in Haryana and one in J&K over cow vigilantism.

2016

Md. Mazlum Ansari and his 15-year-old son — buffalo herders were found hanging from a tree in Jharkhand.
Muslim couple thrashed for objecting their bags being searched for beef in MP.
Bajrang Dal convenor and a GauRakshak shot at by alleged beef smugglers.
Cow vigilantes thrashed two men on Eid in Haryana.
Five men assaulted by GauRakshaks in Alwar; 1 dead in Rajasthan.
GauRakshaks attacked Muslim family in Kashmir; beat a nine-year-old girl with the iron rods.

2017

Man stabbed to death, 3 others thrashed over beef-eating rumours in Haryana.
3 lynched in WB over alleged cow theft. One brutally assaulted for 'carrying beef' in Maharashtra.
Two men lynched by villagers, on suspicion of being cattle thieves in WB.
Pehlu Khan, a dairy farmer lynched by a mob of 200 alleged cow vigilantes in Alwar, Rajasthan. Six other people were also beaten up by the mob.
Two youths, Abu Halifa and Aiyazuddin Ali, were publicly lynched in Assam.
Anadolescent Junaid was stabbed to death and another sustained injuries after a mob attacked them in a train near Haryana's district of Faridabad. They were returning home to a village near Ballabgarh in Haryana after shopping for Eid at Jama Masjid in Delhi. For three and a half hours, they were abused, humiliated and assaulted by a mob of 15-20 people that passed communal remarks and accused them of carrying beef in a bag.

2018

Mob in Alwar, Rajasthan killed a man on suspicion of cow smuggling.
Muslim youth lynched on suspicion of stealing buffalo; Violence in Bulandshahr, UP over cow slaughter where two killed.
Cow vigilantes in Gujarat stopped a truck carrying buffalo calves, stabbed one person in Gujarat.
A man was beaten to death by a mob over alleged cattle theft in Araria, Bihar.

2019

Man transporting buffalo, tied to a pole, beaten and chained by Police in Haryana.
Recently, Tabrez Ansari was brutally murdered by lynch mob in Jharkhand.Ironically, the police have dropped the accusation of murder in charge-sheet.

Tabrez Ansari's Recent Lynching and Police Charge-Sheet
Surprisingly, the Jharkhand police havediluted the charges of the assailants by writing down that the 11 men arrested for Tabrezlynching, whichwas a culpable homicide that does not amount to murder. Doesn't it sound strange that those who labelled Ansari a thief tied him to a pole and assaulted him for hours at night are not going to be prosecuted for his murder?Whether the police are going to include accounts, which claim that he was forced to chant 'Jai Shri Ram' or not, is unrevealed.
Doesn't it establish a clear sectarian motive on the part of the crowd to turn into a lynch mob and attack him? Then, how the police have chosen to prosecute them for culpable homicide?What does it show? Is the causal link between the assault on the person and his death has been established?There is a volley of questions revolving around this brutal murder, which has been transmogrified to homicide.
Notwithstanding, the line between culpable homicide and murder is thin, yet it is the jurisdiction of courtsto establish, but, here the police have given its report, which seems like a judicial verdict in the format of charge-sheet. Murder is punishable under Section-302 with death or life imprisonment, while forms of culpable homicide attract either a life term or 10 years in prison under Section-304 of the IPC.
Let aside the Police findings. Isn't it obvious that merely attributing death to a heart attack is meaningless without referring to the trauma caused by physical assault? The narrative in recent lynching incidents that it was the victim who was at fault may come in for needless reiteration unless the prosecution resolutely makes a case of murder. The suspicion that the charge is being diluted underscores the need to legislate a special anti-lynching law like the UAPA.
Such a law could cover acts of group violence, whether spontaneous or planned so that those who join lynch mobs do not gain from any ambiguity about their intentions. But this seems a utopian dream at least in the current scenario where the prism of review sets on the launch pad of the individual's whim. By and large, nothing can happen towards the restoration of communal harmony unless the camouflaged social-politicalhypocrisy is exposed.
The police charge-sheet tried to justify the mob crime by charging Ansari with the "intention" of stealing. They ignored the evidence on a video of this being a religious hate crime. Ansari's uncle, who went to the lynching site in the morning, records in his statement that he heard a member of the mob shout, "Beat him so much that he dies". And it happened. Eventually, he was beaten to death with the same intensity — anapparent fact that even the flora &fauna, sky and the blowing wind of that region witness.
Surprisingly, the paradox of the police charge-sheet and the deliberate attempt of manipulation indicate the prevalence of 'Fascism-Fusion', reminding me of one of the assertions of Adolf Hitler: "The receptivity of the masses is very limited, their intelligence is small, but their power of forgetting is enormous. In consequence of these facts, all effective propaganda must be limited to a very few points and must harp on these in slogans until the last member of the public understands what you want him to understand by your slogan." Here 'Jai Sri Ram' – a credulous buzz word – driving the 'Subliminal-Slogan'.
In the troubled times, can we hope the upkeep of our age-old unity in diversity when the Vedantictradition of once tolerant Hindutva is undermining the secular stature of the country and bulldozing all other traditions under the juggernaut of 'Jai Sri Ram'? Is there anything left that might uphold the liberal values of Hinduism and maintains the communal harmony of the country?
I, being an Indian am a bit confused! Is the divine slogan — 'Jai Sri Ram' bears the brand of 'New India' — unfolding the trio-manifesto of the government in power — SabkaSath, SabkaVikash, SabkaVishwash or 'Bharat Mata Ki Jai' or 'VandeMatram'?
What should a common man perceive in secular Indian where the Muslim minority is brutally murdered routinely for not chanting the magical 'Jai Sri Ram'? Such questions are innumerable to ask with the state! However, answers available with the state are either negligible or ineligible! Let's hope for the BEST, but simultaneously be prepared for the WORST!

Shahnawaz Ahmad Ansari is writing professional and a social activist who writes on a wide range of topics. He has extensive experience in writing & editing with media and non-media organisations. He is a commentator on burning issues and also writes columns, editorials & opinion pieces to different journals. He can be reached out at saasiwan@gmail.com.
Related Articles:
Nationwide protests against brutal mob lynching of Jharkhand youth Tabrez Ansari
Two Men Accompanying Tabrez Ansari, When He Was Lynched, Are Still Missing