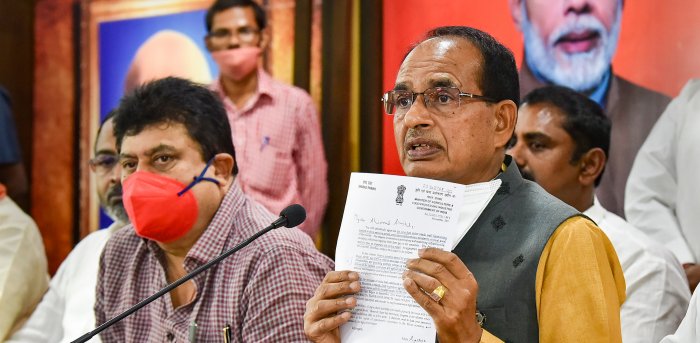 Image: PTI

The Madhya Pradesh Government has approved the Freedom to Religion Bill, 2020 as an ordinance in a special cabinet session, after which it was sent to the Governor Anandiben Patel, who is also the Governor of Uttar Pradesh for her nod. This Bill will replace the Religious Freedom Act of 1968.
Madhya Pradesh Home Minister Narottam Mishra tweeted, that as soon the new Ordinance will receive the Governor's assent, it will be implemented as a law in the State.
मप्र धार्मिक स्वतंत्रता विधेयक-2020 को आज अध्यादेश के रूप में #Cabinet ने अपनी मंजूरी दे दी है।

अध्यादेश को राज्यपाल की मंजूरी मिलते ही यह कानून के रूप में प्रदेश में लागू हो जाएगा।@AmitShah @JPNadda @BJP4India @MPBJYM @BJP4MP @mohdept @DGP_MP pic.twitter.com/2c9c4WKV4x

— Dr Narottam Mishra (@drnarottammisra) December 29, 2020
The draft Dharma Swatantrya (Freedom of Religion) Bill, 2020 was tabled in a special meeting to curb the cases of "Love Jihad" in the State on December 26. It was cleared in a special meeting of the Cabinet chaired by Chief Minister Shivraj Singh Chouhan, ahead of a three-day session of the Assembly, beginning on December 28, reported The Indian Express.
But this three-day session was cancelled by a joint committee of all leaders after about 60 people including officials, employees and five MLAs tested positive for COVID-19 on December 27 (Sunday), as per some media reports.
A departure from the Uttar Pradesh Prohibition of Religious Conversion law, the new Madhya Pradesh Ordinance empowers only police personnel not less than the rank of a sub-inspector to probe cases under it and provides for maintenance of women under section 125 of the Cr.PC and children by permitting them to inherit the property of the parents.
While both the Uttar Pradesh law and Madhya Pradesh Bill provides a jail term of two to ten years in case a person being converted is a minor, Scheduled Caste or Scheduled Tribe, the latter imposes a stricter penalty of Rs. 50,000 against Uttar Pradesh that is capped at Rs.25,000.
The fine for religious organisations or individuals seen as carrying out mass conversions is also higher under the Madhya Pradesh Bill that lays down a whopping Rs.1 lakh penalty against Rs.50,000 in Uttar Pradesh. In both states, the priest who performs the conversion has been mandated to inform the District Magistrate 60 days prior to the date of conversion.
But the failure to do so, again attracts a greater penalty in Madhya Pradesh (three to five years of jail term and Rs.50,000 fine) than Uttar Pradesh (one to five years of jail term and Rs.25,000 fine).
Yesterday, on December 28, the Uttar Pradesh love jihad law completed one month and after nearly a dozen FIRs and close to 35 arrests in the State, the courts have not initiated legal proceedings against any accused on the basis of lack of evidence.
Related:
Love Jihad: Madhya Pradesh approves draft Bill
UP's Love Jihad law completes one month, 35 incarcerated
Allahabad HC reunites interfaith couple, provides police protection
Why is Bihar asking for a 'Love Jihad' law?
Gujarat: Are BJP leaders counseling women against inter faith marriages?