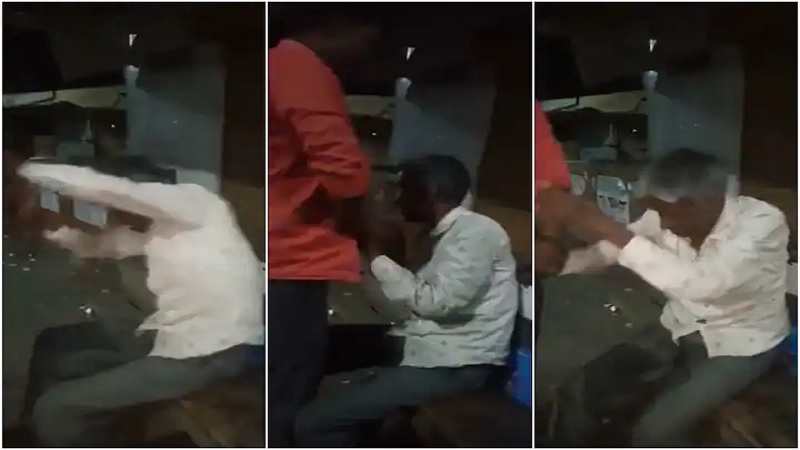 Image Courtesy:thepostreader.com
A difficult to watch video is circulating on social media which shows a differently-abled elderly person being brutally beaten in Madhya Pradesh's Neemuch over suspicion of being a Muslim. "Are you Mohammed? Nikaal aadhaar card nikaal (Show your aadhaar card…. Take it out it)," a middle aged pot bellied man is seen and heard while constantly slapping and assaulting the hapless man, now identified as 65-year-old Bhanwarlal Jain. The elderly Bhanwarlal Jain was later found dead.
TRIGGER WARNING: Disturbing and violent images of elderly abuse
Trigger warning: A differently-abled elderly person Bhanwarlal Jain was brutally beaten in MP's Neemuch over suspicion of being a Muslim. The person (Dinesh Kushwaha) can be seen asking 'Are you Mohammed, Show me your Identity Card', while thrashing him. He Was Later Found Dead. pic.twitter.com/o0xvlFoUXK

— Mohammed Zubair (@zoo_bear) May 21, 2022
The attacker has been identified as Dinesh Kushwaha by the police. He is reportedly associated with the Bharatiya Janata Party (BJP) in Madhya Pradesh and his wife "has served as a corporator of the city".
According to the police, Jain was found dead on Rampura road. But as he was yet to be identified, the body was kept in the mortuary freezer. He was later identified as hailing from Jawra, Ratlam and his family was informed.
"We found the body of the victim on Thursday. After his pictures were released on social media, his family members from Ratlam identified him as Bhanwarlal Jain," Mansa Police Station House Officer KL Dangi told India Today. He further said, "A case under section 302 and 304/2 has been registered against the accused and efforts are on to trace and arrest him," adding, "The CCTV footage of the area is being accessed and if more people are found to be involved, they will be booked as well."
After the post mortem, Jain's body was handed over to the family for last rites. However, the horror for the Jain family continued when they got a video that showed their elderly family member being assaulted mercilessly by Dinesh Kushwaha.
"He was our elder, the entire village is mourning him," Jain's distraught brother said. He approached the police with the evidence of the attack. The elderly Jain was said to be mentaly disabled and had memory problems, and was much loved in his village. According to the locals, the entire village was out looking for jain when he had gone missing. The villagers are also blaming the local administration who they accuse of inaction.
A Jain was beaten to death by BJP leader because he thought the victim was a Muslim. pic.twitter.com/XcyFQZRZmP

— Mohammed Zubair (@zoo_bear) May 21, 2022
Former Madhya Pradesh Chief Minister and Congress leader Kamal Nath has condemned the assault:
सिवनी की तरह यहाँ भी आरोपी का जुड़ाव भाजपा से जुड़ा होना सामने आ रहा है…
प्रदेश की क़ानून व्यवस्था आख़िर कहाँ है , कब तक लोगों को यूँ ही मारा जाता रहेगा…?
अपराधियों के हौसले इतने बुलंद क्यों है…?
सरकार का ध्यान तो सिर्फ़ इवेंट में है..

— Kamal Nath (@OfficeOfKNath) May 21, 2022
Related:
Hate Watch: Bajarang Dal claims Trishul a religious symbol not a weapon
Hundreds of citizens call for fast-track trial in Krishna Tusanad murder
Hate Watch: Kerala cleric targets Muslim schoolgirl for accepting award, gets schooled by Governor
Dalit professor booked for comments on Kashi Vishwanath-Gyanvapi dispute
Gujarat: Hindu man killed by own community for using loudspeaker at temple
Singapore bans 'The Kashmir Files'
UP: Village head threatens Scheduled Caste community with ₹5,000 fine and 50 kicks!