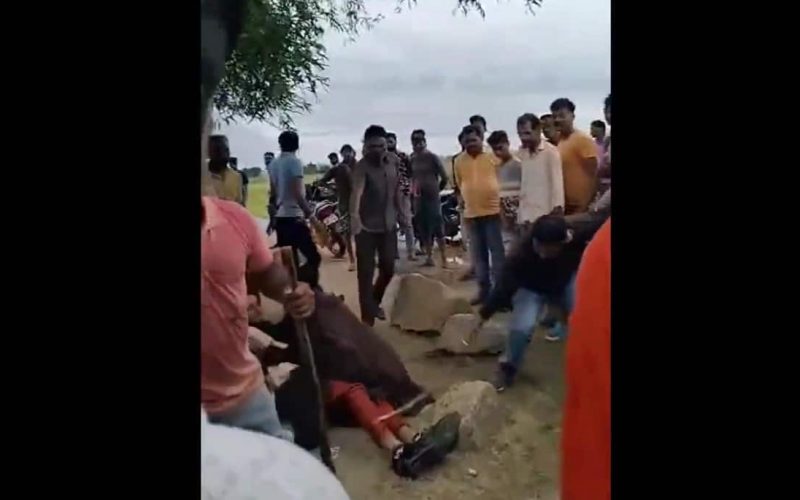 Chhindwara, (Madhya Pradesh): Seven days ago, a mob attack on Wajid Ali, resident of Lalgaon village in Madhya Pradesh's Chhindwara district and his family has allegedly led to little or no action from the local police. This Muslim family was travelling with his parents when am a reportedly pre-dominantly Hindu mob stopped him, assaulted them all, dragged the man after tying him to the bike, tore the clothes of his mother. The incident happened on September 15 when a mob stopped him near Auria village. Amid religious slogans, Ali was allegedly dragged tied to a bike. The clothes of mother were torn apart & father was thrashed.
The news, though a week old broke on twitter late on Tuesday evening, September 20.
मॉब लिंचिंग:

एमपी: छिंदवाड़ा के लालगांव गांव निवासी वाजिद अली 15 सितंबर को अपने माता-पिता के साथ यात्रा कर रहे थे, तब ही एक भीड़ ने उन्हें औरिया गांव के पास रोक दिया.

धार्मिक नारों के बीच अली को कथित तौर पर बाइक से बांधकर घसीटा गया। मां के कपड़े फाड़े गए और पिता को पीटा गया। pic.twitter.com/cBQ6uQMqCk

— Lallanpost (@Lallanpost) September 20, 2022
MP: Wajid Ali, a resident of Lalgaon village in Chhindwara, was traveling with his parents on September 15, when a mob stopped him near Auria village.Ali was allegedly tied to a bike and dragged amidst religious slogans.Mother's clothes were torn and father was beaten up pic.twitter.com/ZAKovwpfPZ

— The National Bulletin (@TheNationalBul1) September 20, 2022
Reportedly, the assault continued for an hour until Police saved them, said Ali. In a video clip, Ali alleged that the family was attacked and thrashed owing to their faith. The police has lodged FIR against unknown. "Our Police statements were deliberately changed by cops as accused & TI belong to the same caste." Seeing no action against the attackers, victims approached SP Chhindwara on Sep 17. But even after long hours of complaining, the victims are still waiting for justice, for arrests to happen and investigations to begin.
Barely four months ago in May 2022, Sabrangindia had reported how cow vigilantes had brutally murdered two Adivasi (tribal) men in Madhya Pradesh while injuring another.At that time, the criminal mob of 20 men reportedly forced their way into the home of a tribal family, beat two men to death and injured another.
The mob of so-called gau rakshaks, or cow 'protectors', accused the tribal men of "killing a cow" and then brutally beat them up. Media reports had stated then that the two men were so badly injured that they died when they were being taken to hospital. The horrific crime took place in Seoni district of Madhya Pradesh. Police say that another man had been injured by the attackers. A complaint was filed by Brajesh Batti, who was injured in the attack. The men who were killed have been identified as Sampat Batti and Dhansa. The mob of twenty odd men reportedly forced their way into the home of a tribal family and killed two men.
In May 2022, according to a report in NDTV, the police said 20 people have been charged, out of which six of them have been charged with murder. Additional Superintendent of Police SK Maravi told the media that "…police teams are searching for the accused. Some of the accused are named (in the complaint) and others are unidentified. We have taken two-three suspects into custody. Some 12 kg of meat has been found in the victims' house."
At the time, the response of the police was relatively prompt. The Superintendent of Police (SP) Seoni Kumar Pratik, one accused had been arrested and the rest were absconding. However the SP said it was not yet known if the accused were members of Bajrang Dal or other right-wing groups, as alleged. Congress leader and MLA from Barghat constituency of Seoni, Arjun Singh Kakodiya, had also reached the village on Tuesday, and according to news reports, where he, along with the villagers, held a protest "demanding the demolition of houses of those involved in the killings of the tribal men." He accused Bajrang Dal and Ram Sena members of killing the tribal men.
Former chief minister of Madhya Pradesh and Congress MP Kamal Nath also then condemned the "brutal murder" of the tribal youth and raised concerns about the rising crimes in the state. He demanded that the government order a high level inquiry into this incident, and also help the families of the victims.
Background
Street mobs enjoying impunity have been very active this year. In March a lynching was reported from Tripura's Sepahijala district. The victim was a 26-year-old Muslim man who was lynched by a mob that suspected him of being "a cattle thief". The victim was identified as Litan Miah, a resident of Tarapukur in Jatrapur police station area in Sonamura subdivision. Two people identified as Sentu Debnath and Amar Chandra Das, were arrested in connection with the incident after the victim's father Jamal Miah lodged a police complaint.
In February, in Bihar, a Muslim man identified as Mohammad Khaleel Alam, was killed and his body was later burnt as well. In a viral video, the accused is heard talking about "beef" and Alam is heard pleading for his life as he is accused of eating beef. According to news reports, the Hindutva lynch mob murdered Alam, and burnt his body in Samastipur, Bihar, then reportedly put the video up on Instagram.
A campaign is underway to give arms to Hindutva groups who in turn will give it to Hindus, to unleash violence. Such calls for violence have been given by Hindutva leaders more and more since December 2021. They also cite 'cow protection' as a reason to be armed with dangerous weapons. Previously, Sadhvi Saraswati, a Vishwa Hindu Parishad (VHP) leader, had advised Hindus to "carry swords to protect cows." According to her, if people can buy phones worth a lakh, they can also buy swords "to protect cows from those who slaughter them." Saraswati was speaking at the Hindu Sangama programme organised by the VHP and Bajrang Dal at the Karkala Gandhi Maidan on Sunday, December 12, 2021. She said, "In Karnataka, the cow is killed for meat. Such slaughterers have no right to live in this country. Cows are being stolen from the cowsheds of Hindus showing arms. We all should carry swords to save the Gau Matha."
In November 2021, swords were reportedly being sent to Hindutva groups by one Rajeev Brahmarshi, an aspiring Hindutva mob leader, who announced on his Facebook page, "Weapons will reach every corner of #Hindustan." As he has had no police action against him, he continues to do so even now. In March 2022 he said "I will give a sword to every youth who will be present in Shri Ram Navami. This time I will bring 5000 swords instead of 3000."
Related:
Gun wielding cow vigilantes walking free in Haryana?
Dwarka mob lynching: Farmhouse caretaker beaten to death by Cow Vigilantes
Sheath the swords, while there is still time!
Why is this 'Sangeet Som Sena' allowed to roam free in UP?
Ramgarh Lynching case: SC sees "no reason" to entertain the Petition filed against the bail of the accused men
Meat sale banned in Ghaziabad, demands brew for a repeat in MP
Tripura: Muslim man lynched on suspicion of cattle theft
West Bengal: Muslim mason allegedly lynched by Hindutva mob
Cow vigilantes brutally murder two Adivasi men in Madhya Pradesh