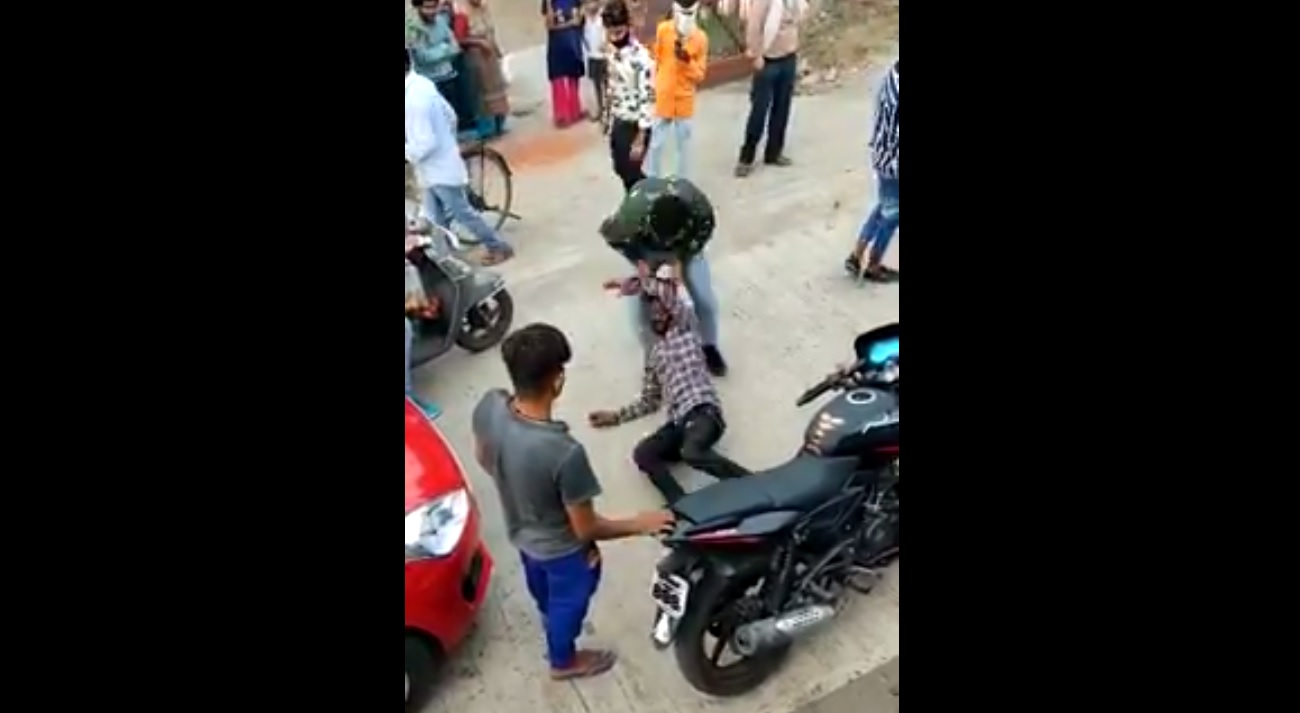 A tempo driver in Jabalpur, Madhya Pradesh was brutally assaulted by a group of goons in broad daylight on October 11, 2020 while passers-by on the road simply watched the whole incident. Videos of the horrific assault became viral on social media along with a video that gave the account of the victim, Ajit Vishwakarma from Sehore district.
According to Vishwakarma, the incident happened when he turned at a bridge while returning home on Sunday. He claimed a woman riding a scooty that was allegedly speeding, crashed into him at the bridge. The angered woman called people on her phone after which Abhishek, Chandan and two other youths came to the spot in cars and on motorcycles. The goons brutally kicked the driver, verbally abused him and dragged him by the hair. Following is a graphic video of the whole incident.
DISCLAIMER: Some viewers might find the video disturbing on account of extreme violence. Video is not suitable for minors. Viewer discretion is advised.
A crowd gathered but silently watched the abuse until two of the attackers picked up the unconscious driver and drove him away to the police station. The city police registered a case against the attackers on October 12. As per a tweet by state Home Minister Narottam Mishra on October 13, two of the accused have already been arrested.
जबलपुर में ऑटो‌ चालक के‌ साथ‌ हुई घटना में पुलिस ने केस दर्ज कर‌ दो लोगों को गिरफ्तार कर लिया है। मध्य प्रदेश में कानून का राज है और यहां तालिबानी संस्कृति नहीं चलेगी।@mohdept @DGP_MP @JansamparkMP pic.twitter.com/ZA72K7KzCy

— Dr Narottam Mishra (@drnarottammisra) October 13, 2020
In the video, Mishra said that "Law is the rule in Madhya Pradesh and Taliban culture will not prevail here."
Nonetheless, the incident has raised concern among the general public who were appalled to see the unprompted act of violence in the city. Renowned journalist and human rights activist Teesta Setalvad and others condemned the public display of mob lynching.
This is horrendous. Lynching is back has become the norm encouraged by the sinister and eerie silence from the very top. #MP #ShameonMPGovt https://t.co/wuyBdAW1Ux

— Teesta Setalvad (@TeestaSetalvad) October 13, 2020
Warning ⚠️: Graphic image.
From Jabalpur, Madhya Pradesh: The loading auto hit the scooty rider in Jabalpur, after the girl called her relative there, they beat up the driver unconscious and people watching were mere spectators did nothing to help. @MPPoliceOnline pic.twitter.com/nYpTZwws6Z

— Rehan ashraf (@Rehanspeeks) October 12, 2020
#जबलपुर की आजादी ?

एक ऑटो चालक को बेरहमी से पीट दिया गया और बुलेट पर रख कर उसको ले गए , आजादी के नाम पर कुछ लोग गुंडई पे उतारू हो गए हैं

— Afzal Sultanpuri (@AfzalRabbani07) October 13, 2020
According to the National Crime Records Bureau's (NCRB) 2019 report, as many as 5,45,061 cases of hurt were registered out of 10,50,945 cases of offences affecting the human body that accounted for 32.6 percent of total IPC crimes in the year.
Related:
Trio killed by village mob: Jharkhand's unofficial vigilante trend continues
Men lynched by mobs, cab driver killed by passengers in UP
Unarmed meat transporter critically injured by Haryana mob
They abused us, asked us to worship their idols: Christians attacked in UP