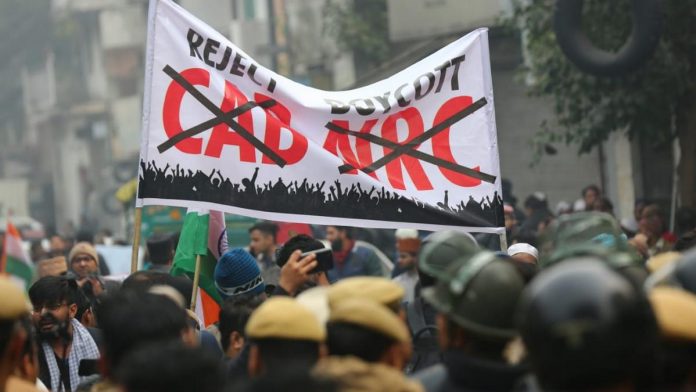 The Madurai bench of Madras High Court has quashed proceedings against petitioners who protested the Citizenship Amendment Act (CAA) in December 2019. The bench of Justice G Ilangovan observed that there was no prima facie case against the two petitioners, and that no untoward incident happened even though the protest was carried out without permission.
The prosecution argued that on December 19, 2019, members of 'Makkal Athikaram' conducted a demonstration against the CAA and shouted slogans against the central party and allegedly disturbed the public without proper permission. Hence, a complaint was filed under sections 143, 341, 283 and 290 of the Indian Penal Code. The petition was filed to quash the proceedings on the ground that the allegations made in the final report, does not attract any of the ingredients of the offence alleged, against these petitioners.
The court said, "It is a common knowledge that against the Amendment of CAA (Citizenship Amendment Act), several protests, demonstrations and agitations took throughout of India and in abroad also. So, right to protest is well recognised. So, the only qualification is that it should not end in any violation."
The court observed that as per the FIR, they made a protest against CAA but then dispersed themselves and hence no untoward or criminal act occurred. While the court observed that protesting without permission was not proper and can create nuisance, a reading of the statement recorded shows that the identification of persons who were involved in the occurrence, was not properly investigated.
The court also cited another judgement passed by the high court on October 5, 2020 in Crl.OP(MD)No.10774 of 2020, which also dealt with cases registered for protesting the CAA. In that as well, the bench had observed that the petitioner was a member of a political party and had organised the protest where no untoward incident had taken place.
Hence, the court took the view that no prima facie material was available against the petitioners and deemed the proceedings to be clear abuse of process of the Court and law. The court, thus, allowed the petition, and quashed the proceedings against the petitioners.
The order may be read here:
Related:
Inquiry into rights violations by UP police during 2019 anti-CAA protests: NHRC
TN govt to quash over 5,000 cases against protestors, journalists, farmers
Do citizens today have the right to peacefully oppose their government?