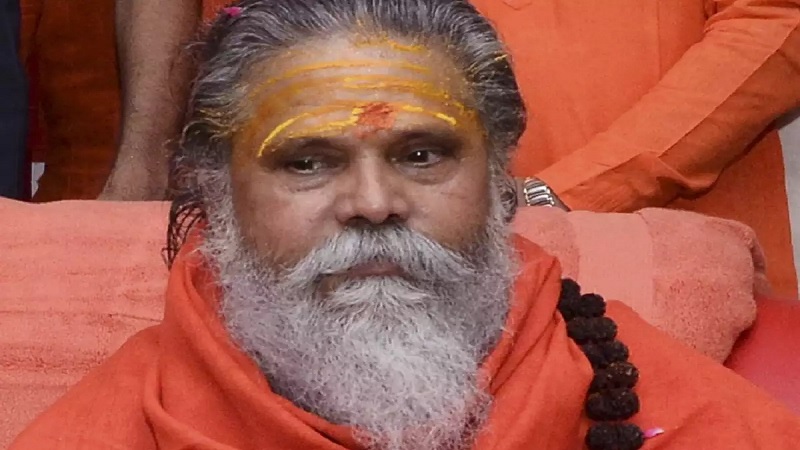 Image Courtesy:timesofindia.indiatimes.com
The union government has notified that the Central Bureau of Investigation (CBI) will now investigate the suspicious death of Akhil Akhara Parishad chief Mahant Narendra Giri at his home in the Bagambhari Math at Prayagraj.
The CBI has constituted a 20-member investigation team that will carry out the investigation in Prayagraj. The Department of Personnel & Training (DoPT) issued the notification late on Thursday night on the recommendation of the Uttar Pradesh government's home department, stated news reports. As per a report in the new Indian Express quoting officials, according to the rules once notified "the case is marked to a suitable branch of the central agency, which in this case would be Lucknow." A CBI team has already Bagambhari Math where Giri allegedly died by suice and reports of a suicide note, as well as a video statement later came to the fore.
According to news reports Former Union minister Swami Chinmayanand had demanded a CBI inquiry into this death. The Uttar Pradesh home department told the media, "On the instructions of UP Chief Minister Yogi Adityanath, a probe by the CBI (Central Bureau of Investigation) has been recommended in the incident pertaining to the sad death of chairman of Akhara Parishad Mahant Narendra Giri". The UP Police had already constituted an 18-member SIT to begin the first probe into the death.
The initial probe into the death by suicide of Mahant Narendra Giri, relied on a 'suicide note' that was recovered by the police after the religious figure was found dead under mysterious circumstances on Monday. Police arrested Narendra Giri's disciple Anand Giri on charges of 'abetment to suicide' and an FIR was filed in the case under Section 306 of the IPC, at Prayagraj's George Town police station. Police also detained Adya Tiwari, the chief priest of Hanuman Temple in Prayagraj and his son Sandeep Tiwari, who are allegedly the other two mentioned in the suicide note.
The investigations into the alleged suicide are likely to also expose "land deals" by the akharas that some are now hinting at. According to a report in the Times of India, after Giri's death, demands for a probe into akhara land deals have been made .
According to TOI Anand Giri had reportedly been opposing Narendra Giri's "decision to sell land of Baghambari mutt in UP to individuals." There are 13 akharas and ABAP is their apex body. The lands they own are "acquired at highly concessional prices or gifted". However, according to the report, while in the past most of this land was used to build temples etc, there have been "allegations in Haridwar that akharas are illegally selling their land for commercial use."
Multiple theories already afloat
Multiple theories have since been circulating on what could have possibly driven Narendra Giri, a well known religious leader to allegedly take such an extreme step. According to a report in NDTV, the note stated that Giri was reportedly "under pressure" over what he called a "morphed image with a woman". It this this note that reportedly named Anand Giri, Aadya Tiwari and Sandeep Tiwari too as the men who were allegedly harassing
Narendra Giri, stated the news report. The old seer also reportedly put on record that "he was deeply disturbed by Anand Giri's false allegations of financial irregularities." The accused Anand Giri before he was arrested had told the media that he suspected a "conspiracy "by people who used to extort money from Narendra Giri". He alleged that "people who used to extort money from Guruji wrote my name in the letter. It needs to be investigated as guru Ji has not written a letter in his life and could not do suicide. His handwriting needs to be probed."
After his arrest, Anand Giri has "expressed threat to his life and sought security", stated news reports. He along with Adya Tiwari, the head priest of Bade Hanumanji temple in Prayagraj, were sent to 14-day judicial custody at Naini jail of Prayagraj on Wednesday. Adya Tiwari's son Sandip is also lodged in the same jail in 14-day judicial custody.
According to news reports, Anand Giri "submitted an application in the court of Chief Judicial Magistrate through his lawyer on Thursday claiming a threat to his life and sought adequate security." It is reported that CJM Harendra Kumar has directed the Naini Jail superintendent to provide security to Anand Giri as per the jail manual.
The case is being closely watched as it involves the religious leader of a powerful sect was revered amongst his community of priests, and also had political leaders as followers including Uttar Pradesh Deputy CM Keshav Prasad Maurya who told the media that he was deeply shocked and grieved the passing of his guru who he had met recently. According to a report in The Print, Narendra Girir had even shot a video, "on selfie mode" and allegedly held his disciple Anand Giri, Adhya Tiwari, of the akhara's Hanuman temple, and his son Sandeep Tiwari "responsible for his decision." The same names were also written in the alleged suicide note.
Related:
Uttar Pradesh: Any neta taking notice of recent dengue, rain related deaths?
Communal violence cases nearly doubled in 2020: NCRB Report
Crimes against women highest in Uttar Pradesh: NCRB 2020 report
Two years after she was found dead, family of Mainpuri school girl awaits justice