Trade Unions declare action plan which includes massive mobilization from district level onwards to make the rigid and unreasonable Modi Govt see sense.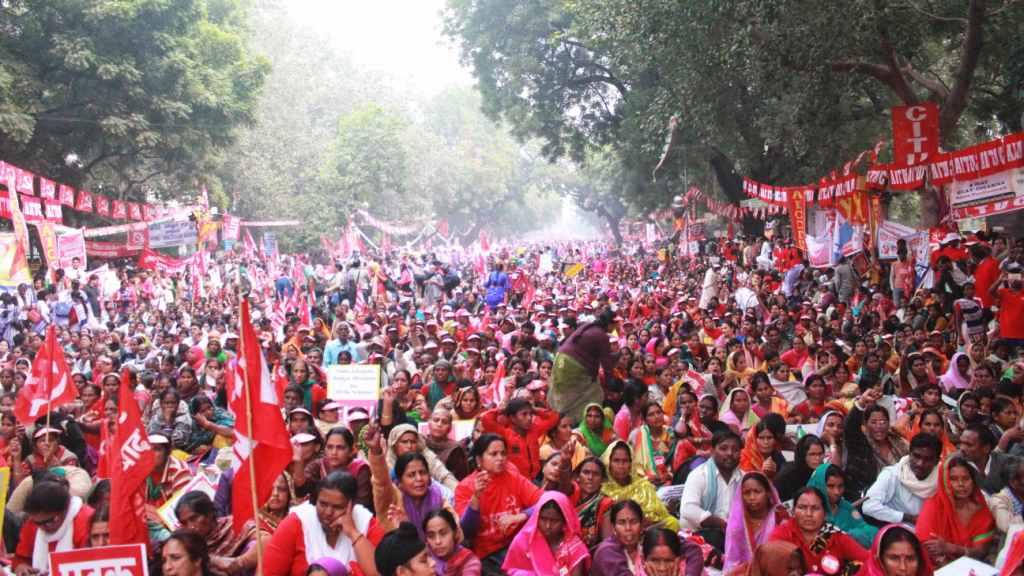 The third and final day of the historic Workers Mahapadav saw more than a lakh women scheme workers on Parliament Street, Delhi demanding that they be recognized as regular workers. These are the poorest of women who are engaged as ASHAs (health workers) and anganwadi workers/helpers and mid day meal cooks.
During 9-11 November, thousands of workers participated in the massive show of strength by workers from all over the country, fighting for a 12-point charter of demands including better wages, social security etc. and also urging withdrawal of anti-people policies like labour law changes, privatization of public sector, etc.
At the end, a resolution calling for workers to prepare for a country wide indefinite strike was passed amidst thunderous applause. A detailed action plan was also announced.
Speaking to Newsclick, Tetri Devi, a mid-day meal worker who came along with other workers from Munger District in Bihar said, they had been working as cooks in schools since 2005. Initially they were paid 25 paise per student and they made anything from Rs 45-100 per month. Even now they are being paid RS 1200 per month. They have come to Delhi along with others demanding "1 Hazar mein dum nahi 18000 se kum hai" which translates to 'there is no use of the Rs 1000 that they are paid now; they will accept nothing less than Rs 18000 as minimum wages'. Similar sentiments were voiced by women who are engaged as ASHAs and Anganwadi workers.
These lakhs of workers were organized under various Central Trade Unions that had called for the mahapadav, barring the RSS backed BMS.
Various leaders from trade unions addressed the huge gathering amidst resounding slogans and calls for further action. Those who addressed the workers in the first part of the meeting included AR Sindhu from CITU, INTUC President Dr Sanjeeva Reddy, Harbhajan Singh Sidhu of HMS and Gurudas Gupta of AITUC.
Sindhu of CITU, one of the most appreciated speakers, directly spoke of the issues of the women scheme workers gathered there. She started her speech by paying tributes to the 11 year old Santoshi who died of hunger as her parents were denied the PDS because their AADHAR was not linked to PDS system. She said that RS 1,40,000 crores Plan budget for ICDS, the scheme under which anganwadi workers are employed, was cut in the very first year of the BJP coming to power. She gave details of how in various parts of the country anganwadi workers/helpers and ASHAs were struggling to fulfill their important responsibilities despite being paid low wages and not being recognized as workers by the government.
THe second and the third session of the meeting was addressed by the leaders – Hemalatha, Tapan Sen – CITU; Usha Sahni, Amarjeet Kaur – AICTU; Champa Varma, Hanumanth Thate – HMS; and from INTUC, AIUTUC, TUCC, SEWA AICCTU, LPF and UTUC that coordinated the three day meetings. The large gathering adopted an action plan for the coming months which included district level satyagrahas in the last week of January 2018, industry or sectoral strikes whenever the govt. announces privatization, protest actions on the day the Union Budget is announced, etc. The resolution adopted at the Mahapadav called for workers to prepare for a nationwide indefinite strike in the coming months as the govt. doesn't seem to be willing to accept their just demands.
Courtesy: Newsclick.in