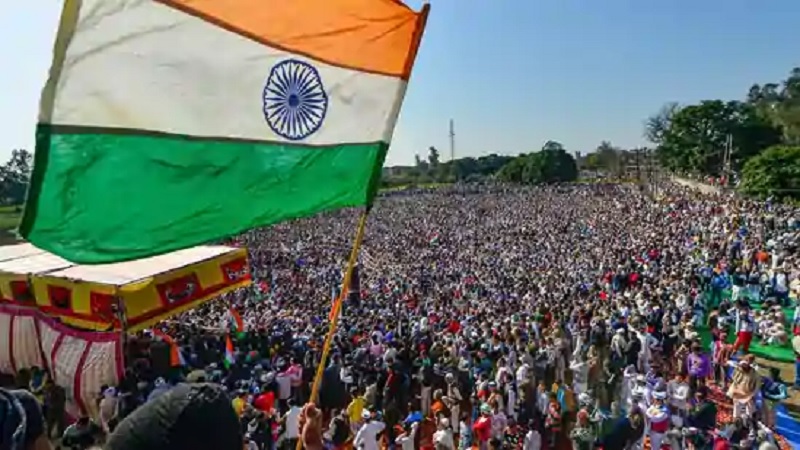 Image Courtesy:hindustantimes.com
To say thousands of farmers gathered for a huge mahapanchayat at Kitlana Toll Plaza near Bhiwani district in Haryana on February 7, 2021 is to state the obvious. The numbers are growing with each such meeting, and if seen collectively lakhs have attended Mahapanchayat already held in 2021, this is not counting the hundreds of village level meetings, and citizens' groups meetings that are being held across the country each week. Farmers, and non farmers, are coming together as citizens of India who are now adding strength to the farmers' vow to intensify the struggle to oppose the three farm laws, that farmers have said were passed without discussions by the Central government.
Thousands of farmers from several villages in Bhiwani and Charkhi Dadri districts assembled at the venue. People from all religions, castes and communities and included thousands of women unanimously adopted resolutions demanding: Repeal of the three Laws – the Farmers (Empowerment and Protection) Agreement on Price Assurance & Farm Services Act, the Farmer's Produce Trade and Commerce (Promotion and Facilitation) Act and the Essential Commodities (Amendment) Act; Withdrawal of the Electricity (Amendment) Bill 2020; Passing a law to guarantee remunerative Minimum Support Price (MSP) and procurement; immediate end to government repression, release of arrested farmers and withdrawal of all cases.
The gathering on Sunday included various khap panchayats from across the area, and was addressed by All India Kisan Sabha (AIKS) President Dr Ashok Dhawale, All India Democratic Women's Association (AIDWA) Vice President Jagmati Sangwan and Independent MLA Balraj Kundu. It is important to note that these Mahapanchayats, and Khap Panchayats are perhaps the only public gatherings where apart from farmer leaders, some politicians such as Jayant Chaudhary, Sachin Pilot or Deepender Hooda have been given space. The farmers protest sites have so far kept all politicians away, keeping the movement and its stages only for the farmers and supporters.
Even at the Mahapanchayats it is the farmer-union leaders who are at the forefront. Sanyukta Kisan Morcha (SKM) leaders Rakesh Tikait, Darshan Pal and Balbir Singh Rajewal also addressed the masses. During his speech, Tikait praised the existence of these khap panchayats for its strong social influence as seen during the times of Raja Harshvardhan.
"Whenever there was a crisis in the country, a war began or farmers organisations needed, khap panchayats brought together people. I want to thank the organisers and remind the youth that your rage is needed now," he said.
Earlier, similar maha panchayats took place at Jind district in Haryana, Shamli district in Uttar Pradesh and Rajasthan to create an awareness about the three laws. Such gatherings have firmly established themselves in Haryana where farmer leaders have focused on the three demands of withdrawal of the three laws, implementation of the Swaminathan report and a new law for guarantee of Minimum Support Price. Almost all Mahapanchayats have also sounded out that this combined strength of the people, also holds the power to change the voting patterns in the upcoming elections.
Here are some Mahapanchayat, strikes, and public meetings held so far in 2021
February 6, Peaceful Chakka Jam protest, National, state highways, All India
Despite frequent detentions reported over the course of the day, farmers across India rejoiced in the grand success of their first peaceful protest after the Republic Day 2021. National highways and state highways were completely shut down in certain parts of India, as farmers gave a resounding response to the Sanyukta Kisan Morcha's (SKM) call for a three-hour chakka jam on February 6, 2021. Barring Delhi, Uttar Pradesh and Uttarakhand, India witnessed mass mobilisation of peasants, youths in states like Punjab, Haryana, Karnataka, Tamil Nadu. However, it is noted that in every area, essential services like ambulances were allowed to pass. In northern India, the Delhi-Chandigarh highway, Palwal highway, Karnal highway and Pipli national highway were blocked as was the Aurangabad-Nashik highway in Maharashtra. People also protested in districts such as Palghar, Pune, Chandori and Nashik.
February 5, Mahapanchayat, Shamli, Uttar Pradesh
The UP government has imposed, Section 144 made no difference to thousands of farmers who gathered for Mahapanchayat in Shamli on Friday. The district administration of Shamli in Uttar Pradesh had denied permission for the farmer's Mahapanchayat, it also banned large gatherings till April 3. However, this made no difference to the thousands of farmers who responded to the call given by the Bharatiya Kisan Union (BKU), the Rashtriya Lok Dal (RLD) and organisers. Images and videos began emerging from the meeting that showed it was attended in large numbers by farmers from across the region. Like the other such meetings, being held across the state, as well as Haryana, this one too discussed the three controversial farm laws and the responses of the state towards the farmers who are opposing it.
February 3, Mahapanchayat Kandela khap, Jind, Haryana
Bharatiya Kisan Union (BKU) leader Rakesh Tikait addressed the massive crowds of farmers' gathered at the mahapanchayat called by Kandela khap at Jind, Haryana. Tiakit questioned the Union government's response to the agitation, "What will you do if the youth removes you from power?" Over 30 khap panchayats of Haryana attended the event. Tikait once again called for a "wapsi" (withdrawal) of the three new farm laws, and given a sound warning to those in power that the farmer's voice must be heard, else political consequences are imminent. "We have so far talked about "bill wapsi" [repealing the farm laws]. The government should listen carefully. What will you do if the youth call for "gaddi wapsi" [removal from power]" he was reported as saying. Most important was the demand that the farmers who have been arrested, should be released before the government initiates further talks.
February 3, General strike by electricity employees, All India
According to the Centre of Indian Trade Unions, (CITU), there was massive participation in the general strike by power sector employees, who boycotted work and held massive demonstrations. In Kerala and Chandigarh it was 100 percent. In Tamil Nadu, Haryana, it was 80 percent. West Bengal had 70 percent participation while Maharashtra, Jharkhand, Bihar and Assam reported 60 percent participation. Other states had around 40 to 50 percent participation." The strike put forward four main demands of the peasantry:
Scrapping of the Electricity (Amendment) Bill, 2020 and the Standard Bidding document to prevent privatisation of electricity distribution.

Withdrawal of electricity privatisation in states and union territories and cancellation of all existing private Licenses and Franchises in the power sector.

Reintegration of electricity generation, transmission and distribution in all states and union territories following the successful system in Kerala and Himachal Pradesh State Electricity Board Ltd.

Repeal of the three Farm laws.
February 2, Public meetings, Haryana toll plazas
Thousands of women farmers came together at toll plazas in the Hisar and Jind districts of Haryana on February 2, 2021 to condemn the government repression faced by farmers who are on a sit-in on Delhi's borders. They expressed outrage against the central government for its criminal conspiracy of violence and repression since Republic Day. All India Kisan Sabha (AIKS) National President Dr. Ashok Dhawale and Haryana President Phool Singh Sheokand, Centre of Indian Trade Unions (CITU) State Vice President Surender Singh attended the event.
January 29: Mahapanchayat, Muzaffarnagar, UP
Thousands of farmers assembled at GIC ground in Muzaffarnagar district of Uttar Pradesh on January 29, 2021 to decide the next move of the Bharatiya Kisan Union (BKU) in the struggle against the three farm laws forcibly passed by the central government. They farmers resolved to continue their fight against the Centre's laws under the leadership of the BKU. However, no major decision came to light during the mahapanchayat called by BKU leader Naresh Tikait. The meeting was called after videos of other BKU leader Rakesh Tikait breaking down in protest of the farmers' movement began circulating on social media. Emergency panchayats were also called in preparation of the Friday event. Rashtriya Lok Dal (RLD) Chief Ajit Singh and his son, party leader Jayant Chaudhary participated in the mahapanchayat and announced support for the BKU.
Related:
Another death by suicide at Tikri border, death toll reaches 214
Allow peaceful protest by farmers: US Congress to India
Farmer focussed Mahapanchayats getting massive response in UP as well
Will Kisan mahapanchayat signal a political movement in UP, Haryana?