India may be going through an unprecedented time due to severe after-effects of the note ban leading to nearly 80 deaths across the country since Prime Minister Narendra Modi's demonetisation announcement. But the prevalent crisis hasn't deterred public figures, particularly those sympathetic to the ruling party at the Centre, from displaying utter disdain to ordinary public public's pain.
It's business as usual for them, at least going by a report published in the Mumbai Mirror on Wednesday.
According to the report, Maharashtra chief minister, Devendra Fadnavis's wife, Amruta Fadnavis, on Tuesday was busy shooting a special music video with actor Amitabh Bachchan, who the PM Modi had showered praises on during his last Mann Ki Baat.
The paper reported that the team had 'assembled at the Opera House in South Mumbai to shoot a music video featuring Amitabh Bachchan and Maharashtra Chief Minister Devendra Fadnavis's wife, Amruta, who looked svelte and glamorous in a fiery red dress and high heels.'
"It's a beautiful song, titled 'Phir Se', which will see Amrutaji seeking admission to a performing arts institute which is headed by Amitji. There is a conversational scene between the two," said choreographer Ahmed Khan.
Maharashtra Congress leader, Sanjay Nirupam, tweeted, "80 ppl hv died due to #NoteBandi. The real beneficiary of new currency dancing with big B. Did u both PM & CM notice?" (sic)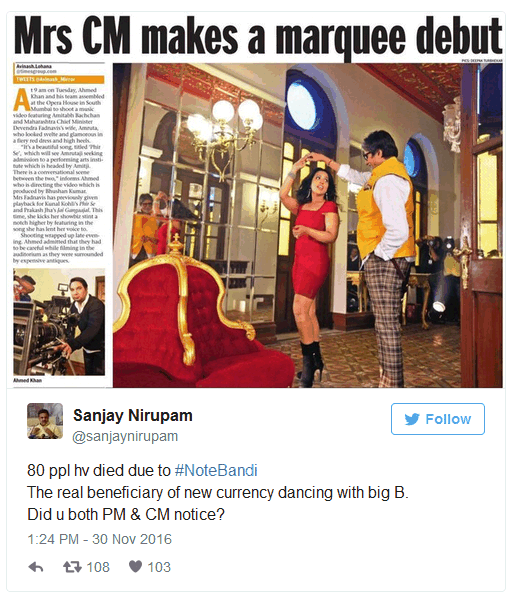 Fadnavis's ascendancy to power was widely hailed because of his simple life style akin to an aam aadmi. The photo of him taking an economy class flight had gained widespread publicity on social media platforms.
But since his assuming power in Maharashtra, Amruta's 'Bollywood career' appears to have taken off with a bang. She has already sung for Kunal Kohli's Phir Se and Prakash Jha's Jai Gangaajal.
With the latest music video, the chief minister's wife aims to take her showbiz stint a notch higher by featuring in the song she has lent her voice to.
Amruta was a bank employee until Fadnavis became the Maharashtra chief minister. With husband in power in what's the entertainment capital of India, she clearly has all the privileges at her disposal to fulfill her dream of making it big in the glamour industry.
As for Bachchan, his name had featured in the infamous Panama Papers scandal.
Courtesy: Janta Ka Reporter