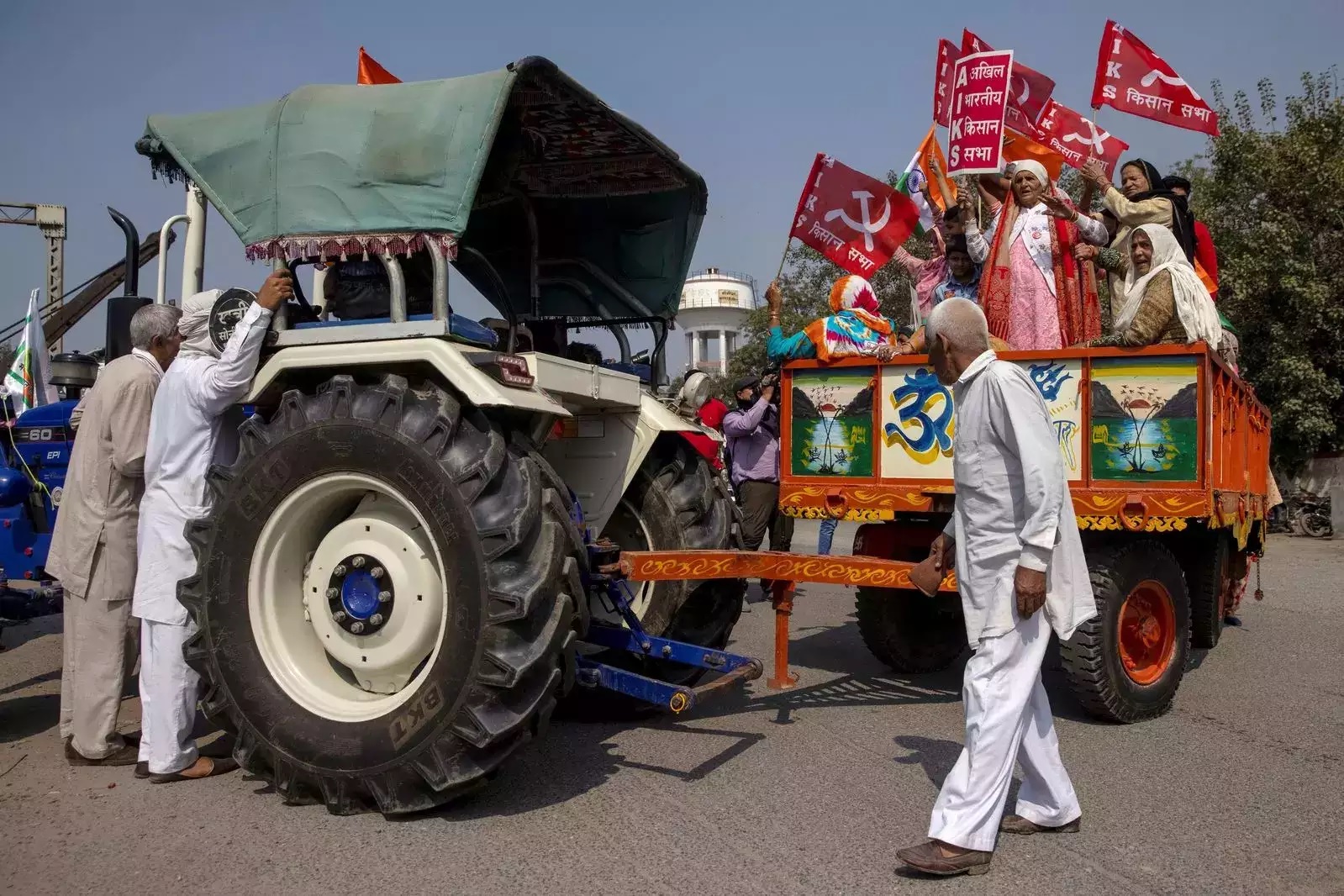 Representation Image | Courtesy: Business Insider
Over 100 farmer organisations in Maharashtra will gather for a state-wide Kisan Mazdoor Mahapanchayat at the Azad Maidan in Mumbai on November 28, 2021 to mark the completion of one year of farmers' protest at Delhi borders.
Under the banner of the Samyukta Shetkari Kamgar Morcha (SSKM), farmers will reiterate demands to withdraw the three farm laws – the Farmers (Empowerment and Protection) Agreement on Price Assurance & Farm Services Act, the Farmer's Produce Trade and Commerce (Promotion and Facilitation) Act, the Essential Commodities (Amendment) Act – apart from the Electricity (Amendment) Bill 2021, and the three labour codes. They are also demanding a legal guarantee to Minimum Support Price (MSP), halving the price of diesel, petrol and cooking gas, and protesting the privatisation of India's PSUs.
Following meetings, the SSKM decided that Thane-Palghar district will mobilise over 20,000 peasants and Nashik district will mobilise over 15,000 peasants for the Mahapanchayat. Trade unions and students organisations like the DYFI, SFI and the Teachers Front will also participate in the event along with national leaders of the Samyukta Kisan Morcha (SKM) coalition. Overall, the SSKM estimates over 60,000 people to gather in Mumbai.
A day prior to the Mahapanchayat, all Lakhimpur Kheri martyr kalash yatras will arrive in the city on November 27. Martyrs' ashes will be immersed in the Arabian sea at the Gateway of India the following evening.
"All these decisions were taken in two joint meetings of the SSKM, the first at Pune on October 27 and the second at Mumbai on November 3, which were chaired by AIKS National President Dr Ashok Dhawale," said the SSKM in a press release.
The meetings were attended by leaders like Medha Patkar, Pratibha Shinde, Namdev Gavade, Milind Ranade, Kisan Gujar, Dr Ajit Nawale, Dr S K Rege, Shailendra Kamble, Vidya Chavan, ex-MLC, S V Jadhav, Raju Korde, Kishor Dhamale, Subhash Kakuste, Ulka Mahajan, Subhash Ware, Aparna Dalvi, Vishwas Utagi, Feroze Mithiborwala, Poonam Kanojia and many others. They are part of platforms like All India Kisan Sangharsh Coordination Committee (AIKSCC), Trade Unions Joint Action Committee (TUJAC) and Jan Andolananchi Sangharsh Samiti (JASS).
Related:
Haryana: Tensions rise between farmers and BJP leaders
BJP regime's words don't match actions: Farmers
50 farmers martyred in October alone!