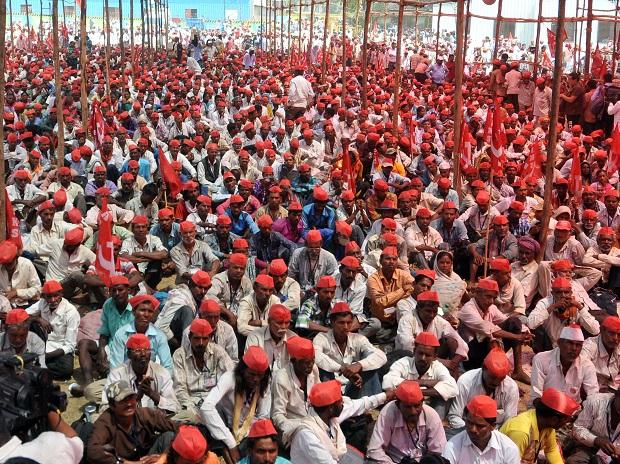 Representation Image
Maharashtra farmers on January 11, 2021 resolved to carry out state-wide protests along with the nationwide protest schedule stated by farmers' organisations in Delhi to oppose the three farm laws forcibly passed by the central government.
All India Kisan Sabha (AIKS) President Ashok Dhawale and renowned journalist P. Sainath presided over a farmers' meeting in Mumbai wherein state peasants decided to burn copies of the three farm laws – the Farmers (Empowerment and Protection) Agreement on Price Assurance & Farm Services Act, the Farmer's Produce Trade and Commerce (Promotion and Facilitation) Act, the Essential Commodities (Amendment) – on January 15 to avoid Makar Sankranti on January 14.
Kisan Alliance will hold a press conference on Thursday at Mumbai Marathi Patrakar Sangh at 3 PM to announce a statewide march on January 16 from the Islam Gymkhana to the Azad Maidan.
Then on Friday, farmers will hold a press conference at PWP Shekhap office for further agitations in association. It will be attended by Left organisations, Trade Unions, and Swabhimani Shetkari Sanghatana leader Raju Shetty. . As a strong supporter of farmers' rights and their ongoing struggle, Citizens for Justice and Peace will also be present at this meeting.
January 18 will be celebrated along with the rest of India's farmers as Mahila Kisan Diwas at the district-level.
Later, on January 23, farmers will carry out protests in the city to denounce the three laws until January 26. Farmers will start a 'mahapadav' towards Mumbai and will arrive in the city on January 24.
Workers Unions will protest in solidarity with farmers on January 25, while farmers and Mumbaikars will march from the Azad Maidan to the Raj Bhavan on Republic Day.
Related:
Rural and urban Maharashtra all witness the strength of the farmers' movement
Boycott Ambani-Adani products, 'Thali Bajao' on December 27 during PM Modi's Mann Ki Baat.
Rajasthan julloos at par with Delhi protests! Farmers observe relay fast
Karnataka farmers stand steadfastly with protesting Delhi farmers, will reach Delhi border on Dec 25
Maharashtra farmers to leave for Delhi on December 21