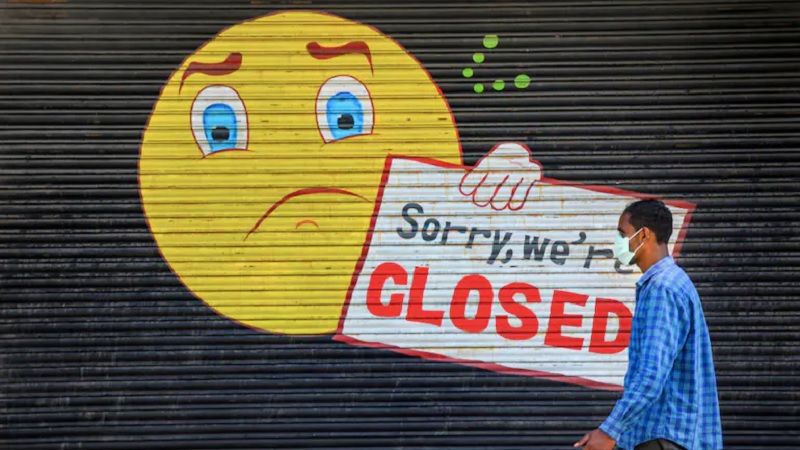 Image Courtesy:indiatoday.in
Leaders of various retail trade and welfare associations rejoiced when Maharashtra Chief Minister Uddhav Thackeray agreed that "corona is not in shops" during a virtual conference on April 7, 2021.
Shopkeepers in the state have been vehemently protesting against the recent lockdown restrictions in the last few days. Many people told SabrangIndia that they feared the second lockdown period more than the last owing to shrinking savings.
However, Federation of Retail traders Welfare Association (FRTWA) President Viren Shah told SabrangIndia that these worries may soon be resolved considering Thackeray agreed to discuss their demand during Wednesday's cabinet meeting.
"Leaders demanded that shops be allowed to remain open from Monday to Friday. The Chief Minister agreed that corona is not in the shops because shops are not crowded. He also acknowledged that people need their wages," said Shah.
In a joint press release by various retail organisations in Maharashtra, leaders said that the state government has requested one to two days' time to consider the changes. Meanwhile, Thackeray urged people to refrain from threats of coming out on the streets. Simultaneously, shop owners speaking to SabrangIndia said they will take to the streets if the government does not accept their demands in the next two days.
Parlour association member Javed Shaikh, who owns saloons in Parle (West) and other parts of Mumbai, said another lockdown in 2021 will have an adverse impact on people's incomes. Many parlours had resorted to a use-and-throw system during the lockdown. Razors, oils, creams, all products were disposed of after a single use regardless of their utility.
"Work has slowly started after the lockdown this year. It's okay if they ask us to leave a chair's space between two customers. The government can even issue guidelines to halve the workforce but don't declare another lockdown," he said.
In another part of the city, Viva ladies clothes shop owner Vipul remains undecided on whether he should close his Grant Road shop and move to another city. Like many traders, Vipul also paid his GST and income tax sans subsidies and concessions. He hoped that summer sales would help reinstate the slow business that started this year.
"Now, if they close shops for half the summer, my dead stock will not be compensated. People will buy their clothes from Amazon. Then next month, who will buy my cotton kurtis?" asked Vipul, stressing that the government needs to save the retail sector if it wants to improve employment in the state.
What about businesspersons on the street?
Retail traders' fates continue to hang in the balance of Cabinet proceedings. But for street vendors, the economic situation never truly changed, before or after the first lockdown period, National Association of Street Vendors in India (NASVI) National Coordinator Arbind Singh told SabrangIndia.
While hawkers did return to daily life in January 2021, many of them feared that another shutdown. Despite the gradual increase in demand in the market, street vendors remained anxious that a national lockdown will be announced once elections in various states are over. This fear seems to be slowly coming true, said Singh.
"Our political leaders never offer any clarity in their speeches. So people remain scared that the same problem will start again. Anyway, a lockdown is not the solution," he said.
He argued that it was meaningless to stop small businesses if political rallies continued in election states. Moreover, vendors still hadn't received any guidelines as to how they could continue their livelihood.
Nonetheless, Singh said that the NASVI had asked the Ministry of Housing and Urban Affairs for a meeting with Minister of State Hardeep Singh Puri to discuss the issue. He stressed that the issue was different from March 2020 when people did not know how to deal with the pandemic.
"Nowadays, customers are better aware about necessary precautions. We also have relevant data from last year's lockdown. Still, if the government insists on a lockdown, the situation will be bad," said Singh.
To make matters worse, even retail traders like Shah blamed his street counterparts for the spread of the virus claiming that "there is a crowd on the street and no one wears masks or has sanitisers." This despite NASVI's repeated claims that all hawkers were properly trained about social distancing guidelines and precautions.
Yet, civic mentality remains the same, alleged Azad Hawkers Union's President Vijayalaxmi Gaikwad. The flower seller from Vikhroli recalled how local police shooed station hawkers away from their spots since the beginning of night curfew in Maharashtra.
"Even though we are allowed to continue work until 8 PM, officials come early and tell us to move. If we refuse, they put us in the can and demand a fine. Shopkeepers may have the privilege to protest, but here, no one will allow hawkers to gather," she said.
Although Gaikwad said she could still make ends meet, the flower seller threw away all her stock in light of diminished demand (for street products) and harsher restrictions. Other, more hopeful, vendors stored their perishables in fridges at home, hoping to breakeven.
Perhaps the most discouraging news came from NASVI's Mumbai coordinator Dayashankar Singh who said hawkers were lathi-charged this week at Dharavi and Bhindi Bazaar in Mumbai. Decrying the incident, he said unions may soon protest like shop owners if the situation remained the same. Simultaneously, Delhi hawkers who faced lockdown restrictions from April 6, said they will meet the Municipal Commissioner on April 8 to voice their grievances.
Related:
Activists request meeting with CM Thackeray to discuss new Covid-19 guidelines
Covid-19: One lakh cases in a day, what is the Govt's plan to combat surge?
India's street vendors are micro-entrepreneurs, yet they struggle for freedom and rights
Lockdown or Unlock: Hawkers struggle to remain 'Atma Nirbhar'