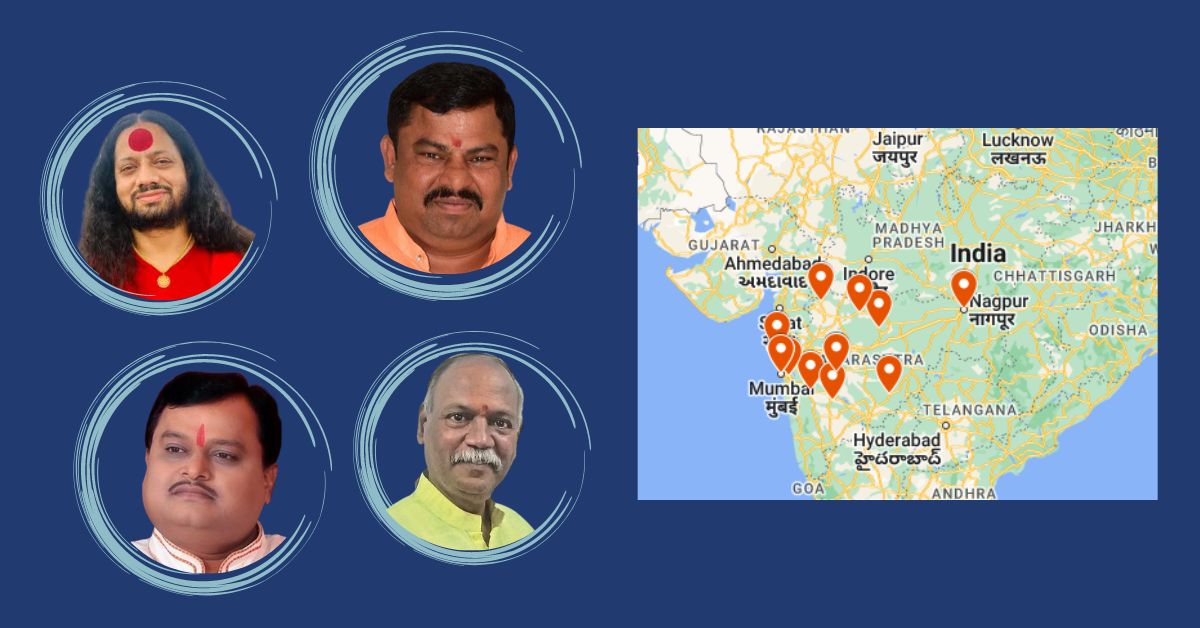 Across the length and breadth of Maharashtra with a determined and heightened focus since December 2022, professional hate mongers have descended on the state and offensive videos of their egregious and provocative speeches that can with impunity target minorities through acts of violence and discrimination, regularly surface. With little expectation from the political leadership of the ruling establishment in Delhi, the stony (almost complicit silence) from the newly sworn in Maharashtra chief minister and deputy chief minister bodes ill for social harmony in the state.
Elections to the Lok Sabha (Indian Parliament) are 15 months away and state assembly polls will be held three months after that. Stakes of those parties that only bank on demonisation and stigmatisation of India's religious minorities rest on divisive sentiments generated by such hate speech among the state's polity. Will this cynical time-tested strategy work? Or will Maharashtra that has determinedly thrown of its past communal yoke –refreshingly visible not just during the pandemic when the rest of the country (especially BJP-ruled states) were reeking with the poison of media-generated venom but even in the years after 1992-1993 when the capital, Bombay had burned after the singing fires post Babri Masjid demolition –succumb to this numbing national trend?
Schedule III of the Constitution, rarely read, much less understood by either political enthusiasts who queue for 'tickets' to state and national elections, or more ordinary mortals, is endearingly candid and simple.
For a member of parliament (MP) and or one who takes office as minister of the union of India under the Third Schedule [Articles 75(4), 99, 124(6), 148(2), 164(3), 188 and 219], the Oath is straightforward: whether sworn in the name of God or the Constitution, the MP or Minister must only be wedded to true faith solemnly affirm and allegiance to the Constitution of India as by law established and function in accordance with the Constitution and the law, without fear or favour, affection or ill will. The wordings of the oath for a member/legislator of the state assembly, MLAs as they are known are disarmingly similar and unequivocal. They are sworn not to any arcane hate-filled ideology but to the Constitution and the Constitution alone. Regardless of what their ideologues may teach, or their political training preach, once elected it is only the Indian Constitution that matters: equality, non-discrimination and justice for all.
Time then is it not for Maharashtrian Indian citizens to demand from each and all of those guardians of electoral, representative power, that they—simply put—abide by this oath? That within their remit, the constituencies that they command and are elected from, they stop the hate-mongers! Now!
Citizens for Justice and Peace (cjp.org.in) has been running arguably the most consistent and persistent campaigns, petitioning relentlessly the law enforcement authorities to prevent and prosecute hate mongers. It is time now for us to take this to the next level. Time for us, in a constituency by constituency approach and demand of our MLAs and MPs that they uphold the Oath through which they have assumed political power and clout.
Same does it go for members of the Indian Police Forces (IPS) and bureaucracy (IAS officers). They too, once they don the uniform and wield its clout, are wedded to ensure that the remit of the Constitution rules. Time for us citizens to demand this of them, now!
December 14, 2022 was when it all began. Then, as a slow burning sizzling fire, over the past two months, the state has seen increasing number of permitted events where hate speech is delivered by known previous repeat hate offenders at events organised by (no more) fringe groups and far right wing organizations
So far, to repeat, Maharashtra had majorly stayed aloof from the hate wave that had plagued the country over past years. Credit needs to be given to the unique formation of the Maharashtra Vikas Aghadi leadership (MVA) that despite its past history and colours was unequivocal when it came to constitutional governance.
While India was splattered with the poison of hated, while rampant instances of hate speech and socio-religious meets were held and were allowed across western and northern India, especially in BJP ruled states, sansads that threatened Muslim women and men with genocide, Maharashtra has/had not fallen prey to the same under the MVA government.
However, come December 2022, barely 5 months after the sudden toppling of the earlier government, under the new regime, the tides have turned and hate is being fanned, even in the urbs prima, Mumbai.
As we look at the increasing number of such events being held, it is clear that some (no more) fringe groups are involved who organise events across many districts and carry out rallies and invite speakers known to have delivered hate speeches in the past. Many of the speakers are previous offenders, new wine in old bottles so to speak, delivering shrill homilies of the vision of 'Hindu Rashtra' (a notion that is itself fundamentally anti-Constitutional), distorting and manipulating history to further stigmatise, target and incite violence against the Muslim community; Christians too have not been spared.
It is time that ordinary progressive Maharashtrians step in, speak up. Take delegations and protests to the elected representatives in their areas, especially where such events have either been planned or have already taken place and demand that these MPs and MLAs, the SPs and the DGP honour the Oath to of Allegiance to the Constitution. Before it is too late.
Here is a quick mapping of the Maharashtra 2022-2023 Hate Map:
On February 15, 2023, in Panvel, members of Hindu Janjagruti Samiti held a public procession and raised slogans of Hindu Rashtra and made calls for laws against 'love jihad'. They also raised slogans of "Hang Love jihadis". They repeatedly raised these slogans amidst a busy street.
On February 19, 2023, in Latur, BJP MLA from Telanagana, T Raja Singh, made explicit calls for violence and killing of Muslims only so that a Hindu nation can be established. The speech was made in the presence of thousands on the occasion of birth anniversary of Chhatrapati Shivaji Maharaj.
On February 15, 2023, in Pune, Suresh Chavhanke was speaking at an event celebrating "Asaram Bapu divas" he stressed on the importance of keeping weapons and falsely claimed that the Constitution allows you to keep weapons. He said we have phones but nobody has weapons for self-defence. He added, "in the coming days the situation that is going to arise, you should think about it.
On February 14, 2023, (Valentine's Day) Bajrang Dal members held a rally in Nagpur, Maharashtra, and conducted a mass recitation of the Hanuman Chalisa at the Durga Mata Temple in the Sadar area to protest against Valentine's Day. The rally ended at Samvidhan Square, where tributes were paid to the CRPF personnel killed in a terror attack in Pulwama, Jammu and Kashmir, on February 14, 2019.
On February 11, 2023, at a Hindu Janakrosh Meet held in Khamgaon, Buldhana, Pravin Togadia, President of Antarashtriya Hindu Parishad, said that those who bent before the Mughals were coward Muslim and those who didn't were sons of Chhatrapati Sambhaji. He further said that we have the power to rule over the entire world, not just Bharat.
On February 12, 2023 members of Sakal Hindu Samaj assembled at a Ram Mandir in Aarey Colony in Mumbai, to carry out a rally till Marol. While Aarey Police did not allow them to carry out the rally, the speakers, assembled at the Ram Mandir Shriraj Nair, Mohan Salekar elaborated on how they "are committed to stop the construction of the cemetery at any cost and appealed to Hindus to remain united". The protest morcha was being held against the alleged construction of a Muslim burial ground (kabrastan) near Ram Mandir.
On February 9, 2023 Kalicharan Maharaj again spoke at Hindu Jangarjana Morcha, this time at Baramati Pune. He said Muslim want to convert everyone into Muslim because those who are not Muslims are kaafirs and it is written in Quran that you should kill a Kaafir. "I am kaafir which means I am eligible to be killed (by them)," he said. He said, "wives of kaafirs are stolen property and one woman being raped by 50 men is not a big deal." He again repeated the same speech that he had made in Nandurbar about women raped in Kashmir and told his audience to watch the movie "Kashmir Files". Citizens for Justice and Peace had filed a complaint seeking preventive action against this event with the DGP, Maharashtra as well Baramati Police and a memo was also sent to Baramati MP, Supriya Sule. However, no such preventive action was taken and nor was Kalicharan booked by the police for his publicly made hate speech.
On February 6, 2023 Kalicharan Maharaj spoke at an event organized by Vishwa Hindu Parishad in Nandurbar where he said, "Muslims are prepared. When mosques and Madrassas are raided, swords, AK-47 and RDX are recovered. If temples are raided are any guns or swords ever recovered?" He then went on make wild and baseless claims that in Kashmir about 30 years ago, 5 lakh women were gang raped. He said if we are not prepared, this will become Kashmir. He then said that lakhs of temples were destroyed and Qutubuddin destroyed Kashi Vishweshwar temple and urinated on the shivling and built a mosque there. He went on to distort history by claiming Muslim kings destroyed many temples across India to build mosques.
On January 30, 2023 at Parbhani, a rally was organized by Sakal Hindu Samaj in Mumbai called 'Hindu Jan Aakrosh Morcha' (rally for Hindu people's fury). The rally, purportedly organized against 'love jihad' and 'land jihad', ended with a provocative speech by Goshamahal MLA T Raja Singh calling for a boycott of Muslim owned businesses and for Hindus to 'slit throats' this Morcha has originated from Parbhani in Marathwada region from November last year and several such rallies organized across over 20 districts in Maharashtra, including Parbhani, Nanded, Ahmednagar, Kolhapur, Gadchiroli, Satara, Karad, Sangli, Solapur, Pune, Dhule, Jalgaon, Nagpur, Amravati, Hingoli, Buldhana, and Jalna. Along with 'love-jihad' the other issue that the protest tried to foreground was an odd concept called 'land-jihad'.
On January 22, 2023 at an event held at Nagar, Maharashtra, Suresh Chavhanke delivered another anti-Muslim hate speech. He instigated people to go against the Supreme Court by administering the oath to establish the Hindu nation with him. The video starts with Suresh Chavhanke shouting "Kon chale re kon chale? Hindu Rashtra ke liye Chale (What should we go for? Let's go for a Hindu Rashtra)." "Arre lana hoga lana hoga, Hindu Rashtra lana hoga (We have to bring in, we have to bring in a Hindu rashtra.)"
He then spoke in Marathi and said- "Should I speak in Marathi? Pigs don't understand Marathi, so I will speak in Hindi sometimes"
He added, "Safaed chaddar par chadhaya gaya har rupaya tumhare safaed kaffan ki vyavastha karega, savdhaan reh jao. (Every rupee offered on a white sheet will arrange for your white shroud, be careful.)"
On January 13, 2023, at a Shaurya Path Sanchalan event, held in Boisar, Maharashtra, Senior Vishwa Hindu Parishad leader Shankar Gaikar made a hate speech making reference to the past Mughal and Maratha leaders of India and also the history of Islam while making hateful statements. Referring to Bajrang Dal's stick he said that it will be sued against those "who work against the nation, insult Bharat Mata, wield a sword on the chest of Mother India and use a knife. This stick will be useful for that purpose.)"
He further said, "No one has the power to take away the daughter of a Hindu. Keep in mind that the bitterness is in their blood. Hindu is never cruel, Hindu is always angry, and he fights from the front." Further referring to the Muslim community he said, "they have a tradition of cruelty for thousands of years".
On January 7, 2023 over a dozen graves and crosses were desecrated at St. Michael church graveyard in Mumbai.
On December 25, 2022 Sudarshan News Editor-in-Chief was speaking at Hindu Janajagruti Samiti event held in Jalgaon, Maharashtra. Continuing his Islamophobic trope he said, "From Jalgaon to Khandwa if you take a train, you can see land has been captured, 'Land jihad' has occurred. It feels like the train is passing through Pakistan." Further he started referring to Christians as it was Christmas day and said, "There are 2% Christians in India, at least the ones who tell their real names, leave aside the fake ones. The festival of these 2% is being imposed on the 98% people."
Then he spoke to Buddhists as well, giving them examples of Myanmar, "I want to say to the Buddhists of India to learn something from Buddhists of Myanmar. They kicked out and chased away the Rohingyas from their country. They said your Jihad will not work in our country."
On December 14, 2022, at another Hindu Jan Aakrosh Morcha' held in Ahmednagar, Hate offender Kalicharan Maharaj made false claims about cases of 'love jihad' presenting them as facts and also propagated black magic and superstition by suggesting remedies for 'love jihad'. He even warned his audience that Christianity and Islam are "not religions", and that Muslims have an "800-year-old plan" – the Ghazwa-e-Hind – to "convert India into a country of Muslims".
Hate can be doused by consistent interventions by a vast majority who owe allegiance to the values and good sense enshrined and imbibed in and from the lived principles of the Indian Constitution. Silence of the good majority is our greatest peril. This silence needs to be broken and protests for peace and fraternity need to flow on the streets.
Related:
CJP COMPLAINT TO DGP, MAHARASHTRA AND NCM AGAINST MISLEADING AND ISLAMOPHOBIC SPEECH BY KALICHARAN
Hate Speech: Kalicharan spews hate against Muslims in protest for "Love-Jihad" law, Maharashtra
Christmas of the 2% is being imposed on the 98%, says Suresh Chavhanke