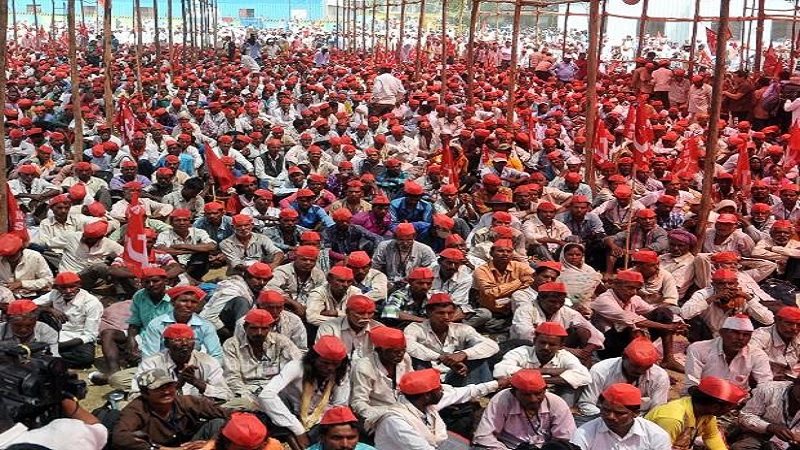 Maharashtra's Samyukta Setkari Kamgar Morcha (SSKM) coalition organisation declared a series of agitations on January 15, 2021 for the days leading up to Republic Day in response to the Samyukta Kisan Morcha's (SKM) call for more intense farmers protests.
Accordingly, Maharashtra chapters of the All India Kisan Sangharsh Coordination Committee (AIKSCC), Trade Unions Joint Action Committee (TUJAC), Struggle Committee of Mass Movements (JASS), Nation for Farmers, Hum Bharat ke Log, Citizens for Justice and Peace (CJP) and other organisations will leave for Mumbai on January 23 on tractors and other vehicles with thousands of workers. On January 24, protesters will assemble at Azad Maidan for the Mahamukkam agitation.
The following day, people will march towards Raj Bhavan at 2 PM. Finally, Republic Day will be celebrated with flag-hoisting by farmers at Azad Maidan on January 26.
Along with the repeal of the three laws, people will demand: the repeal of the four labour codes enacted by the central government; a law ensuring Minimum Support Prices (MSP) for agricultural commodities; the withdrawal of the Electricity (Amendment) Bill 2020; the implementation of the Mahatma Phule debt waiver scheme and forest rights law; pensions to farmers and agricultural laborers; the repeal of the new National Education Policy excluding rural and urban poor students from education.
On January 14, the SSKM committee met former Union Agriculture Minister and former Chief Minister Sharad Pawar, Chief Minister Uddhav Thackeray, Revenue Minister Balasaheb Thorat and Environment and Tourism Minister Aditya Thackeray to request support for the movement on behalf of Mahavikas Aghadi. Ministers promised full support and Pawar, Thorat and Thackeray agreed to join the January 25 agitation.
Accordingly, the delegation requested the State Legislative Assembly to pass a resolution calling for repeal of the three laws – the Farmers (Empowerment and Protection) Agreement on Price Assurance & Farm Services Act, the Farmer's Produce Trade and Commerce (Promotion and Facilitation) Act, the Essential Commodities (Amendment) Act. It asked officials to convene a special session to discuss the agricultural crisis and protect farmers.
Thousands of Maharashtra peasants also burnt copies of the farm Acts and labour codes from January 13 to January 15. On January 18, the Mahila Kisan Day will be observed widely all over the state.
Related:
Women farmers, students write open letter against SC's comment on women farmers
BKU President Bhupinder Singh Mann quits SC-nominated Committee for farm laws
AIKS calls on district agitators to surround Governor's office in protest
Women Famers still struggling for recognition
Farmers celebrate Lohri, burn copies of Farm Acts into ashes in the bonfire
Amplify farmers' struggle at the district-level: Janta Parliament to Opposition leaders
Maharashtra farmers plan large-scale protest leading upto Jan 26