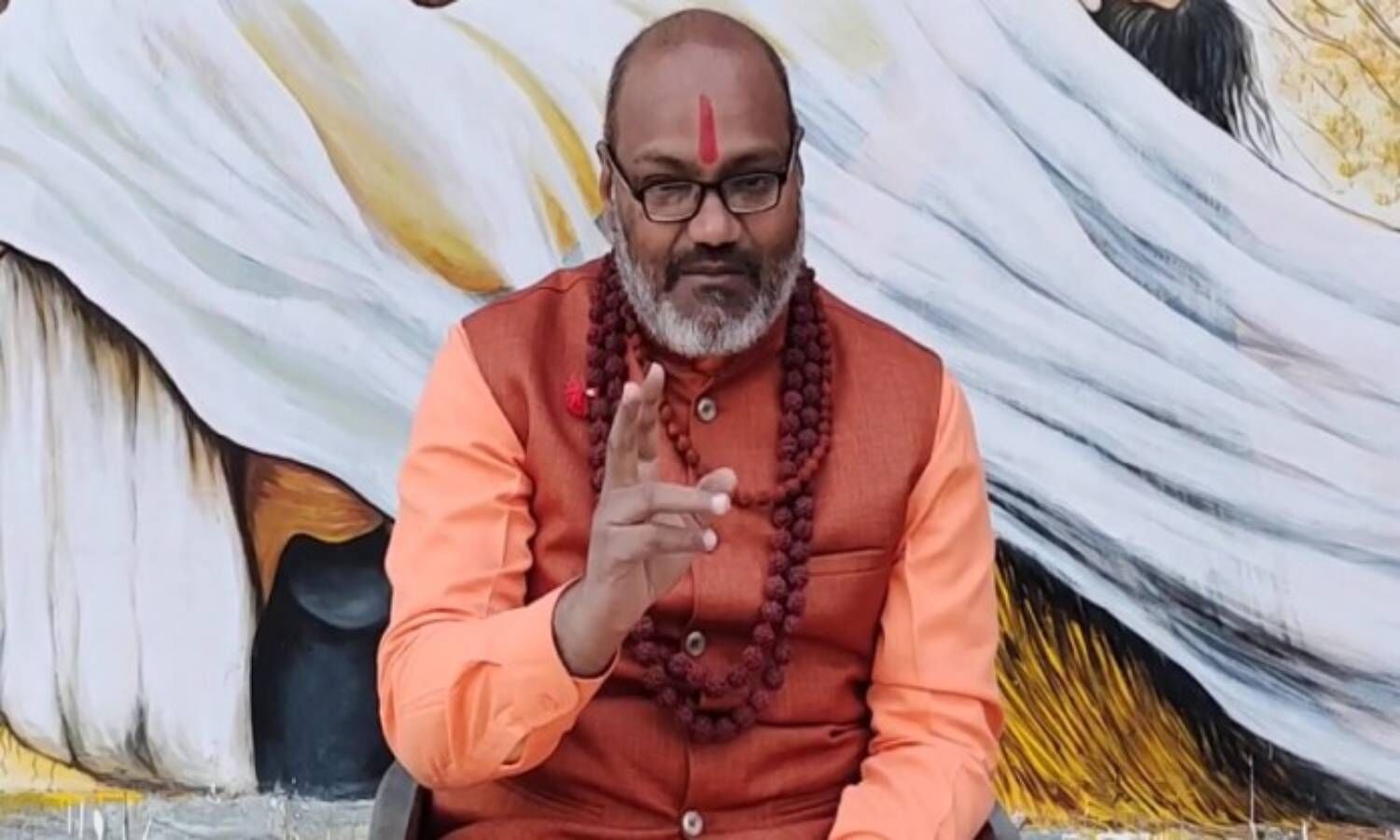 Serial hate offender Yati Narsinghanand has been booked by Maharashtra Police for hate speech against former President A.P.J. Abdul Kalam. Narsinghanand had attacked President Kalam for his Muslim identity, and levied ridiculous and dangerous charges against the eminent scientest who is revered even by the right-wing ecosystem.
However, Yati Narsinghanand is so blinded by his hate for Muslims, that he did not realise this would land him in further trouble. It is no secret that he does not have the reverence and respect of many Bharatiya Janata Party (BJP) politicians, who have now all but shunned him for his derogatory statements on the party, especially women politicians. He is head priest of Dasna Devi Mandir, Mahamandaleshwar of the powerful Juna Akhara. He was an organiser of the communal Haridwar Dharam Sansad. He is close to many political leaders and currently roams free even though he has been named in multiple FIRs for his hate speeches against Muslims, women, and calls for genocide. He was given bail by Sessions Court Haridwar in the Dharam Sansad case.
In its first case against the Hindutva mascot, Maharashtra's Ahmednagar Police has lodged an FIR against Narsinghanand. According to news reports the FIR against the hate offender puts on record that "Yati Narsinghanand's communal speech was circulated on YouTube and Punjab Kesari online where he addressed former Indian President A.P.J. Abdul Kalam as a Jehadi number 1. During his tenure, he gave the nuclear bomb formulas to Pakistan. While he was the director of DRDO and President, many Hindu scientists were assassinated. He was connected to terrorist Afzal Guru and for that he had commissioned a special cell in the Rashtrapati Bhavan. Aligarh Muslim University, Jamia Millai Islamia and Darul Uloom Deoband were transforming India into Afghanistan. In 2029, there will be a Muslim Prime Minister of India who will lead the country into darkness."
Narsinghanand has been booked under IPC sections 153 A (promoting enmity between different groups on ground of religion, race, place of birth, residence, language, etc, and doing acts prejudicial to maintenance of harmony), 153 B (imputations, assertions prejudicial to national-integration), 295 A (deliberate and malicious acts, intended to outrage religious feelings of any class by insulting its religion or religious beliefs) and 505 (statement conducing to public mischief). The FIR was lodged at Topkhana Police Station after the district court issued an order directing the district police to register a case under section 156 (3) of the Criminal Procedure Code (CrPC). Police Inspector Jyoti Gadkari, incharge of Topkhana Police Station, has been appointed the Investigating Officer (IO) in the case. The case dates back to July 23, 2021, when Arshid Shaikh, Bahirnath Wakale and Anand Lokhande had filed a petition in the district court seeking a criminal case against Narsinghanand, through civil rights lawyer Advocate Asim Sarode, reported National Herald.
After the FIR was lodged, Advocate Sarode told the media that now Narsinghanand has three options, "First being that Narsinghanand will have to approach the district court for bail, challenge the FIR in the high court or get arrested by Ahmednagar Police." The three petitioners told the media via a statement that, "Rabid communalist elements like Narsinghanand are attacking the unity of the nation and must be sent behind the bars. Hardcore terrorists like him give inhuman calls like genocide of Muslims during the Dharma Sansad held recently. Such violent extremists must be arrested and sent into long term imprisonment to maintain peace and communal harmony in the society. We appreciate the strong step taken by Ahmednagar Police to book the enemy of the nation under relevant sections of the Indian Penal Code (IPC)."
According to the news report, one of the petitioners, Arshid Shaikh, added, "Yati Narsinghanand is a repeat offender who is not only against Muslims but is a sworn enemy of truth and humanity. He has given hate filled speeches against Muslims and spoke in a derogatory language about women. His crimes against humanity must be punished and the FIR against him in Ahmednagar is a major step in prosecuting him for promoting enmity in the society."
In early February, the bail denied to Narsinghanand by the Chief Magistrate Court in Haridwar was effectively overturned by the Sessions Court Haridwar today in the Dharam Sansad case. Narsinghanand had been arrested by Haridwar Police on January 15 whereas the contentious Dharam Sansad where speakers gave calls for genocide against the minority community took place between December 17 to December 19, 2021. While denying him bail, Chief Judicial magistrate Mukesh Arya had observed that as per the case diary, the statements made by Narsinghanand had the potential to disturb communal harmony in the area and that it is evident that his statements were inflammatory and could provoke communal disturbances and violence in the area as well.
On February 7, Sessions Judge Vivek Bharti Sharma granted bail to Yati while observing that the offences invoked against him were punishable up to 3 years of imprisonment. The court also considered his criminal history but noted that Yati had not been convicted in any of the cases against him. Yati has been booked under sections 153A (Promoting enmity between different groups on grounds of religion, race, etc) and 295A (Deliberate and malicious acts, intended to outrage reli­gious feelings of any class by insulting its religion or reli­gious beliefs) of the IPC. The court also observed that the FIR was registered by someone who was not present at the event and had seen videos of the event on social media.
By the end of February, Narsinghanand was out of jail after he was granted bail in the case of 'derogatory remarks' against women. He was welcomed by his supporters with chants of Jai Shree Ram after his release. He got bail within 30 days of his arrest in the Haridwar Hate Speech case in which he explicitly asked Hindus to buy advanced weapons to kill Muslims, videos of which are publicly available.
Related:
Dharam Sansad: Hate monger Yati Narsinghanand granted bail
Yati Narsinghanand granted Bail in Case of 'Derogatory Remarks' Against Women