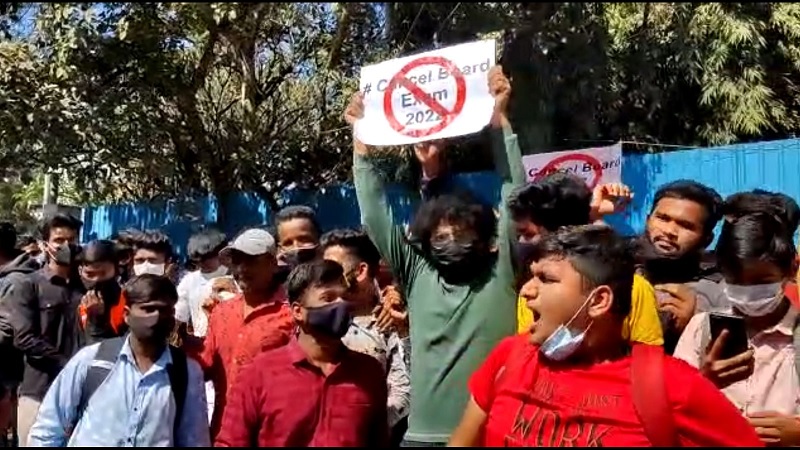 Image Courtesy:hindustantimes.com
Student protests broke out across multiple cities in Maharashtra on January 31, 2022 in response to Youtuber Vikas Fhatak's (known as Hindustani Bhau) call to demand cancellation of Class 10 and 12 exams. Fhatak had, during an Instagram Live, urged students to march towards Education Minister Varsha Gaikwad's residence.
Students from Mumbai, Thane and Nashik regions gathered at Dharavi on Monday to condemn the offline exams amidst persisting dangers of Covid-19. However, police soon had to intervene as large groups of youth assembled in the area without getting permission from authorities. The Free Press Journal reported "mild baton charge" to disperse the students. Even Fhatak himself was brought before a magistrate court in Bandra and remanded to police custody for his actions.
Surprisingly, despite reports of stone-pelting and reports of violent protests even in Nagpur, Fhatak once again took to Instagram Live addressing students and police alike. While speaking inside his car located in the centre of the unruly crowd, he warned Chief Minister Uddhav Thackeray and Gaikwad that the future generation will not vote for them if they do not cancel exams. Meanwhile, he urged Prime Minister Narendra Modi to pay attention to the students who "love you very much."
Despite such recorded statements, Fhatak maintained that he posted the video call for students and not for the benefit of any political party or organisation, said Indian Express. Public prosecutor Prasad Joshi speaking for the Dharavi police argued that the accused is a habitual offender, who had observed another protest on a similar issue in Shivaji park. This time, he was arrested from a luxurious hotel where he was staying in a room booked under someone else's name, reported the Indian Express.
Police charged Fhatak under several sections of the IPC such as unlawful assembly and rioting, violating Covid-19 guidelines, obstructing public servant from discharging duty, causing hurt to public servant, mischief causing damage, abetment. He was also charged under section 3 of the Prevention of Damage to Public Property Act, 1984.
It may be noted that while most of the minors protesting were not arrested, a bystander Ikrar Khan was also arrested by the police.
Concern for education, a reality
While the intention of the Monday protests remain dubious, the considerable crowd in Dharavi indicated a growing concern among students about their future.
The Maharashtra State Board has so far dug in its heels on conducting Class 10 and 12 in February and March. Students, who spent the last two years studying in online classes, have grown anxious about physical exams. Some students have demanded that the exams be dismissed like last year and applicants be assessed based on their three-year performance.
In his videos, Fhatak claimed that "gareeb ke bacche" (the economically-disadvantaged) suffered the most in this situation especially after trying to attend online classes citing their difficulties in "paying fees".
However, it is worth questioning how physical classes can affect the minority and socio-economically disadvantaged groups more than online classes.
Already, the Global Education Evidence Advisory Panel (GEEAP) stated in its report 'Prioritizing Learning During Covid-19' how a Grade 3 child can lose upto three years' worth of learning in the long-run due to school closures if action is not taken soon. With regards to India, it said that a year of online classes had already cost many students a year of schooling due to inadequate facilities.
Even regional reports like 'Locked Out' by the School Children's Online and Offline Learning (SCHOOL) survey warned against the consequences of prolonged school closure during Covid-19. By September 6, 2021 , it said that only four percent of rural SC/ST children are studying online regularly, compared to the 15 percent otherwise underprivileged children in rural areas.
Yet it seems that parents are far from waiting for such reports to assess the situation. In Haryana, media reports as recent as January 27 narrated how parents have started forcibly sending their students to school, hoping to pressure authorities.
Earlier, SabrangIndia spoke to Nandurbar's Adivasi villagers, one of whom failed to fill CET exam forms due to issues with internet connectivity. Similarly, the student's phone switched off mid-exam leaving her law paper unfinished. She had charged her phone from a nearby village and was working at 40 percent battery. All of this goes to show that minority communities, labourer families and rural folk do not yet have the necessary digital facility to access online education. Thus, they agree with the UNICEF recommendation to prioritise the full and constant opening of schools and preschools.
Related:
UNICEF and parents worry about India's future generations in the aftermath of Covid-19
SCHOOL survey indicates widening educational gap between SC/ST and other children
Haryana: Why are 40,000 teachers' posts lying vacant?
Direct funds to guardians solves nothing: UP activists on gov't education