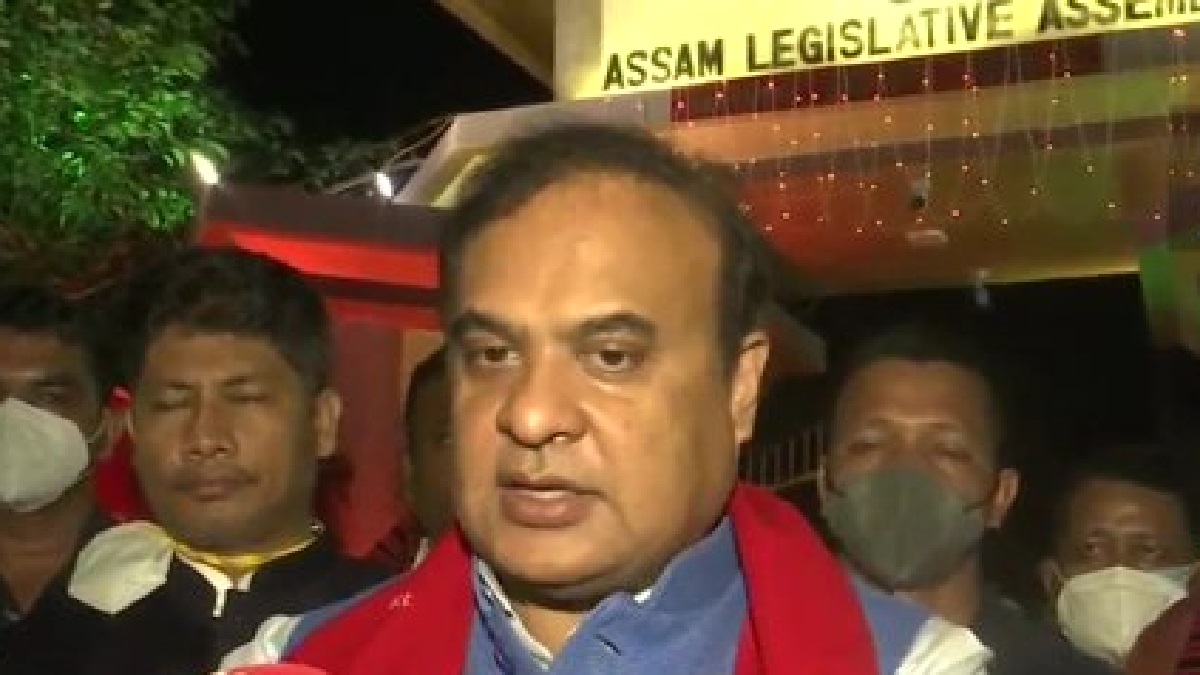 Image: ANI
In a purported bid to overturn the entire debate about protection of minority rights, Assam Chief Minister Himanta Biswa Sarma has placed the responsibility for maintaining peace squarely on Muslims, claiming that they were no longer minorities in Assam. The impunity is evident in the fact that Sarma made these comments in the State Assembly!
Sarma was speaking after the Governor's address in the Budget Session of the Assembly. He brought up the subject of evictions and flood affected people by referring to such families living on tribal land. "If you want to resettle, follow the procedure and make an application. This is a 6th Schedule area. If you have money, buy land in Nagaon and Morigaon. You can't live on tribal land," he advised.
He emphasised the need to protect "indigenous" people of Assam by constantly referring to indigenous people as "our people". But then he went a step further and specifically targeted minorities calling them "you people" and saying, "You people are not a minority, you people are almost majority… 35 percent, all the minorities are actually the majority!"
This is interesting because as per the 2011 census, Hindus comprise 61.47 per cent of Assam's total population of 3.12 crore, while Muslims constitute 34.22 per cent of it, though they are in a majority in several districts.
He went on to say minorities were in power as most of the elected candidates from opposition parties were from minorities. But then he reminded them, "Power comes with responsibility." He said Muslim population of Assam was over a crore, far greater than populations of Ahoms and indigenous people. He went on to say, "Being the largest majority community in the state today, it is your responsibility to maintain peace and harmony." He insisted that the other communities were smaller and therefore "the responsibility has shifted towards you."
Therefore, conversely, Sarma appears to hold Muslims as responsible for any disruption of harmony, which is a very problematic and outright communal stand.
The speech that lasted over an hour also saw Sarma making other problematic statements. "When it comes to protecting our people from criminals, we have to acknowledge that we are also protecting minorities from these criminals," said Sarma. Taking on the objections pertaining to human rights violations raised by Opposition parties he said, "Opposition parties accuse us of being killers. They say that police action is wrong. But half the policemen today were appointed when the Congress was in power, so you should believe the police." He accused the Opposition of overreacting, saying, "Every time, you come out on the street with lit candles and start clapping in protest. Even in a case where it was an accident and not an encounter!" He urged minority community MLAs, "As their politicians, do not stand with the alleged criminals."
The entire speech in Assamese may be viewed here:
My Reply to Debate!

Governor's Address in Budget Session of Assam Assembly, 2022 https://t.co/C83VvbmBkA

— Himanta Biswa Sarma (@himantabiswa) March 15, 2022
But Sarma had more on his mind. In a series of tweets posted later, he appeared to promote the newly released movie Kashmir Files. Directed by Vivek Agnihotri, the movie is purportedly about the oppression and exodus of Kashmiri Pandits from Kashmir in the 80s and the 90s. Now, Sarma has announced that government employees who want to watch the movie will be given a half day holiday and only need to produce ticket stubs as proof the following day.
Glad to announce that our Govt employees will be entitled for half-day special leave to watch #TheKashmirFiles.

They will have to only inform their superior officers and submit the tickets the next day. pic.twitter.com/RNQzOk9iCK

— Himanta Biswa Sarma (@himantabiswa) March 15, 2022
He also tweeted stills from the movie when he went to watch it with his cabinet colleagues:
The Kashmiri Pandit genocide & their exodus are a blot on humanity.

Moved by the heart-wrenching portrayal of their plight in #TheKashmirFiles, which I watched along with my Cabinet colleagues and MLAs of @BJP4Assam & allies.

Kudos @vivekagnihotri & co for holding out the truth pic.twitter.com/Li8deBW9Ld

— Himanta Biswa Sarma (@himantabiswa) March 15, 2022
Related:
Assam Court orders FIR against CM Sarma for inflammatory remarks on eviction drive
Court summons Assam CM, wife for alleged violation of Mode Code of Conduct