When we think of Punjab, we visualize a vibrant and colourful culture, warm people, and of course great food. The land has a rich history, but it is also one fraught with violence and turmoil. When British lawyer Cyril Radcliffe drew an arbitrary border for the Partition of India-Pakistan in 1947, it sliced right through the heart of Punjab sparking violence that still lingers like a thorn on the tongues of our grandparents who speak of the villages they can never return to or know.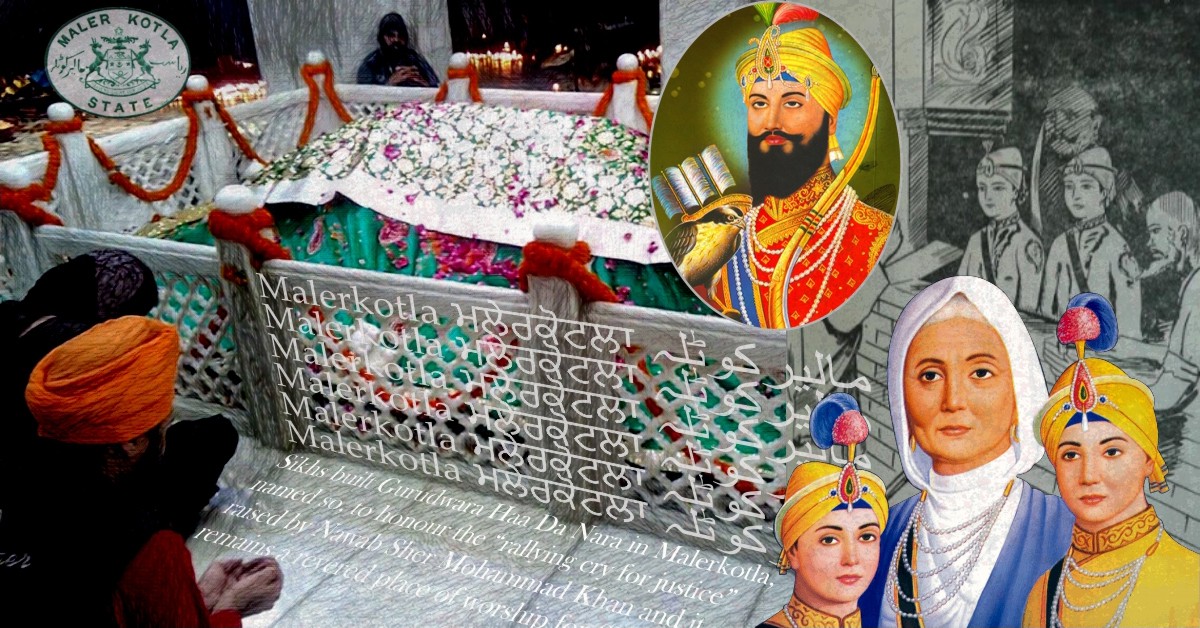 But while there were mass killings of Sikhs and Muslims in villages and cities across the Punjab in 1947, Malerkotla in Punjab saw no instances of communal violence and till date, the city stands in continued communal harmony. Malerkotla is the only Muslim majority city in Punjab with 68.5% residents being Muslim and the rest being Hindus, Sikhs, Jains, Christians and Buddhists.

History of peace:
To understand what made Malerkotla an oasis of peace even as Partition violence progressed all around it, we need to delve into a centuries old story of compassion. When the tenth Sikh Guru, Guru Gobind Singh ji was waging a "dharma yudh" to protect non-muslims from forced conversions by ruler Aurangzeb, his two youngest sons Sahebzada Zorawar Singh (age 9) and Sahebzada Fateh Singh (age 7), along with his mother Mata Gujri, were captured by the Nawab of Sirhind Wazir Khan while escaping from the siege of Anandpur in 1704. After keeping them captive for a few days, Wazir Khan ordered for the two children to be bricked behind a wall and hence, suffocated alive. Sher Mohammad Khan, the Nawab of Malerkotla, who was present at court, raised his objection to this order saying that the execution of children was a heinous act and was against the tenets of the Qur'an which did not allow the killing of innocent children. Despite his objection and appeals that reached even Aurangzeb, Wazir Khan's orders were eventually followed and the children were executed. Mata Gujri is said to have collapsed because of the shock of her grand children's deaths. When the news of the demise of his mother and youngest children reached Guru Gobind Singh ji, he was also informed about Nawab Sher Mohammad Khan's protest. The Guru is said to have blessed the house of the Nawab, declaring that its "roots shall remain forever green." Residents of Malerkotla believe this could be one of the reasons the town produces an abundance of vegetables throughout the year and is referred to as the "vegetable capital" of Punjab, supplying the produce to the entire state.
The Nawabs of Malerkotla before Sher Mohammad Khanhad also kept the spirit of harmony alive by practicing secularism and tolerance during their reign. In her book "Sharing the Sacred: Practicing Pluralism in Muslim North India", Anna Bigelow cites the example of Nawab Bayzid Khan (1659) who invited a Chishti Sufi saint, Shah Fazl, and a Bairagi Hindu saint, Mahatma Sham Damodar, to bless the site of establishment of Kotla in a public enactment of pluralism.Today the tomb complex, or dargah, of Shah Fazl is a popular local mosque and shrine.

Blessings of a Guru honoured:
During Partition, when Punjab was ravaged by riots, looting, violence, sexual abuse, and mass killings, Malerkotla remained almost untouched. Sikhs from surrounding areas assured the resident Muslims that they were safe in Malerkotla and did not need to migrate to the newly formed Pakistan and risk their lives in the process of crossing the border.
In present day Malerkotla, inter-religious friendship is celebrated through shared festivals, partnering of communities in business and trade, mixed neighbourhoods, and mutual respect of the residents. Muslims, Sikhs, and Hindus live side by side and come to each other's aid whenever needed. Sikhs built Gurudwara Haa Da Nara in Malerkotla, named so, to honour the "rallying cry for justice" raised by Nawab Sher Mohammad Khan and it remains a revered place of worship for Sikhs.

Pippa Virdee, author of "From the ashes of 1947: Reimagining Punjab" included a chapter on "Sacred Malerkotla" in the book. When Sabrang india asked her to what factors she thought Malerkotla owed its enduring peace, she told us, "Based on the fieldwork I conducted in Malerkotla I found that many of the residents still cited Sher Mohammad Khan's protest as one of the most important reasons for Malerkotla's peaceful communal relations. However, having looked at the state records, my research concluded that the role of the state was very important in maintaining peace during the partition violence. It was also quite apparent and exceptional that communal harmony was emphasised rather than the usual propaganda of enmity and tension amongst different communities. If the state is determined to maintain peace and prevent violence, it can play a positive role. If on the other hand, it wants to promote tension between the communities for its benefits, it was possible to do that as well because there was tension, but this was quickly and effectively diffused by the Nawabs. Of course, for the residents, the protest by Khan and the long history of communal harmony in the princely state is an important reminder to observe restraint rather than escalate tension."
She makes an important point about the role of the state and administration in promoting communal harmony. In present day Malerkotla, children learn Urdu and Punjabi in schools together and are living in an environment that shows them examples of communal harmony all around them, giving us hope that the teachings of their ancestors will be carried forward.
As Anna Bigelow says, "Whether the people attribute the communal unity to Allah's grace, the Guru's blessing, the protective power of a saint, or to the secular policies of the nawabs, they greatly value this legacy of peace and are justifiably proud of it."
Conclusion: Little Acts build up a Grand(er) Narrative
In this age of technology and instant gratification, with 24 hour news cycles that highlight how our country is disintegrating from within its seams,we seem to have lost touch with stories from our past that highlight the plurality and tolerance as well as a sense of community thathad united India. It is these stories that make and build the present and even, the future. The story of Malerkotla shows us how a simple act of compassion can span generations of peace, and how we can bring harmony to our country if each of us were to emulate the spirit of Malerkotla in our own small way. It will be our little acts of compassion that will build a strong and peaceful India for the generation to come.

Related Articles:
1.Basirhat: Will syncretism triumph over hate?
2. The colourful history of Holi and Islam
3.KagineleSangamesha: Where Hindus and Muslims Walked Together
4. Syncretic Spiritualism Comes Alive at Baba Boudhangiri: 15 Years of KKSV