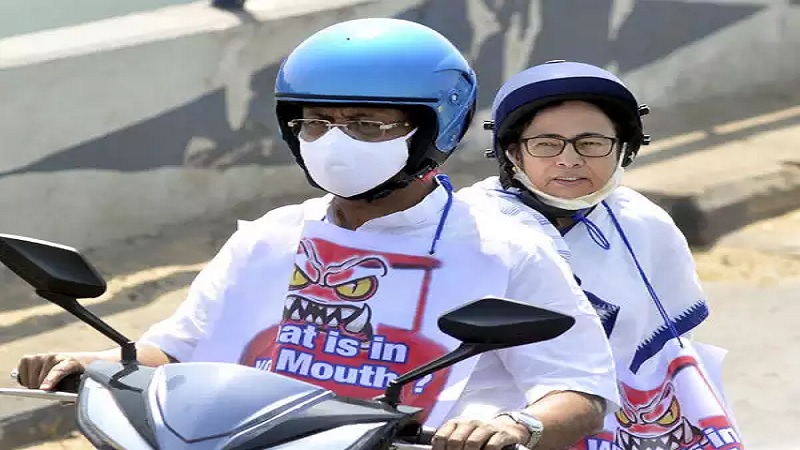 Image Courtesy:economictimes.indiatimes.com
Helmet-clad and placard adorned West Bengal Chief Minister Mamata Banerjee rode pillion on an electric scooter on February 25, 2021 to lead a rally against rising fuel prices, reported The Indian Express. Sitting behind State Minister and Kolkata Mayor Firhad Hakim, Banerjee travelled 5 kms from Hazra More to the state secretariat in Nabanna, where she slammed the central government for making false promises about fuel prices.
"We are protesting the fuel price hike. The Modi government only makes false promises. They have done nothing to bring down fuel prices. You can see the difference in petrol prices when the Modi government came to power and now," she told media persons.
The Chief Minister went on to say that Prime Minister Narendra Modi and Union Home Minister Amit Shah will "sell the country" with their "anti-people government."
Petrol and diesel prices in West Bengal rose to Rs 91.12 per litre and Rs 84.20 per litre, respectively. Meanwhile, LPG, cylinder prices increased to Rs. 25 on Thursday changing state prices of LPG cylinders Rs. 820 per litre from Rs 795 per litre. To alleviate people's burden, the state government announced a reduction of tax by Rs. 1 per liter on petrol and diesel on February 21, effective midnight.
In response, the Union government said that oil retailers in India were forced to increase prices because global crude oil prices rose by more than 50 percent to over $63.3 per barrel since October.
According to the Scroll, the government has failed to restore taxes that are record high while global rates rebounded with a pick-up in demand.
Related:
Battleground Bengal: Communal hues grow darker
TN petrol pump offers free petrol to combat rising prices and promote Tamil culture
Is there Social Justice in the Digital Economy?
Will a Rs 6,000 annual dole lure Bengal's fisherfolk?