Leaders of lynch mobs who have killed fellow humans, Cow vigilantes accused of lynching a Muslim dairy farmer in Rajasthan's Alwar this month are equal to freedom fighters such as Bhagat Singh or Chandrasekhar Azad, the controversial Hindutva leader Sadhvi Kamal has said. In a video circulated on social media, the 39-year-old who prefers to call herself "didi" is purportedly seen as meeting Vipin Yadav, one of the people arrested on charges of assaulting Pehlu Khan on April 1. Sadhvi is the president of Rasthriya Mahila Gau Rakshak Dal, a self-styled cow protection group which operates in Rajasthan, Haryana and Uttar Pradesh. Kamal grabbed headlines last month after she forced the administration in Rajasthan's capital Jaipur, to seal a hotel for allegedly serving beef. The hotel is owned by a Muslim businessman.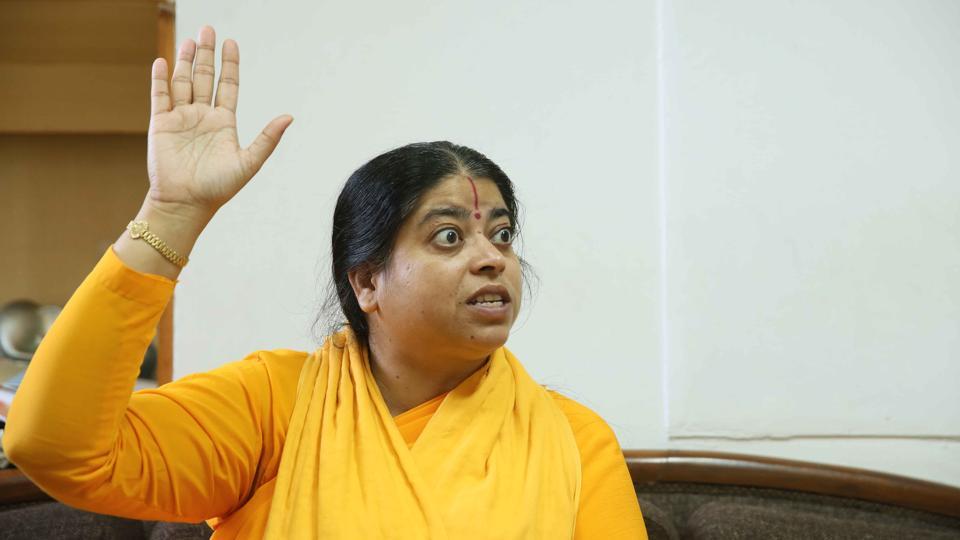 "When Bhagat Singh and Chandrashekhar Azad went to jail, then they were also perceived as criminals and bad people but are now known as heroes. Similarly, people such as Yadav will also be known as heroes in the future for protecting gau mata," she told the media. In this shocking way she gave encouragement to a criminal guilty of a heinous killing. Will she be booked for abetment to the crime?
Vipin is one of five people arrested on the basis of footage of the assault circulating on social media but isn't named in the FIR filed on the basis of Khan's statement hours before his death. The police are battling charges of inaction and laxity in a case that has sparked nationwide outrage and even rocked Parliament. None of the six named in the complaint have been arrested.
The purported video was allegedly shot when Vipin was taken by police to a college in Behror where the 19-year-old wrote his exams. "Lord Krishna also went to jail for the 'uddhar' of people. Don't sit idle at the jail and teach all the inmates to chant jai gau mata," Kamal is heard as apparently saying in the video.
People in the backdrop can also be heard chanting "Jai Gau Mata". In the video after visiting the accused, she is show inquiring about his health and asked, "Are you getting proper meals and are you well. When Yadav nodded, she asked him not to hesitate and speak up. "Don t worry. You seem to be scared," she said to which Yadav replied, "No, there no such matter."The sadhvi is seen advising Yadav to not sit idle in jail, but spread the message of sacrificing lives while protecting cows."You must teach everyone in jail to say 'jai gau mata', she said.
When contacted, she confirmed meeting Vipin Yadav at the college."I just went to assure him of our support," she said. Last month, the sadhvi and her supporters had laid siege to a Jaipur hotel over rumours that it was hosting a "beef party".
Earlier this month, a 55-year-old man died at a hospital in Alwar district after allegedly being beaten by a group of cow vigilantes. The deceased, Pehlu Khan, and four others, including his two sons, were beaten brutally by some locals at Behror who suspected they were smuggling cows.
Kamal's outfit is among many fringe groups that are gained prominence after the BJP-led government under Prime Minister Narendra Modi took over. These groups claim to work for protecting cows from being taken to slaughter houses. Critics, however, accuse the vigilante groups of attacking people, mostly from the minority Muslim community, merely on suspicion.
Related Articles:
Chilling Collusion Between State & Cow Vigilantes: The Case of Hotel Hyatt Rabbani