MV Shetty College students allege that a lecturer had deliberately failed the 21-year-old.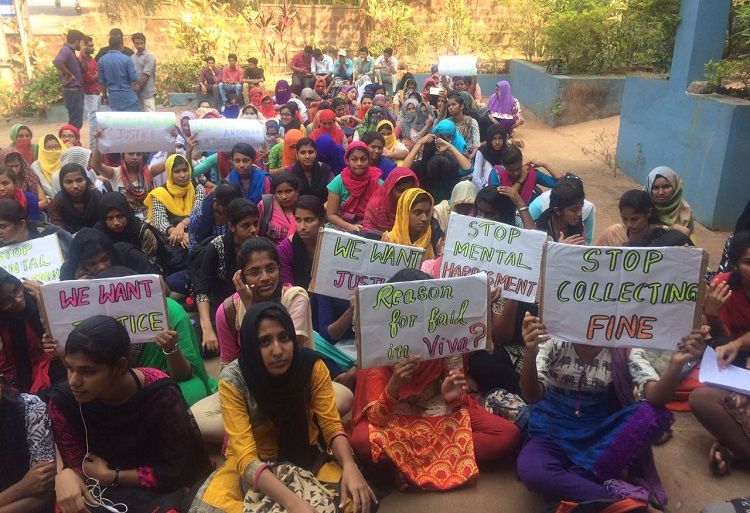 The students of MV Shetty College in Karnataka's Mangaluru are up in arms against the management, after a 21-year-old student attempted to kill herself two days ago.
The student was reportedly upset over the management denying her permission to appear for the final semester examination, stating that she had failed in an internal viva test. However, students claim that a lecturer had deliberately failed Vincy and five other students.
On Tuesday night at around 9pm, Vincy, a native of Kozhikode and a sixth semester student of MV Shetty College of Speech and Hearing, said that she wanted to take a shower and insisted that her roommate leave the room. When Vincy did not come out of the bathroom for some time, her roommate went to check on her. To her horror, Vincy's roommate found blood on the floor of the room, following which the students then broke open the bathroom door. They found Vincy unconscious on the floor, with her veins cut.
Vincy, who was rushed to a nearby hospital, continues to receive medical treatment.
More than 150 students of the college have been protesting outside the main campus since Wednesday, demanding that the management allow Vincy and other students to appear for the sixth semester examination. Speaking to The News Minute, Vincy's classmate- on the condition of anonymity- accused one teacher of targeting several students, time and again.
"Teacher Vini Abhijith from our department is extremely partial and she targets those students whom she does not like. She would mark them really low in class tests…it was evident that she had a few targets in every class. But the management remains mum because she is close to those higher up," the student alleged.
Vincy's father Gangadharan, a retired government employee said that the college had made him pay the examination fees, but had not allowed his daughter to appear for it.
"Three weeks ago, the college Principal summoned me and the parents of five other students and said that our children were short on attendance. He said that they had failed in an internal test and that they could still appear for the final semester exam. But then Vincy called me up a week ago and said that the college had gone back on its words and even offered to refund the examination fee we had paid. She was devastated because this meant that she had to repeat one full academic year," Gangadharan said.
Neither Gangadharan, nor Vincy's friends had any inclination that she would attempt suicide.
"She is a strong girl and so, although we knew she was upset, we did not take it too seriously. After the college management told her that she could not appear for the exam, Vincy even stopped talking to us. She would just sit on the bed and just not talk to anyone," another friend said.
The students also alleged that the college management first refused to even listen to their demands when they began protesting on Wednesday.
"The whole day, we stood outside the gate, demanding a dialogue with the management. A few of them agreed to talk to us at around 3pm and summoned some students in. But we were clear, we wanted the management to address all of us and not just one or two students. The representatives of the management then walked out," a student said.
Speaking to TNM, Principal Satish K claimed that external political elements were involved in manipulating the students. He said that the students had never raised a complaint about Vini, the lecturer, and that disqualifying the six students including Vincy was normal procedure.
"Those students have failed in the test and must accept the result no matter what. Also, Vincy was never a bright student. She barely managed to pass previous examinations," Principal Satish said.
After the students continued their protest on Thursday, the management agreed to consider their demands, including strict action against two lecturers Vini Abhijith and Binoy Shany, "who are responsible for the plight of the students."