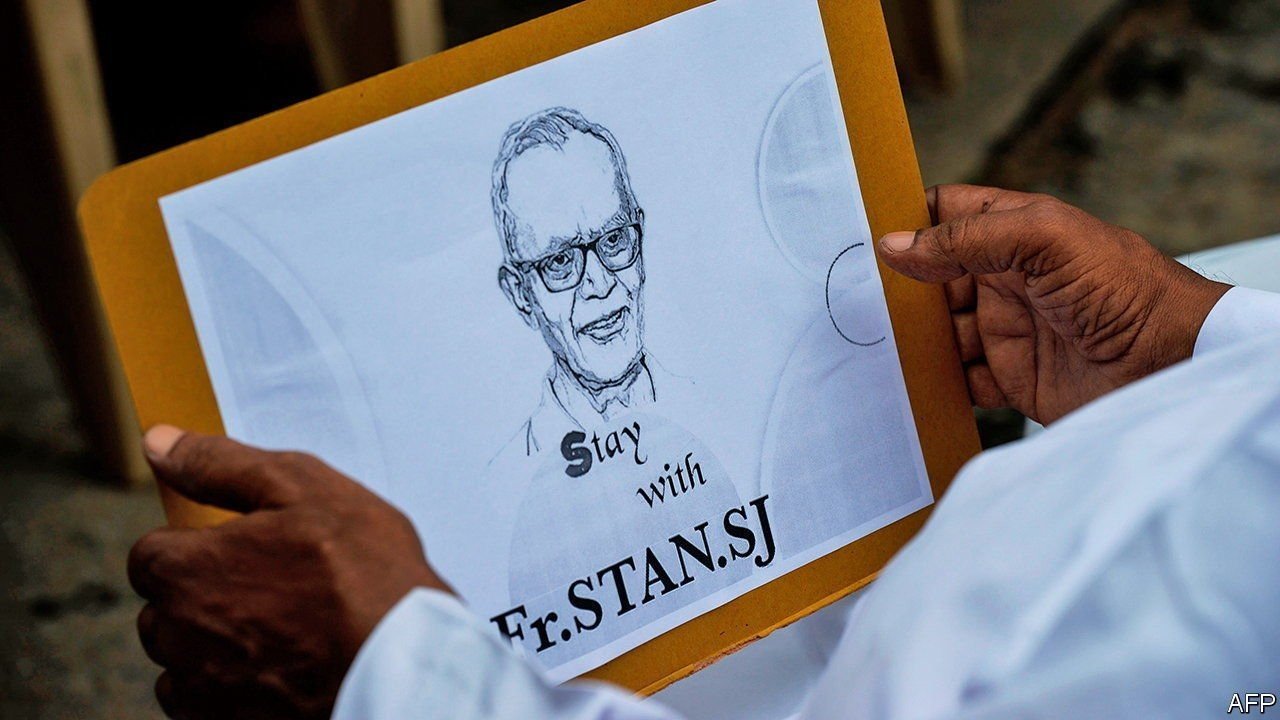 The right-wing sees no wrong in continuing to target and vilify the name of Jesuit priest and tribal rights activist Stan Swamy even after his death. A proposal to name a park inside the St Aloysius (autonomous) College campus in Mangaluru 'angered' the right-wing so much that they created a major hate campaign that forced the college to call off the event, scheduled for Thursday.
The St Aloysius Institute of Management and IT, Kotekar, Mangaluru, had planned to inaugurate the "Fr Stan Swamy Peace Park" and a 150KV rooftop solar project at 10 A.M on October 7, announced that the event had been "cancelled", reported The Week and other media.
According to news reports, members of Akhil Bharatiya Vidyarthi Parishad (ABVP) submitted a memorandum to Mangaluru deputy commissioner K.V. Rajendra, police commissioner and the college management, to oppose the park's proposed name. Media reports quote the memorandum signed by Manikanta, state joint secretary, ABVP: "The move to name a park inside a college campus after a person who is an urban Naxal, terrorist and the prime accused in the Bhima Koregaon case is condemnable. It is condemnable that the college management has decided to name a park after Stan Swamy, the main accused in the conspiracy hatched to kill the Indian prime minister… [he] is a fake human rights activist who died in the jail after being denied bail."
The ABVP said plans to name the park after Stan Swamy was "an indirect attack on the national unity," and attacked the college saying the institution "that has availed all the benefits from the government has chosen to name the park after a man who died in a jail is questionable. The institution that follows the principles of Jesus Christ, who preached peace to the world, choosing to glorify Stan Swamy, who represented violence, has shocked the peace-loving people of the district. The ABVP strongly condemns the move of the college to glorify an anti-national where they should have been instilling patriotism."
Members of the right-wing groups told the media that they would "stage a protest if the college went ahead with its plan and that the management would be responsible if any untoward incident took place." The Week quoted VHP Mangaluru divisional secretary Sharan Pumpwell confirming that the event "scheduled for October 7, stands cancelled" adding that the right-wing groups had suggested that the park "be named after former Union minister late Oscar Fernandes or George Fernandes, who had contributed to the society, but not Stan Swamy."
Related:
MP: Dargah blown up, allegedly by Hindutva mob
Karnataka: Beheaded Muslim man's mother names Hindutva activists, girl's father
Hate Watch: Communal hatred spread at Rajghat on October 2?
Hate Watch: Twitter influencer Mahesh Vikram Hegde shares anti-namaz video