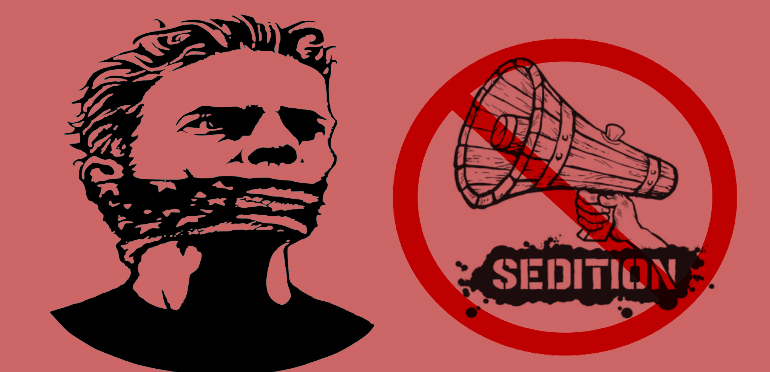 Image: https://www.theleaflet.in/

Two journalists were arrested and booked under the draconian Unlawful Activities (Prevention) Act as well as sedition and conspiracy charges for an article that allegedly supports armed revolutionary groups.
According to a report in the Indian Express, the arrested journalists are Paojel Chaoba (Executive Editor) and Dhiren Sadokpam (Editor-in-Chief) of Frontier Manipur, an online news portal. The article titled Revolutionary Journey in a mess, written by M Joy Luwang was published on January 8, following which Manipur Police filed a suo moto FIR naming Luwang, Chaoba and Sadokpam.
Chaoba and Sadokpam have been charged under provisions of IPC sections 124A (sedition), 120B (criminal conspiracy), 505(b) (causing alarm to induce offence against the state), and 34 (common intention), as well as the UAPA's Section 39 (supporting terror organisation).
According to the FIR, "In the article the author openly endorsed revolutionary ideologies and activities and expressed shock and dismay at the deteriorating character of the armed revolutionary leaders of Manipur in the recent decade."
The Wire points out that though the same article was simultaneously published in The Imphal Times and Kangla Pao, these two publications have not been named in the FIR. The Wire further says that Frontier Manipur was probably being singled out for their reportage of a drug haul case where the key accused is allegedly close to Manipur Chief Minister N. Biren Singh. A decorated officer who conducted the arrest in that case had reportedly told the High Court that she was under pressure from Singh to release the accused from custody. She also subsequently returned her gallantry medal.
This fresh assault on the fourth estate in the state is significant given previous instances of vindictive arrests, such as that of Kishorechandra Wangkhem, who was first arrested under the National Security Act (NSA) and jailed in 2018, and then arrested once again in 2020. The journalist was charged with sedition, promoting enmity between different groups and intent to incite a community to commit an offence against another, and under SC/ST (Prevention of Atrocities) Act.
Related:
Remember journalists Siddique Kappan, Aasif Sultan, Kishorechandra Wangkhem?
Journalism is a deadly vocation for those who question power