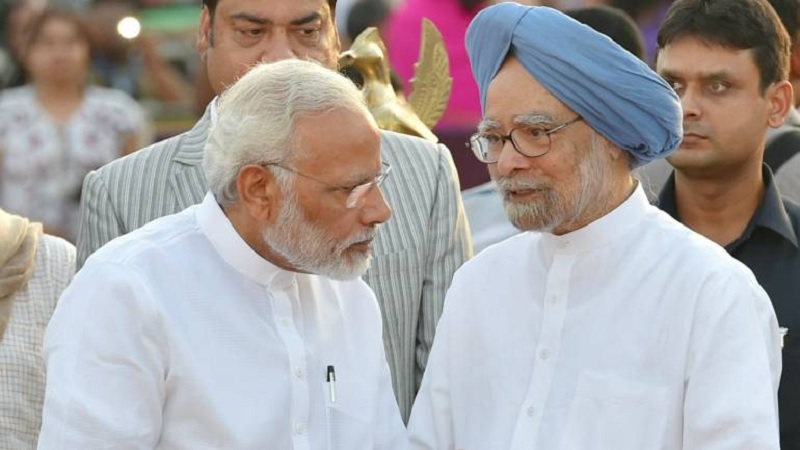 Image Courtesy:moneycontrol.com
Urging Prime Minister Narendra Modi to focus on the percentage of people vaccinated rather than absolute numbers, Dr. Manmohan Singh on April 18, 2021 suggested ramping up the vaccination effort.
Former Prime Minister Singh wrote to the current bearer of that office, in wake of rising panic among people waiting for life to return to normalcy. In an effort to address this fear, Dr. Singh recommended that the central government publicise the place-and-accepted orders for doses over the next six months. Further, the government should also announce how the supply will be distributed across states.
"The Centre could retain 10 percent for distribution based on emergency needs, but other than that, states should have a clear signal of likely availability so that they can plan their roll out," suggested Dr. Singh.
Regarding states, Dr. Singh suggested that respective governments be allowed to define frontline workers who can be vaccinated even if they are under 45 years of age. He also recommended that the government proactively support vaccine producers to expand their manufacturing facilities by providing funds and other concessions. For this, compulsory license provisions can be invoked so that various companies can produce the vaccine under a license.
"I have read that Israel has already invoked the compulsory licensing provision and there is an overwhelming case for India to do so as well quickly," said Singh.
In light of limited domestic supplies, Singh also suggested import sans domestic bridging trials of any vaccine that has been cleared for use by credible authorities such as the European Medical Agency or the USFDA.
"I understand experts are of the view that this relaxation is justified in an emergency. It could be for a limited period during which the bridging trials could be completed in India. All consumers of such vaccines could be duly cautioned that these vaccines are being allowed for use based on the approval granted by the relevant authority abroad," said Singh.
The detailed letter can be seen below:
Related:
BJP has no authority to hoard Remdesivir during shortage: AAP
State is heading towards a health emergency: Jharkhand HC
Gujarat HC directs State to be honest about Covid data
Covid-19: Centre fast tracks emergency approvals for foreign produced vaccines