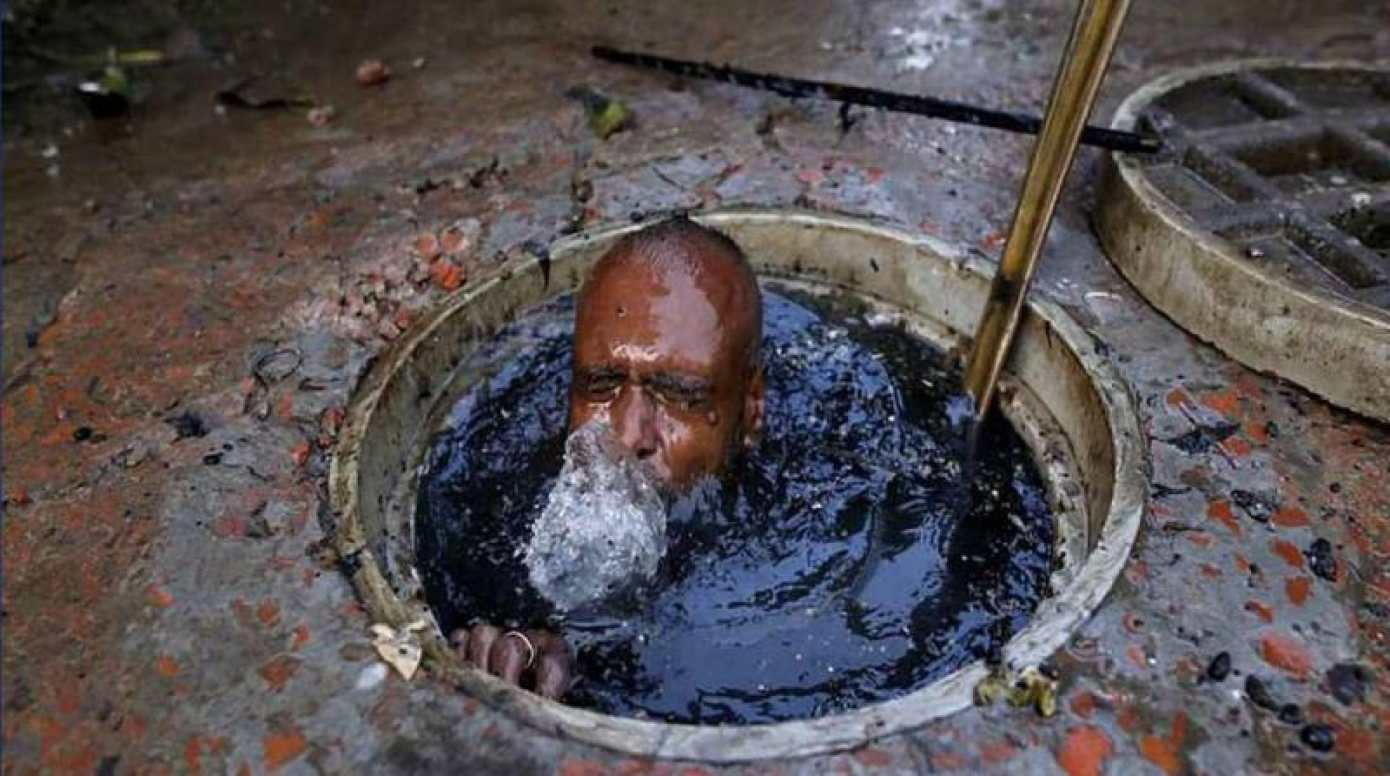 Representation Image
In two successive submissions before the Parliament, Social Justice Minister Ramdas Athawale appears to have made erroneous statements with respect to manual scavenging.
The first instance took place on February 8, 2022, when Members of Parliament Vishnu Datt Sharma and T.R. Baalu asked the minister about steps taken for eradication of manual scavenging, a medieval practice. They also asked if any efforts made by the Government to rehabilitate the person engaged in manual scavenging.
But shockingly, Athawale responded saying that there are no reports of people currently engaged in manual scavenging in the country. He said on December 24, 2022 Ministry of Social Justice and Empowerment had launched a mobile app called Swachhata Abhiyaan to receive the data of insanitary latrines and manual scavengers associated with them. Thereafter, the data has to be verified by the concerned district administration. He further stated that the act of manual scavenging is prohibited and is also punishable offence as per the Prohibition of Employment as Manual Scavengers and their Rehabilitation Act, 2013.
In response to the question of rehabilitation, Athawale put forth a scheme called Central Sector Self Employment Scheme for Rehabilitation of Manual Scavengers (SRMS) which provides provisions to assist the identified manual scavengers for their rehabilitation.
Then, on March 15, 2022, Member of Parliament Dushyant Singh asked Athawale about the state-wise number of deaths due to manual scavenging in the last 5 years, along with data of the number victim's families who received compensation.
Once again, in a shocking response, Athawale said that no deaths were reported due to engaging in manual scavenging. However, he conceded that 325 persons were reported dead due to accidents while undertaking hazardous cleaning during last 5 years. With respect to compensation, he said families are provided Rs. 10 lakhs in accordance with the Supreme Court Judgment in 2014. However, the data in the annexure depicts that only 276 families have received the compensation out of 325 families.
The following day, on March 16, Member of Parliament Upendra Singh Rawat asked the Minister of Railways about the details of the manual scavengers employed by the Railway as of September 2021. But, Ashwini Vaishnaw denied the employment of manual scavengers in Railways. He submitted that protective gears and devices including mechanised equipment are provided to people who are engaged in maintaining cleanliness of the Railways and station areas.
Manual Scavenging: Ground realities
Dalit rights activist and founder of Safai Karmachari Andolan (SKA), Bezwada Wilson was shocked with the response of Social Justice and Empowerment Minister's about the accidental deaths.
According to Wilson, at least three people lost their lives while cleaning septic tanks as per his records. The 325 deaths which were dubbed as 'accidental deaths', is an insult to the families of manual scavengers. Wilson also claims that sewers are becoming death pits, as 14 Indian citizens have died inside sewers in last three days in four states. There is not even a word in Parliament sessions about these deaths. There is a criminal silence of people in power.
Wilson also held that the person who are engaged in scavenging, have been constantly denied their right to dignity through proper share in the budget. The SRMS is constantly been reduced in successive budgets, to the tune of 30 crores again this year.
For years now, sanitation workers who are forced to engage in manual scavenging have demanded an acknowledgement of their rights and proper equipment like sewage cleaning machines to perform their duty without endangering their lives.
Brief Background
In 2019, social justice and empowerment secretary Nilam Sawhney, while elaborating on the draft National Action plan to eliminate manual scavenging by 2022, had admitted that 776 deaths took place while cleaning of sewers and septic tanks, reported the Times of India.
A Hindustan Times report said that, in a PIL filed before the Karnataka HC, it was revealed that 43 people have died in 21 cases of manual scavenging in the state since 2015. The petitioner also stated that such deaths are usually given the name of death by accident and thus put such worker's lives at danger.
According to the central government data, Gujarat recorded 28 deaths of workers in sewers out of which only 23 families of the deceased had received the compensation of worth Rs. 10 lakh as mandated by the Supreme Court. However, it was revealed that the state government failed to compensate for any of the 12 deaths in the last 2 years.
Haryana recorded 33 deaths, fully paid 23 families and partially paid six families. Rajasthan and West Bengal with 13 such deaths each fully compensated 11 and eight families respectively and partially paid one family each. Meanwhile, Goa, Tripura and Uttarakhand claimed to have zero deaths due to manual scavenging.
Similarly, Delhi with 42 recorded deaths fully compensated only 37 families. The status of compensation for the rest of the families is unknown. A similar story persists in Maharashtra with 30 deaths but only 11 fully compensated. In the case of these two regions, the remaining families and dependents were not even provided any fiscal payment at all. Only Punjab accounted for all recorded deaths (16) and compensation by providing the full amount to 10 families and partial payment to six families.
Related:
No death due to manual scavenging: Social Justice Minister Athawale
Gujarat: 12 sanitation workers dead, but no compensation?
Protection of Manual Scavengers under the law: The real picture
Dalit man forced to enter and clean sewer in Gujarat
Varanasi: Sanitation worker dies after being trapped in sewer line for 18 hrs!