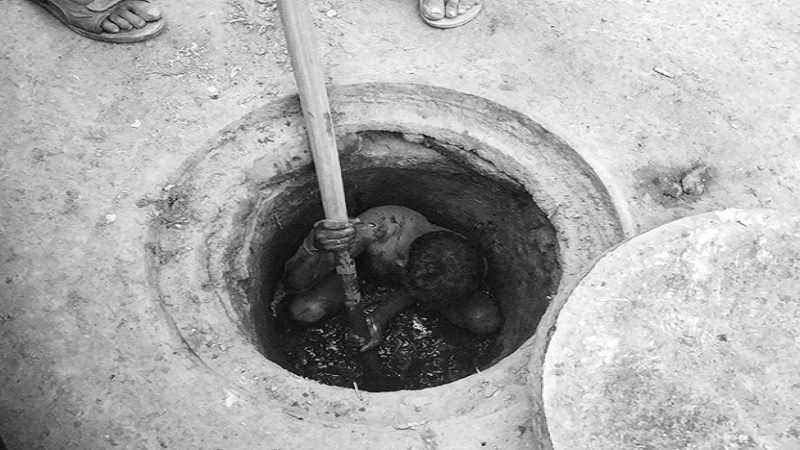 Photo courtesy: Rakshit Kumar
Raju* braves stench and dips into sludge of a manhole at Ber Sarai, Delhi. He takes the plunge without any protective gear and with inadequate information about what lies beneath. The staring eyes of his employer constantly warn against hesitation. After six hours of back-breaking dredging, Raju emerges from the manhole, caked with grime, only to earn Rs 400 (four hundred rupees) that evening.
Raju is among many people engaged in manual cleaning of sewage of Delhi after three decades of legal prohibition of this inhuman activity. "Financial needs prevail over fear. Every time I take risk to feed my family," laments Raju.
The haphazard growth of Delhi into a metropolitan city has resulted in acute waste disposal crisis. Manual sewage cleaning is rampant in the city flouting all regulations. Various laws enacted to eradicate the practice have resulted in futile attempts without adequate political patronage.
The Dalit community is blatantly exploited by urban India. The Socio-Economic Caste Census of 2011 has grimly suggested that more than 90 percentage of manual sewage cleaners belong to the Dalit community. People from the Valmiki caste, a section of the Dalit community, constitute a major chunk of Delhi's sewer cleaners.
"I do odd jobs. But I am often compelled to do manual cleaning of the sewer when no work is available. I cannot the fill bellies of my children if I refuse to do this job," said Raju flaking dried grime off his face.
Manual sewer cleaning is dangerous due to multiple factors besides it is dehumanisation of the workforce. Clogged sewage causes accumulation of toxic gases which may cause the worker to pass out. Some sewers are extremely deep, trapping the worker inside leading to suffocation.
"Contractors demand that we to continue with work even if we sense the presence of gases inside. They threaten with dire consequences if we refuse to work," said Raju.
Prohibited by law, but continued in practice
The first attempt to legally prohibit manual scavenging was done in 1993 through The Employment of Manual Scavengers and Construction of Dry Latrines (Prohibition) Act, 1993. The act primarily dealt with the manual cleaning of dry latrines.
The ambit of the act was enlarged in 2013 through an amendment act. It included "hazardous cleaning" of septic tanks and sewersin the prohibited list. "Hazardous cleaning" by an employee is defined in the Act as manual cleaning by such employee "without the employer fulfilling his obligations to provide protective gear and other cleaning devices and ensuring observance of safety precautions, as may be prescribed or provided in any other law."
The bill has defined sewers as "underground conduit or pipe for carrying off human excreta, besides other waste matter and drainage wastes." The bill brought public and private employers within the ambit and sketchy recommendations for rehabilitation were also included.
"The amendment itself is rife with ambiguities," said Rakshit Kumar, a journalism student doing his research on manual scavenging in Delhi. "The bill prohibits 'hazardous cleaning'. But more often than not, workers dive into deep sewers without protective gears at all," he adds.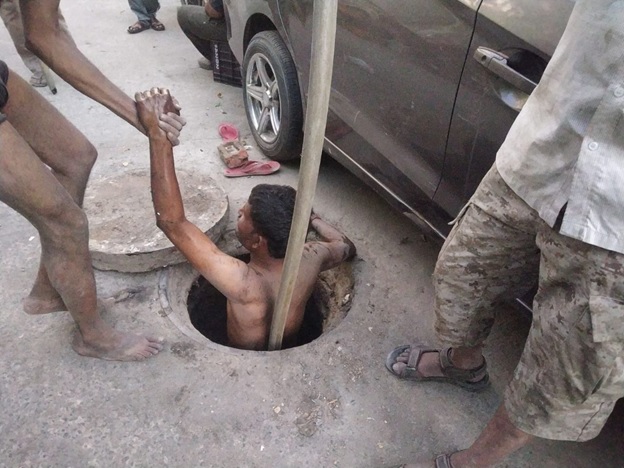 In the famous case Safai Karamcharis vs. Union of India 2014, the apex court has categorically banned manual sewer cleaning, terming it a violation of Article 17 ensuring abolition of untouchablity. Most of the cleaners are illiterate and are not aware of these rules. Besides, caste-based discrimination limits their chances to get another job.
In 2021, the Ministry of Social Justice had hinted at amending the scavenging law to totally ban manual sewer cleaning and introduce instead complete mechanisation. But the proposal is in cold storage waiting for revival by the government.
No conviction in deaths
In the last Parliament session, Raja Sabha MP Jaya Bachchan said in the House that in the last two years, as many as 1,470 manual scavengers had died across the country. According to data cited in the Lok Sabha by the Union Minister of Social Justice and Empowerment, Ramdas Athawale, 325 people have died in the last five years in "accidents" while cleaning sewer and septic tanks. Of these, Delhi stood third in the country with 36 deaths after Tamil Nadu (43) and Uttar Pradesh (52).
The government blames the lack of sanitary precautions by the cleaners as the cause of death, absolving employers from responsibility. Activists have decried the government's apathetic attitude towards the marginalised sections.
As no government or private contractors are held guilty, the relatives of the bereaved are denied justice and financial compensation. Many cases were registered by the Delhi government under the SC/ST Act and Manual Scavenging Prohibition Act of 2013 only after severe reproach from courts. "But conviction rate is negligible. In December, the Centre had said in the Parliament, that cases registered for violation of the law were at different stages but did not come to a logical conclusion," informed Rakshit Kumar.
It seems the governments are washing off their complicity by passing the buck on to private contractors and their negligence. Safai Karmachari Andolan, an organization working to eradicate manual scavenging, alleges that the government is deliberately under-reporting death numbers to dodge responsibility.
Three years after the Delhi government's Sani-enterprise initiative
In 2019, AAP government had rolled out an ambitious plan to make manual cleaners sani-entrepreneurs. The intention behind the move was to empower people engaged in manual sewer cleaning by providing them a decent source of income. This is despite manual scavenging being prohibited under the law, and the Delhi government launching a scheme to deploy cleaning machines to weed out the practice.
The Government extended loan to buy truck-fitted cleaning machinery costing 20 lakhs. The machines have been fitted with necessary equipment ensuring hydraulic, jetting, grabbing and roding work. It can ensure cleaning the manholes of 30 feet deep and can clean the sewerage and bring the silt, slug and other waste out to a trolley.
It was decided to provide such cleaning machines to 200 people already engaged in cleaning activities. Delhi Jal Board took the initiative to reduce the death related with manual cleaning of sewers.
But, after three years no considerable decline was recorded in the number of people engaged in hazardous cleaning activities. Procedural hiccups and financial constraints sealed the fate of the project.
People were asked to submit Rs 4 lakhs as upfront money to get loan, a huge sum for people doing daily wage jobs. The apathy by private players to switch to machines also dampened the process of change.
When asked about the automation of sewer cleaning, Raju was apprehensive of his future. But he proudly bragged his resolve to support his children's education to escape this inhuman profession.
* Mubashir is a journalism student at Indian Institute of Mass Communication, Delhi currently on internship with SabrangIndia
(With inputs from Rakshit Kumar, Delhi)
*Names were changed to protect the identity of individuals